Apple 'wants to serve everyone' with wide iPhone price range, Tim Cook says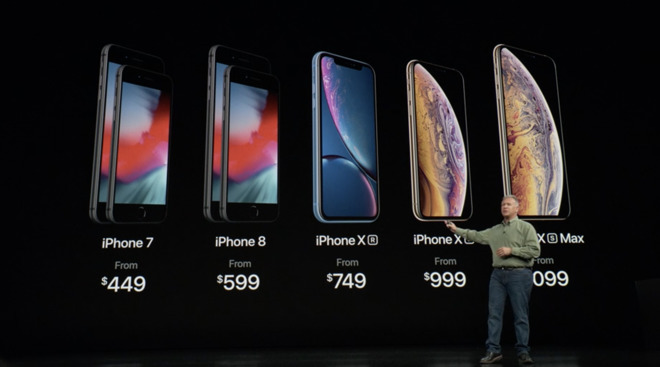 AppleInsider is supported by its audience and may earn commission as an Amazon Associate and affiliate partner on qualifying purchases. These affiliate partnerships do not influence our editorial content.
Although the cost of the iPhone XS Max may be prohibitive for many people, Apple is trying to cater to a wide range of customers, CEO Tim Cook said in an interview published Thursday.
"We want to serve everyone," Cook told Japan's Nikkei. "We understand that there is a wide range of what customers are looking for and a wide range of prices that people will pay."
The iPhone XS starts at $999, and the XS Max at $1,099. Both are far more expensive than most smartphones, and buyers wanting above 64 gigabytes of storage can easily hit Mac-like prices. A 512-gigabyte XS Max is $1,449 before expenses like AppleCare, a case, and other accessories.
"We always thought ... that if you provide a lot of innovation and a lot of value, there is a segment of people who are willing to pay for it," Cook said in addressing the cost of XS models. "For us, it's a large enough group of people that we can make a reasonable business out of it."
The executive also justified prices by arguing for the convenience modern smartphones provide.
"A lot of things you were buying are now so convenient in one [product] and it has taken those things so much further than they could have ever ventured as a stand-alone device," he observed. "The role of the iPhone has become much larger in people's lives."
He dodged the issue of new tariffs the Trump administration has threatened to impose on China — which could impact the prices of the Apple Watch, AirPods, and other Apple products — merely saying he's "an optimist."
Much of the company's supply and assembly chain is based in China, and even if it were to relocate production to the U.S. as Trump has asked for, prices would still have to rise to accommodate higher wage and labor standards, among other expenses.