iPhone XS and iPhone XR are a recipe for success for Apple stock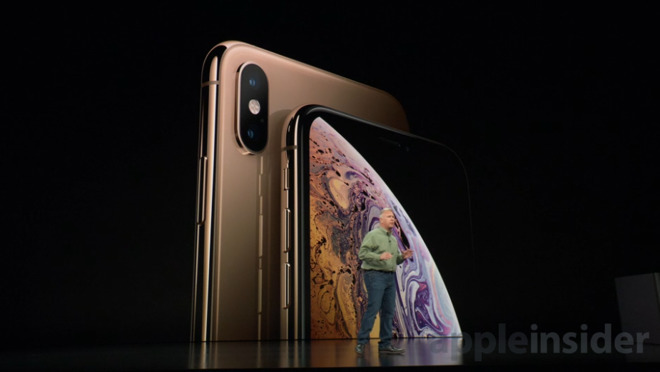 AppleInsider is supported by its audience and may earn commission as an Amazon Associate and affiliate partner on qualifying purchases. These affiliate partnerships do not influence our editorial content.
The day after Apple unveiled three new, pricey iPhones and a new Apple Watch, the move even further towards the premium segment was a focus of several analyst reports, with them all saying that Apple's earnings will hit new heights both from increased sales volume, and a higher average selling price per device.
"Once again, Apple has shown their mastery of pricing tiers," Gene Munster of Loup Ventures wrote. "Factoring in nine new phones with price points above the FY18 ASP ($745) makes it highly likely that ASPs will trend up."
Munster also noted that thanks to improving hardware and WatchKit, Apple Watch is "building an insurmountable lead in the wearables space."
"Today's product event largely met our expectations heading into the event," said Huberty. "While this iPhone launch was marketed as an "S" cycle, iPhone ASPs and larger storage SKUs across the portfolio surprised to the upside, as did the inclusion of dual-SIM capabilities."
Other analysts spoke in more detail about the other features of the new iPhone lineup.
"The company is attempting to create more iPhone options, while moving its whole portfolio further up into the premium segment," wrote Wayne Lam, Jusy Hong, Gerrit Schneemann of IHS Markit. "Apple has completed its hardware design refresh that started with iPhone X, and moves to an all-notch display line-up. Features like high-refresh-rate and high-dynamic-range (HDR) OLED displays, computational photography and enhanced audio recording, and improved performance for artificial reality (AR) games and other offerings, re-enforce Apple's focus on the user experience Apple is now further moving its devices beyond the reach of its competitors, at least in terms of the ability to charge premium prices."
Guggenheim Partners' Robert Cihra wrote that Guggenheim is raising its Apple price target to $245, from $235, following the announcement.
"A is for Apple; A is also for ASP, we think investors have been too focused on flattening iPhone units and not enough on its potential to grow through ASPs (e.g., able to raise prices without losing market share, illustrating the power of its high-end demographic and peel-off-the-top model)," Cihra wrote. "Indeed, we reiterate our math that with Apple's iPhone ASP having increased in 6 of the 10 years since introduction (contrary to typical hardware deflation), those price increases have effectively been a bigger driver of Apple's revenue "upside" than its units over that period."
While noting that most of what Apple announced Wednesday had leaked in advance and was therefore unsurprising, Macquarie Research's Ben Schachter proclaimed Macquarie "incrementally more positive given AAPL's likely ability to raise iPhone ASPs," and therefore raised their price target from $214 to $235. Schachter also noted that the new AppleCare pricing announced Wednesday had a chance to positively impact revenue in Apple's Services sector.
Jun Zhang of Rosenblatt Securities, while surprised at the lack of a new iPad Pro, set a $200 price target. "Overall, we are positive on Apple, as we believe the company will continue to generate strong iPhone shipments, strong service revenues, and increase margins." While stating that the new iPhone XS "may not offer enough of a product upgrade from the iPhone X to drive sales," Rosenblatt predicted that the other two models "will perform well in the market."