Facebook waffles on Portal video chat device privacy, can be used for ad data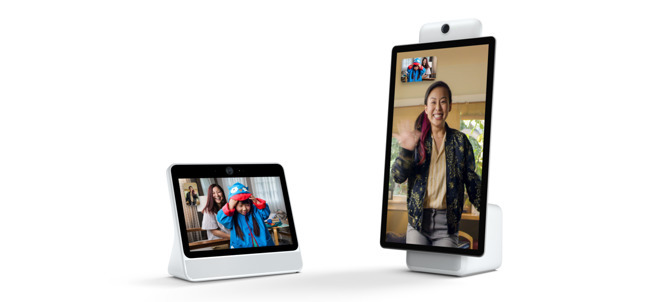 AppleInsider may earn an affiliate commission on purchases made through links on our site.
Facebook's recently launched Portal video calling devices could help the social network target advertising towards its users, it has been revealed, with data collected by the hardware potentially combined with other information for marketing purposes.
Launched on October 8, the Portal and Portal+ are devices primarily intended for use in video conferencing with other users, with Facebook Messenger handling calls between participants. At the launch, Facebook stressed the privacy credentials for the device range, including that it doesn't monitor or retain the encrypted calls, and the use of physical and mechanical elements to disconnect the camera.
Following reports claiming no data would be collected from Portal for advertising purposes, the social network has since admitted that some data does get collected. In a statement provided to Recode, Facebook advises that, while the Portal does not show advertising, data about who users call and the apps used on the device can be used in advertising decisions on other Facebook-owned services.
"Portal voice calling is built on the Messenger infrastructure, so when you make a video call on Portal, we collect the same types of information (i.e. usage data such as length of calls, frequency of calls) that we collect on other Messenger-enabled devices," a spokesperson told the report. "We may use this information to inform the ads we show you across our platforms."
"Other general usage data, such as aggregate usage of apps, etc., may also feed into the information that we use to serve ads."
Initial reports on the lack of data collection were caused in part by information provided by Facebook executives during the device's launch. Portal product VP Rafa Camargo clarified to the report that the data could be used for targeted advertising, but the team doesn't intend to use the data itself as it it doesn't display advertising, though it could potentially be used elsewhere.
The clarification comes at a time when the company is under scrutiny for its actions, following a number of serious events. The Cambridge Analytica scandal saw user data being acquired from the social network via unauthorized means and used by political analysts to refine campaigns.
More recently, it was discovered a security breach where user's security tokens were acquired by an attacker potentially allowed profile details for approximately 30 million users to be acquired, including names, addresses, and other sensitive personal information.