Samsung's foldable display smartphone could launch in March for over $1700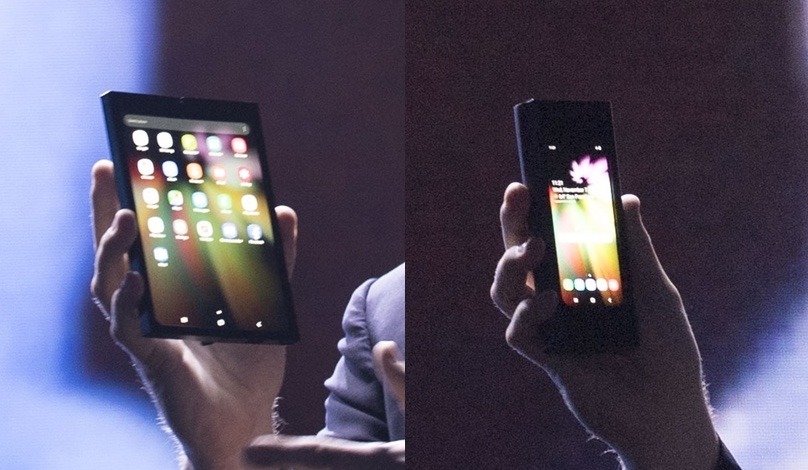 Samsung's first smartphone using the South Korean giant's recently-demonstrated foldable display could be introduced in March, a report claims, launching alongside 5G-equipped Galaxy S10, the 2019 refresh of Samsung's flagship smartphone.
First shown onstage at the Samsung Developer Conference on Wednesday, the Infinity Flex Display prototype showed a smartphone with a 7.3-inch display that could be folded in half lengthwise, with a smaller display on the outside. At the time, it was not advised when to expect the first device to use the display technology to go on sale, though Samsung could start its mass production "in a matter of months."
According to industry sources of the Yonhap News Agency, Samsung is intending to unveil the Galaxy S10 in February. The foldable smartphone, thought to be called the "Galaxy F," is tipped to launch one month later in March, as well as another edition of the Galaxy S10 with 5G support.
There is likely to be relatively limited quantities of the foldable phone available, with Samsung Electronics President Koh Dong-jin advising last week that the shipment volume for the device will be at least 1 million units when it ships in the first half of 2019. Pricing has yet to be confirmed, but industry watchers suggest it could sell for around 2 million won ($1,770), a price that will further limit its sales.
At the time of its unveiling, Samsung launched a new user interface that could transition between the larger foldable display and the smaller external version, on folding or opening up the device. Up to three applications can also run on the larger display simultaneously, though it is unclear how this would translate to the smaller, more conventional screen once the smartphone is closed.
Samsung won't be the first to the market with a foldable smartphone, as the Royole Flexpai was offered for preorder in China on November 1, with deliveries to customers anticipated to start in December.
Apple has been rumored to be looking into creating its own foldable device range, with claims it is working with LG on producing a display for the conceptual iPhone. Analysts have tipped for a launch of an iPhone with a foldable display to happen as soon as 2020.