Samsung's 'Infinity Flex Display' demo shows future of foldable smartphones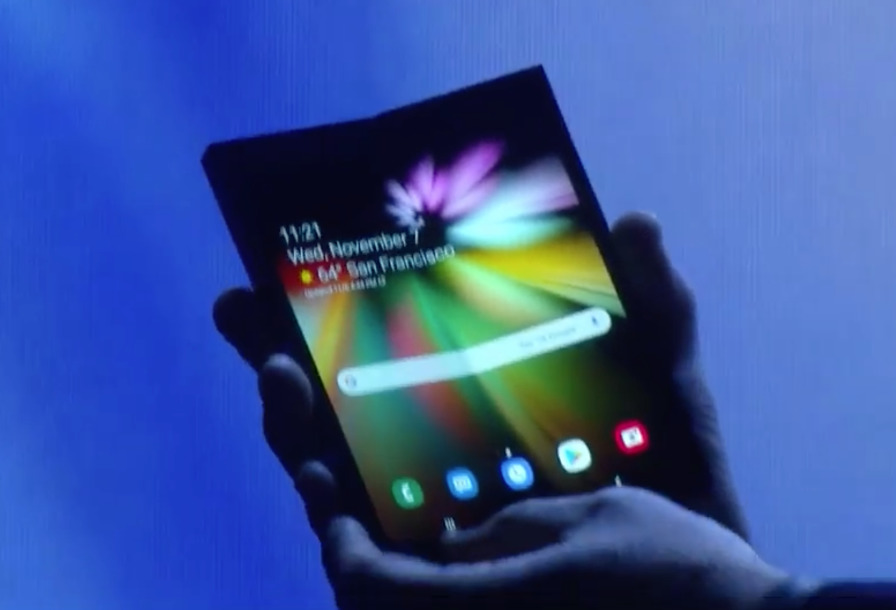 Samsung has revealed a prototype flexible display at its developer conference in San Francisco, with the demonstration of the "Infinity Flex Display" allowing for a tablet-sized mobile device to be folded in half to the size of a smartphone.
Teased for weeks and unveiled at Wednesday's Samsung Developer Conference, the Infinity Flex Display potentially allows for the creation of a mobile device that is the size of a tablet, but can be resized by the user depending on their needs. The on-stage demonstration for the prototype showed the device was able to be folded in half, with the screen ending up inside the fold.
According to photographs from The Verge, the folded device has an extra display on the outside, allowing it to be used as a standard smartphone. The stage itself was dimmed to protect the design of the prototype from being analyzed, other than the folding and secondary screen, but it is evident by the large bezels of both displays that it is a prototype and not a finished product.
An infographic produced by Samsung advises the tablet screen is 7.3 inches in size when unfolded, but did not disclose the second screen's size. Samsung also developed a new material for the cover window to allow it to be "flexible and durable," paired with an adhesive that "enhances the display's elasticity" and retains its strength through multiple folding and unfolding instances.
To take advantage of the form factor, Samsung has also come up with a new user interface that can transition between the larger and smaller displays on folding or unfolding. It is also claimed up to three active apps can be used on the larger display at the same time, but it is unclear how many will remain usable when the device is folded and activity switches to the smaller screen.
Samsung did not advise when the first smartphone using the display will be available, but it is claimed the South Korean tech giant can start mass production of the Infinity Flex Display "in a matter of months."
A foldable smartphone has been rumored to be in development by Samsung for a number of years, in a variety of different forms. It won't be the first to market with a foldable display device, however, as the Royole FlexPai was made available for preorder in China on November 1 with anticipated deliveries to customers starting in December.
Apple has been linked to the development of its own foldable devices, with rumors claiming LG is working with the iPhone producer on the concept. Analysts have also suggested the possibility of an iPhone with a foldable display launching as soon as 2020.