Apple issues fourth developer beta for macOS 10.14.2
By Roger Fingas
Wednesday, November 28, 2018, 04:50 pm PT (07:50 pm ET)
Apple on Wednesday released a fourth developer beta of macOS 10.14.2, an upcoming update for owners of macOS Mojave.




The software, build 18C52a, is available through Apple's developer portal, or else through macOS' native Software Update tool. In both cases people must be registered Apple developers and use the correct profile.

It's not yet clear what if any changes have been made. Past betas have included no significant feature changes, suggesting that Apple is concentrating on bugfixes and security improvements. The third beta was seeded just shy of two weeks ago.

AppleInsider and Apple itself strongly caution beta users against installing the software on "mission-critical" hardware, due to the potential for data loss among other possible issues. Even on secondary hardware it's recommended that testers perform regular backups of any important data.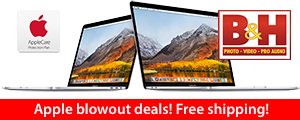 2018 13" Touch Bars
Price
Save
2.3GHz/8GB/256GB (Gray)
$1,649.99+
$150
2.3GHz/8GB/512GB (Silver)
$1,879.00+
$120
2.3GHz/16GB/256GB (Gray)
$1,949.00+
$50
2.7GHz/16GB/512GB
$2,449.00+
$50
2.7GHz/16GB/1TB
$2,849.00+
$50
2018 15" MacBook Pros
Price
Save
2.2GHz/16/256GB/555X
$2,549.00+
$50
2.2GHz/16/512GB/555X
$2,575.00+
$225
2.9GHz/16/1TB/560X
$3,199.00+
$300
2.9GHz/32/2TB/560X (Gray)
$3,999.00+
$700
2.9GHz/32/4TB/560X (Gray)
$5,999.00+
$700
Click here for dozens more configurations
+ Free shipping within the contiguous U.S.
Lowest Prices Anywhere!

13" MacBook Pros
Price
You Save
3.1GHz/8GB/256GB Gray
$1,679.00
$120.00
3.1GHz/8GB/256GB Silver
$1,704.00*
$95.00
3.1GHz/8GB/512GB Gray
$1,849.00*
$150.00
3.1GHz/16/512GB Gray
$2,099.00
$100.00
15" MacBook Pro
Price
You Save
2.8GHz/16/256/555 Silver
$2,199.00*
$200.00
2.8GHz/16/256/560 Gray
$2,299.00
$200.00
2.9GHz/16/512/560 Gray
$2,599.00
$200.00
2.9GHz/16/1TB/560 Gray
$2,999.00
$200.00
3.1GHz/16/512/560 Gray
$2,799.00
$200.00
3.1GHz/16/2TB/560 Gray
$3,899.00
$300.00

*

price with Promo Code:

APINSIDER

prices.appleinsider.com for more configurations