Review: The Nekteck 480GB Thunderbolt 3 drive sidesteps Apple's flash storage pricing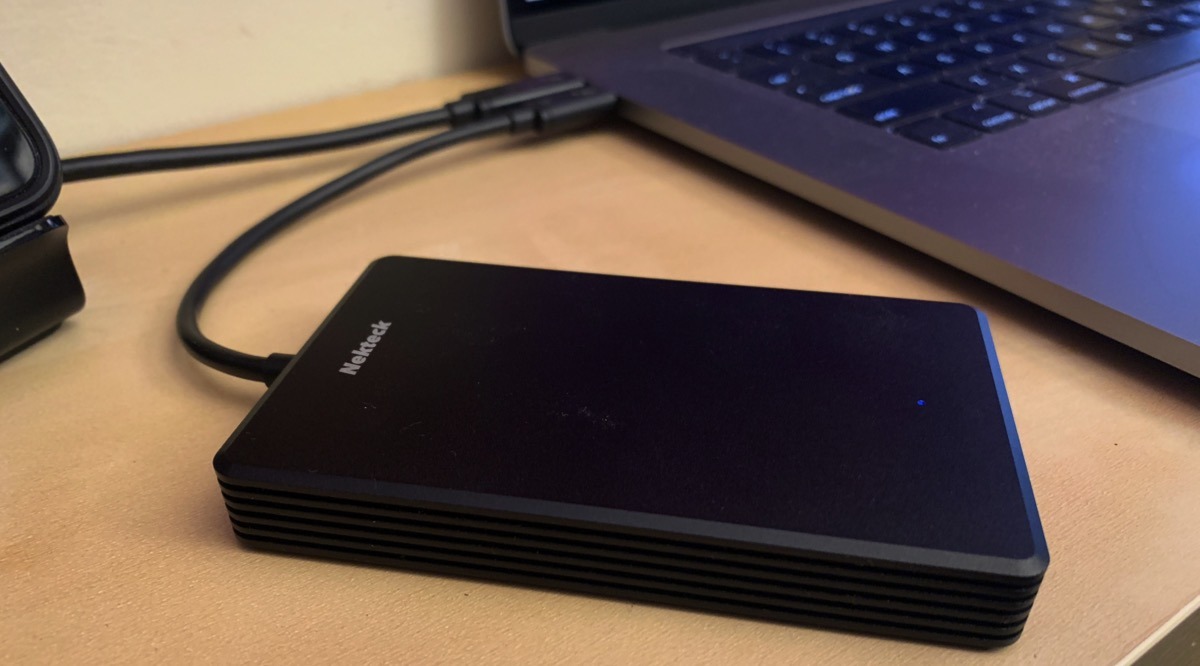 Thunderbolt was once limited to just a handful of device manufacturers, but in 2018, that number has grown a bit. AppleInsider talks about Nekteck's Thunderbolt 3 SSD after using it daily for about six months now.
Nearly everything on Apple's currently shipping Mac line has a Thunderbolt 3 port. While these ports can be used for USB 3.1 type C drives, if you've got the opportunity to attach faster storage, it can be worth it.
Before we delve too deeply into the performance, the Nekteck 480GB Thunderbolt 3 SSD that we're testing is a 480GB model, with a permanently attached Thunderbolt 3 cord that retails for $299. On the product page for the drive, manufacturer Nekteck claims that it provides up to 2300 megabytes per second read speed, and 1400 megabytes per second write speed. More on that in a bit, though.
The enclosure is designed to prevent casual removal of the media. To Disk Utility, it identifies as PCI-E storage. Nekteck is properly identified as the vendor in the macOS System Report.
And, we're going to say this straight away. We're not big fans of the permanently attached cable. While we're sure Nekteck customer support will deal with this in the case of breakage after a conversation we had with them asking about it, a socketed Thunderbolt 3 connection makes more sense to us from a user perspective.
The speed, and the heat
For the most part, Nekteck's advertised specs are in the ballpark. We were routinely seeing 2250 MB/sec reads, and 1171 MB/sec writes with timed data transfers, as well as the Blackmagic Disk Speed Test. This is refreshing in a drive industry that routinely far over-promises, and under-delivers.
In an artificially long test utilizing nearly the entire capacity of the drive, heat was a small issue. In an office at 20C, writing 100GB chunks of data for about an hour continuously saw the write speeds drop to 800MB/sec, with read speeds slightly falling to 2100 MB/sec. These aren't deal-breakers, though, and still more than enough to use the drive for ProRes 422, or 10-bit video workflows.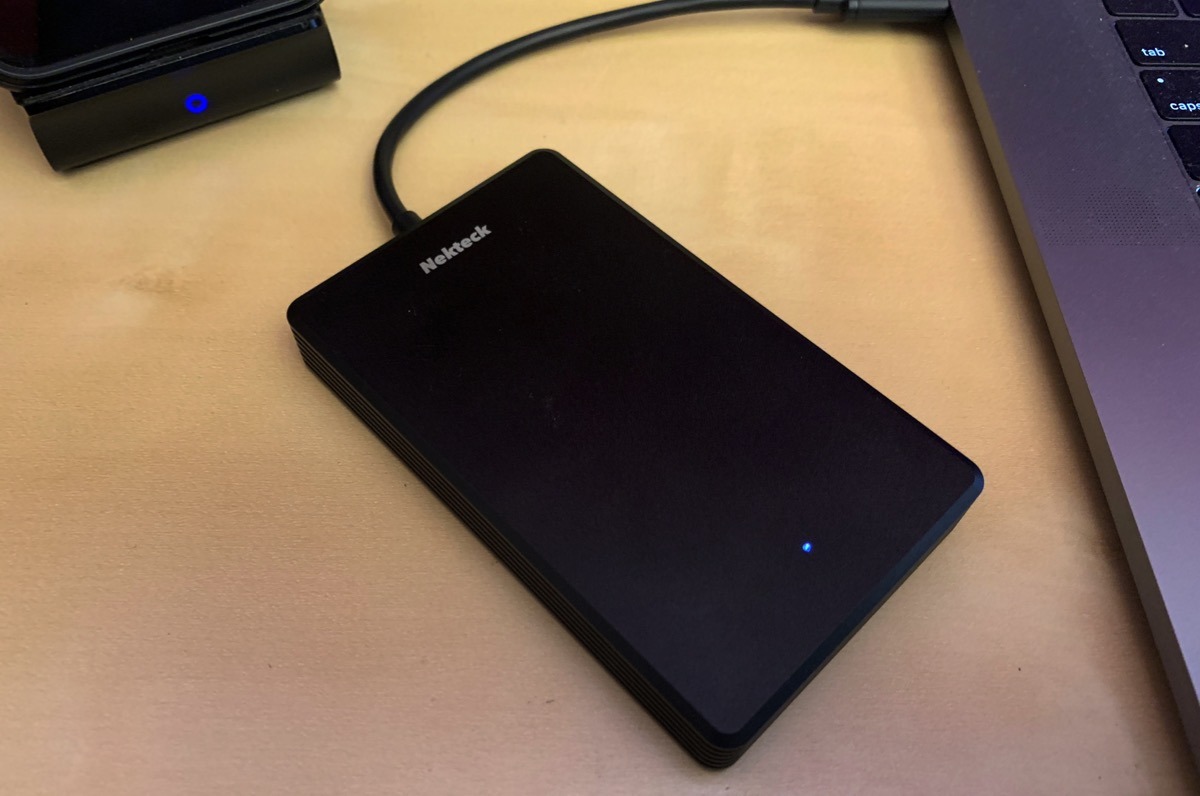 Under normal use patterns, the enclosure never gets more than slightly warm to the touch — but it will get hot if you hammer on it for a long period of time. A non-contact infrared thermometer reported temperatures at the enclosure's surface of 28C after 15 minutes of constant writing and reading, with it hitting 36C after two hours. This is in comparison to the 39C that the upper row of keys in an i9 MacBook Pro can hit under load.
Solid product, but not for everybody
Nekteck has been in business since 2014, and is more known for mobile accessories than Thunderbolt 3 drives. The company has just a handful of Thunderbolt 3 products, including a dock, a dual-display adapter, a few cables of assorted lengths, and this drive.
We had already purchased a few USB 3.1 type C drive enclosures from them for personal use before we saw the drive, so when the opportunity presented itself to review the SSD, we decided to take the chance. We're glad we did.
But, as with most high-speed Thunderbolt 3 drives, the cost per GB isn't low. Over the holiday weekend we saw the first sub-$100 SATA 3 1TB SSD with other models routinely at the $150 pricepoint — this clearly out-performs that, but ignoring speed and minus "doorbuster" sales, the former at $0.15 per GB plus whatever the enclosure costs much less per GB than the $0.62 per GB that the Nekteck unit delivers.
How much the extra speed is worth is an exercise that the reader has already performed once, when deciding whether or not to buy flash storage from Apple at about a $1 premium per GB above the 128GB that's already included. That said, that Mac mini for $799 with no storage upgrade beyond the 128GB, plus the $299 for the Nekteck drive gives you 608GB of total storage, for $100 less in total.
Also, getting the drive to work on an older Thunderbolt machine is an extra expense. Apple's adapter is a bi-directional Thunderbolt 3 male to Thunderbolt 2 female one, so to get this to connect, you'd have to use a Thunderbolt 3 dock, adapted down to Thunderbolt 2, with the Nekteck drive connected downstream of the dock. If this is your workflow, consider just getting a USB 3.0 type A enclosure for a SATA 3 SSD and sacrifice speed for universal compatibility and a cheaper drive.
If you're looking for solidly performing and fast external storage specifically for newer gear for not too much money, AppleInsider recommends the Nekteck Thunderbolt 3 480GB drive and gives it a 4 out of 5 with the only real ding being the permanent, and short, cable.