First issue of Macworld signed by Steve Jobs fetches $47,775 at auction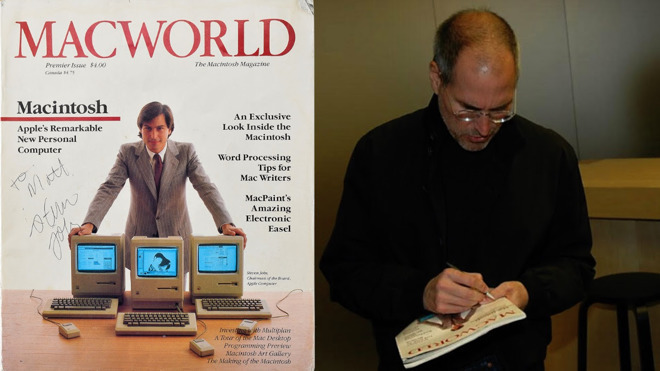 A copy of the first issue of Macworld bearing the rare signature of Apple co-founder Steve Jobs has sold at auction, with the item far exceeding its estimate and selling for $47,775 when bidding ceased on Thursday.
Part of the Science and Technology Auction by RR Auction that commenced on December 6, the lot consisted of the first edition of the magazine from February 1984, featuring Jobs on the cover. The inclusion of Jobs' signature on the front added tremendous value to the magazine, which is rare on its own, with the signed copy being a far more scarce item.
More unusually for the lot, there is video and photographic evidence of Jobs signing the magazine, notable considering Jobs was famously reluctant to provide fans autographs at all. The lot was also accompanied by letters of authenticity from third-party verifiers.
The signed magazine was originally estimated to fetch at least $10,000 during the auction.
The magazine was not the only item of Jobs memorabilia sold by the auctioneer during the event, with a Jobs business card dating back to when Apple was based in Mariani Avenue in Cupertino also available to purchase. Thought to sell for around $500, the unsigned business card also profoundly beat its estimate at $6,259.
Auctions for items relating to the Apple co-founder take place occasionally, and cover a wide variety of items. A rare working Apple I logic board sold for $375,000 on September 25, while a Macintosh Plus Computer signed by Jobs and the original nine team members went for $28,750 at the same auction.
On October 17, a 1988 copy of Newsweek with Jobs on the cover and signed by the man himself tripled pre-auction estimates, fetching $50,587. An autographed poster from the 1992 NeXTWorld Expo sold for $19,600 in March, while a more recent auction for handwritten Apple I specifications and photographs by Jobs expected to fetch up to $60,000.
More Jobs memorabilia may arrive at auctioneers soon. Woodside, California, is considering selling off items of historical and architectural significance it acquired from Jobs' Jackling mansion before its demolition in 2011.