Apple again sends users unsolicited push notification, advertises Apple Music compatibility with Amazon Echo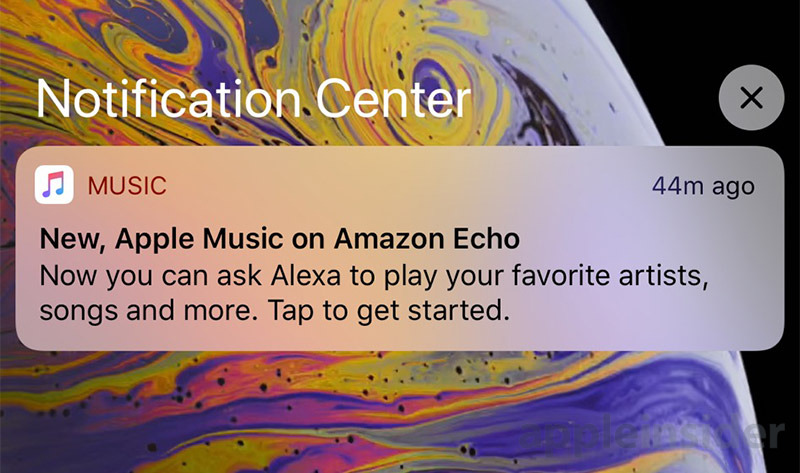 For the fourth time in less than two weeks, Apple has used the push notification mechanism of a native iOS app for what amounts to an advertisement, this time touting Apple Music compatibility with Amazon's line of Echo devices.
Apple Music subscribers saw push notifications promoting the service's new Echo integration pop up on their iPhone, iPad and Apple Watch devices on Monday. The alert, once a rarity for Apple, raised eyebrows, as a number of users posted screenshots of the message to social media outlets like Twitter.
"Now you can ask Alexa to play your favorite artists, songs and more. Tap to get started," the notification reads.
Amazon first announced Apple Music integration with its line of Echo speakers last month, saying control of the music service would be added as a "skill" for its Alexa virtual assistant on Dec. 17. The skill went live for some in the U.S. late last week, while others in the country gained access on Monday.
Similar to Apple's HomePod, users deploying Apple Music on Echo can ask Alexa to play songs by title, tracks from artists and custom curated playlists. Genre-based radio stations and Apple's live Beats 1 station is also available.
Today's notification is the fourth such alert Apple pushed out from a first-party app this month.
The first arrived on Dec. 7, when a notification urging iPhone owners to upgrade to iPhone XS and XR was sent from the Apple Store app. That same day, Apple Music sent out a message promoting an episode of its original TV show Carpool Karaoke featuring Kendall Jenner and Hailey Baldwin. Carpool Karaoke was again the subject of a push notification last Friday when Apple Music peddled a new episode starring Jason Sudeikis and The Muppets.
While not a glut of messages, the practice walks the line of Apple's own App Store Guidelines, which in section 4.5.3 prohibits developers from using Apple Services to "spam, phish, or send unsolicited messages to customers."