Pioneer's AVIC-W8500NEX wireless CarPlay receiver features 7-inch display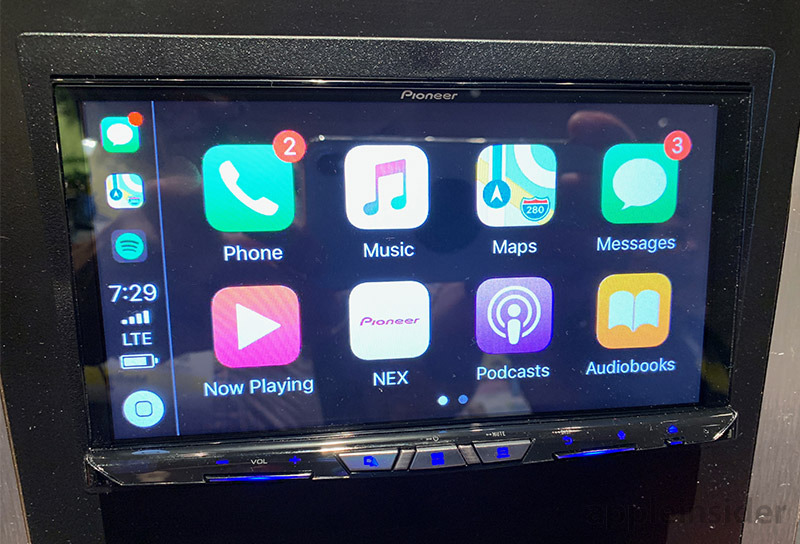 Audio hardware manufacturer Pioneer was at CES 2019 in full force this week to show off its latest wares, including the new AVIC-W8500NEX in-dash receiver with wireless CarPlay support.
Coming in at a hefty $1,200, the double-DIN unit boasts an impressive 7-inch high-definition touchscreen display with thin surrounding bezels, similar to other flagship Pioneer receivers. Below the massive screen are buttons for volume, playback, navigation, system controls, CD/DVD eject function and more.
This year's NEX is Pioneer's second head unit to support wireless CarPlay, which allows users to tether their iPhone without a physical cable. While the technology is convenient and provides a seamless user experience, aftermarket audio specialists have been slow to adopt wireless CarPlay.
Aside from CarPlay, Pioneer's own interface handles a usual assortment of inputs including HDMI, Bluetooth connectivity, support for a back-up camera and more. Like other NEX models, the W8500 also supports SD card playback.
A built-in amplifier offers a maximum of 16W by four channels, with a nominal output of 50W for four channels.
The AVIC-W8500NEX is shipping out now for $1,200.
AppleInsider is at the Consumer Electronics Show in Las Vegas from Jan. 8 through Jan. 11, where we're expecting 5G devices, HomeKit, 8K monitors and more. Keep up with our coverage by downloading the AppleInsider app, and follow us on YouTube, Twitter @appleinsider and Facebook for live, late-breaking coverage. You can also check out our official Instagram account for exclusive photos throughout the event.