Apple's AirPower charging mat may not be cancelled after all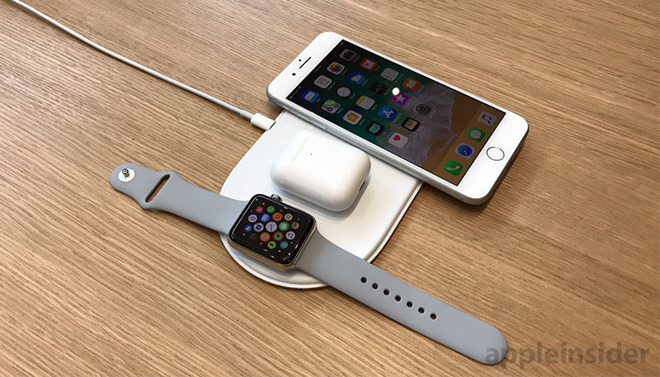 If reports out of the Chinese supply chain can be believed, Apple's AirPower charging accessory has very recently begun mass production with an established Apple manufacturing partner building the device.
After a year of speculation regarding when Apple's AirPower Qi charging pad will arrive, it appears that it may hit store shelves soon soon. According to a Tweet from charging watchdogs ChargerLab, mass production of the AirPower has begun at Luxshare Precision.
Breaking: AirPower is finally coming. We just learned from credible source in supply chain that the manufacture Luxshare Precision has already started producing Apple AirPower wireless charging pad. Luxshare Precision is also the maker of Apple AirPods and USB-C cables. pic.twitter.com/UqgWIAh3sx

— ChargerLAB (@chargerlab) January 12, 2019
Luxshare Precision has done a fair amount of Apple's accessory manufacturing for the last decade. Most notably, ChargerLab notes that the company handles some of the AirPods builds, as well as USB-C cabling for Apple.
From a historical perspective, ChargerLab has a good track record of predicting when charging accessories will arrive, and who manufactures them.
In 2017, at Apple's iPhone X event, Apple teased the AirPower, and promised it for 2018. We were even showed how it worked in the hands-on demonstration area after the reveal event.
Since the initial reveal, Apple seems to have wiped it from existence online, and didn't say a thing about it — and Apple has let four event pass by without a mention. Over the last year, attempts by AppleInsider, and others, to get comment on the matter have been not just rebuffed, but outright refused.
Qi, the standard behind Apple's wireless charging in the iPhone 8, iPhone X, pair of iPhone XS models, and the iPhone XR can be easy to execute technically, or very hard, depending on choices that charging plate manufacturers want to make and how they want the charging pad to perform.
Apple's AirPower stands alone
At present, the most common Qi implementation allows for one device to be charged by one base station. Multiple devices are allowed on one charging plate, as evidenced by a slew of copycats that have popped up since the announcement of the AirPower.
There is no specific order for devices on the AirPower, like there are on some of those copycats. A Series 3 or Series 4 Apple Watch, the as-yet unreleased AirPods Wireless Charging Case, and a compatible iPhone can be placed just about anywhere on the pad, and isn't limited to specific locations or device order.
This is implicitly allowed by the Qi standard, and the standard spells out how to do it in theory. It just appears that nobody else has done it the way that Apple is trying to do, just yet.
How Qi works
The Qi standard relies on induction between two coils, or similar structures, to deliver power to a device that needs charging. The base station contains a transmitting coil that generates a oscillating magnetic field, which induces an alternating current in the receiving field.
The coils are aligned with each other in either guided positioning relying on the user to place a device in a specific position and alignment, or hardware can be built allowing for free positioning.
Free positioning is generally used in most charging plates, with relatively minor adjustments of less than a quarter-inch made by magnetic positioning or other mechanical apparatuses.
There are many charging pads at this point with multiple physical coils. However, Apple appears to be going in a different direction.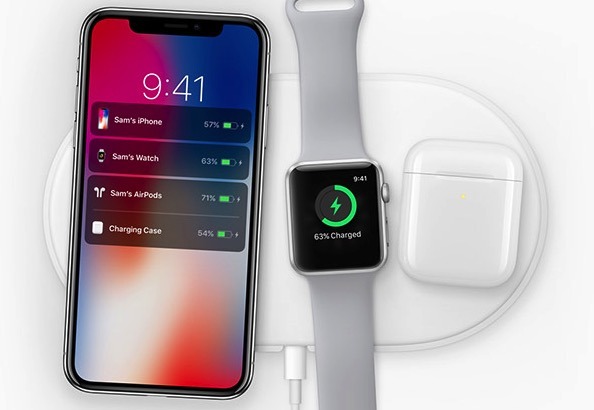 The Qi spec also allows for free positioning to be implemented by inducing a magnetic field just at the location of the receiving coil with multiple co-operative flux generators. Devices put on a plate communicate their location and identity, and the field is only induced under the device by the flux generators operating in tandem.
Apple appears to be using this method for a trio of devices that can be placed in any order, on any location on the pad. Apple's hands-on demonstration from 2017 showed this, and AppleInsider was able to put multiple devices anywhere on the pad, in any order. After doing so, the AirPower was communicating with the charging devices, and the iPhone on the pad was displaying information about the other charging devices.
Apple was said to have been stymied by heat concerns with the AirPower. Likely, the pad was having problems dissipating heat generated by the flux generators when devices in close proximity were charging. If Saturday's report is correct, the problem appears to be solved.
It isn't clear yet when Apple will issue an official statement on availability, nor what the pricepoint will be. AppleInsider expects it to retail for between $150 and $200.