Google pays Fossil $40M for smartwatch IP to compete with Apple Watch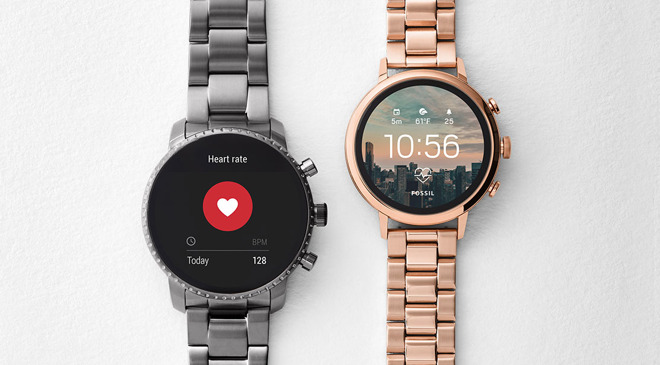 AppleInsider may earn an affiliate commission on purchases made through links on our site.
Google's attempts to take on the Apple Watch in the wearable devices market with Wear OS may receive a boost, after the revelation the search giant will be paying watch maker Fossil $40 million to buy the company's smartwatch-related intellectual property.
The purchase will see members of Fossil's research and development team move over to Google, along with the IP, which is apparently for smartwatch technology that has yet to appear in a commercial product. The deal is expected to be finalized later this month, though relatively few details about what the IP is for have been released, except that it is a product line.
The IP is based on a technology that Fossil acquired as part of its purchase of wearable devices startup Misfit in 2015, a deal itself worth $260 million Fossil EVP and chief strategy and digital officer Greg McKelvey advised to Wareable. "It's based on something out of our timeline, it's new to the market technology and we think it's a product that has features and benefits that aren't in the category today," claims McKelvey.
Google VP of Project Management of Wear OS Stacey Burr advised to the report the new product line will work within the existing Wear OS ecosystem, devices running on Google's wearable device operating system formerly known as Android Wear.
"We saw some technology that they were developing that we thought could be brought out in a more expansive way if Google had that technology, and was not only able to continue to use it with Fossil but bring it to other partners in the ecosystem," notes Burr. "It's about bringing great features to the widest numbers of on-the-go consumers."
Fossil is still planning to launch multiple devices using the unnamed technology, with the firm still focused on finishing its development. McKelvey adds "The Fossil Group will bring the product to market, across our full breadth of brands over time, and then in true Google fashion, the technology will be expanded across the industry over time to benefit all."
There have been rumors Google would produce its own Pixel-branded Wear OS smartwatch, putting Google directly in competition with Apple in the wearable device space instead of allowing third-party vendors to use its operating system. While it is unclear if the Fossil deal will impact that alleged device, Burr stressed the technology resulting from the purchase would be made available to all existing and future partners.