Apple spent $60 billion with 9,000 American manufacturers in 2018 alone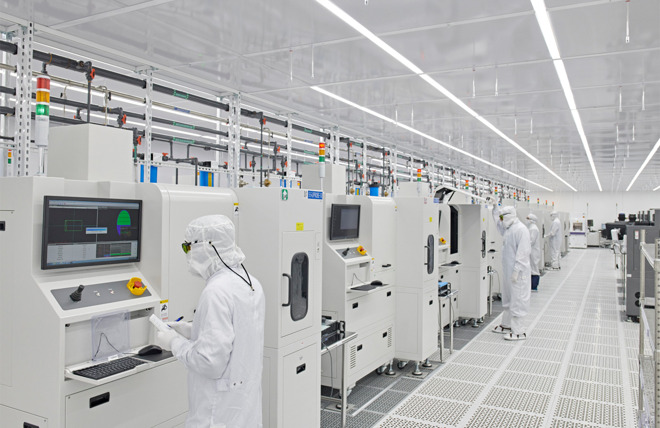 AppleInsider may earn an affiliate commission on purchases made through links on our site.
Apple is heralding its commitment to American companies, and has detailed its involvement with manufacturers, plus its role in expanding businesses that supply components for the iPhone and Mac.
Apple noted on Monday that its $390 million investment from Apple's Advanced Manufacturing Fund allowed component manufacturer Finisar to turn an unoccupied building in Sherman, Texas into "a bustling operation full of people who will supply that future business." Finisar makes the vertical-cavity surface-emitting laser, or VCSEL, part of the TrueDepth camera system, crucial for Face ID in the iPhone X and later.
"VCSEL wafers are nearly as thin as a human hair and contain hundreds of layers measuring only a few atoms in thickness," said Apple. "They require a highly advanced and precise manufacturing operation, as well as skilled technicians with specialized training."
Since 2011, the total number of jobs created and supported by Apple in the United States has more than tripled — from almost 600,000 to 2 million across all 50 states. Beyond Apple's noting the $60 billion spent in the year from the Advanced Manufacturing Fund, Apple's 2018 expansion supports more than 450,000 jobs on its own.
Apple notes that the touch sensitive glass for iPhone and iPad is made by Corning at a 65-year-old facility in Harrodsburg, Kentucky. Cincinnati Test Systems in Ohio designed a first-of-its-kind equipment to ensure iPhone is water resistant.
Other electronics manufacturers cited by Apple include Broadcom in Fort Collins, Colorado, Qorvo in Hillsboro, Oregon and Skyworks in Woburn, Massachusetts. All three make wireless networking and communications components for Apple.
The Advanced Manufacturing Fund is geared toward supporting U.S. manufacturing. Apple's first investment took place in May 2017, when it spent $200 million on Corning — the company that makes the Gorilla Glass used in many Apple devices.
"We're really proud to do it," Apple CEO Tim Cook said when the fund was announced. "By doing that we can be the ripple in the pond, because if we can create many manufacturing jobs, those manufacturing jobs create more jobs around them."
The Advanced Manufacturing Fund goes beyond Apple's $1 billion investment in SoftBank's Vision Fund, a $100 billion resource created to accelerate the development of technology around the world. Some $50 billion of the Vision Fund will be directed toward U.S. endeavors.