iPhone owners in the US spent an average of $79 on apps in 2018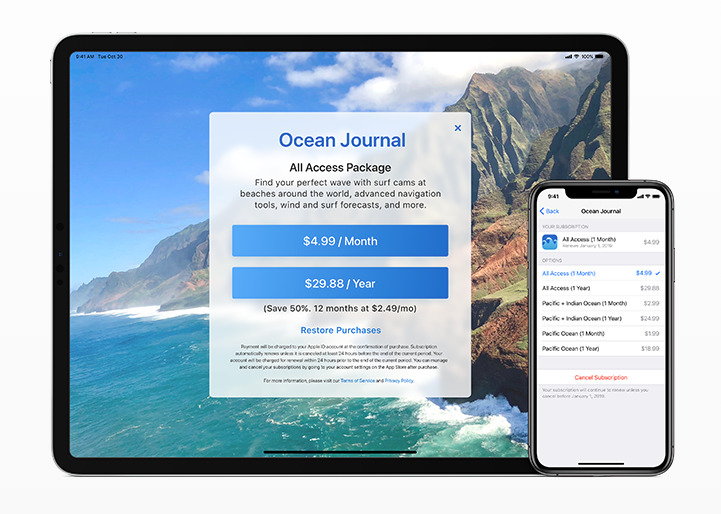 AppleInsider is supported by its audience and may earn commission as an Amazon Associate and affiliate partner on qualifying purchases. These affiliate partnerships do not influence our editorial content.
Although Apple has had to take measures to keep them in check, App Store subscriptions may indeed be pushing up the amount of money extracted from iPhone owners, according to new research estimates.
The average revenue generated per U.S. iPhone rose 36 percent in 2018 to $79, up from $58 in 2017, Sensor Tower said in a report previewed by TechCrunch. While 56 percent of the latest figure can be traced back to gaming, higher growth is said to have taken place in other categories where subscription apps are often dominant.
Entertainment app spending rose 82 percent to an average of $8, while Lifestyle spending increased 86 percent to $3.90. Health and Fitness apps advanced 75 percent to $2.70.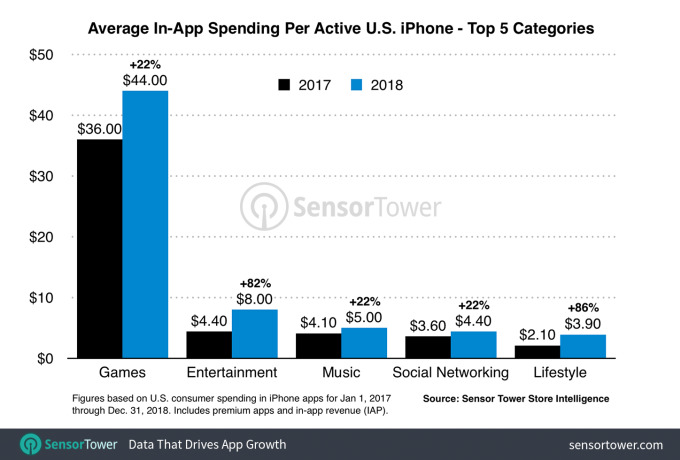 Subscriptions can be lucrative for app developers — they provide a recurring and relatively stable source of income, whereas one-time or in-app purchases will almost inevitably taper off. At the same time, subscriptions can only be pushed so far, since most people have limited app budgets and may only find a few services worth paying for.
In January, Apple also had to crack down on titles tricking people into signing up for subscriptions. New guidelines require developers to clearly show monthly prices and downplay text highlighting what people might save based on their plan term. Similarly, free trial offers must identify how long they'll last, plus the cost that kicks in once a trial ends.
Worst-case scenarios have seen developers label subscription buttons with text like "Start" or "Continue," concealing the existence of monthly payments.
Subscriptions are inherently valuable to Apple's services income as well. There has been a growing resistance to Apple's standard 30 percent revenue cut though, which only shrinks to 15 percent in the case of in-app subscriptions active for at least a year.
Companies like Spotify and Netflix have already removed in-app subscription options, directing people to pay on the Web instead. Apple's cut has been described as unfair in the context of subscriptions given that it collects for content it doesn't produce or host.