Hands on: The Cintiq 16 artist's tablet provides a premium experience at a discount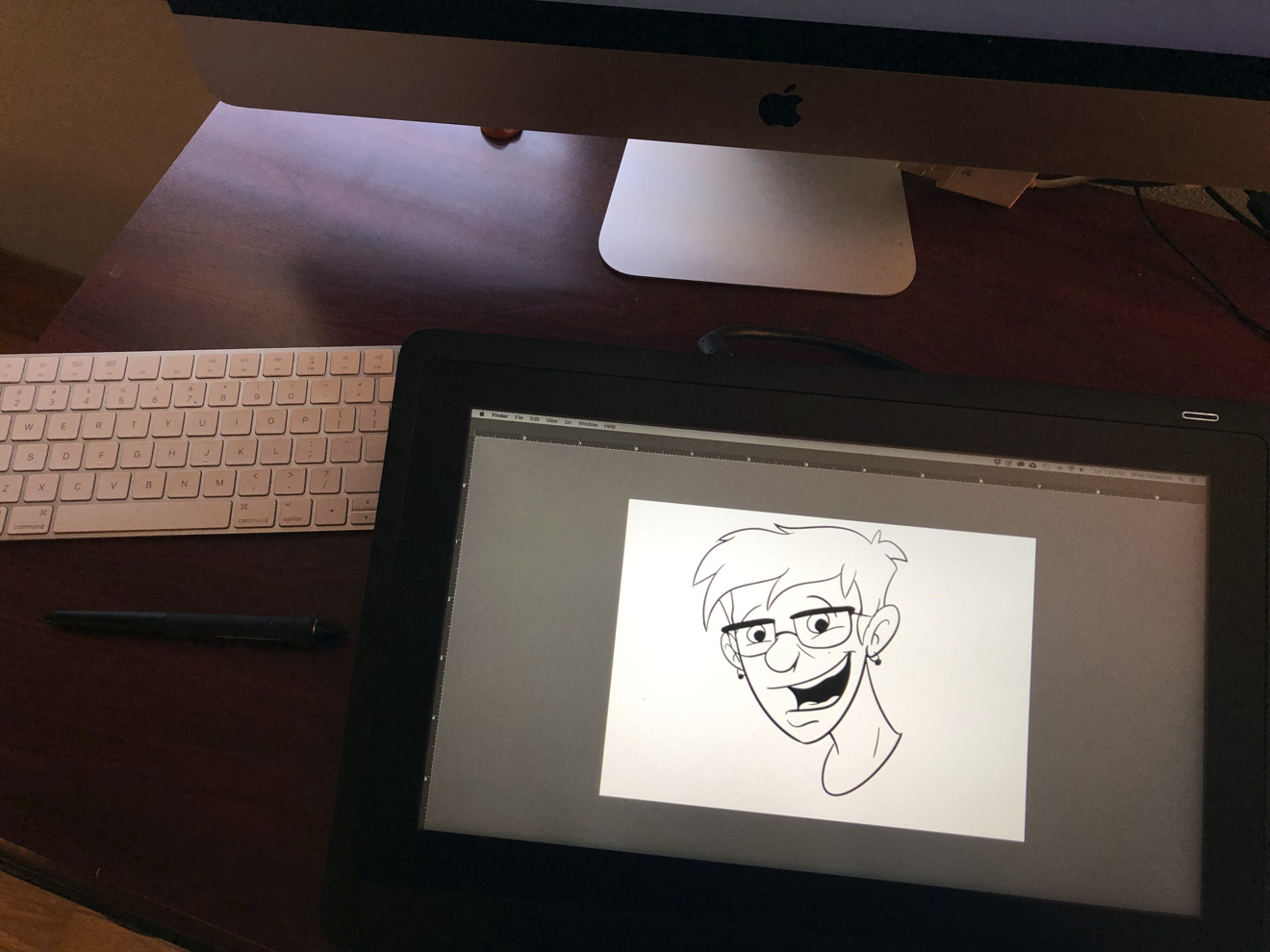 AppleInsider is supported by its audience and may earn commission as an Amazon Associate and affiliate partner on qualifying purchases. These affiliate partnerships do not influence our editorial content.
You don't have to spend thousands on a great artist's tablet for your Mac because the Wacom Cintiq 16 is here. AppleInsider hands it to a webcomic artist, to see what he thinks of it.
Speaking as someone who has worked exclusively digital since 2010, Wacom and their products have always been the gold standard for comfort, quality, and ease-of-use. But, the price of entry was always a bit steep. The initial investment in the gear and the will to adapt to the requirements of it is absolutely worth it, and it will change everything you know about workflow and digital art production, but it can be intimidating to lay down money on new equipment.
The price tag for many baseline Wacom Cintiq tablets such as the Cintiq 13HD and 22HD can easily exceed $1,000, making entry for new professionals and hobbyists tougher.
Thankfully, Wacom has released a new tablet that bridges the cost versus need divide with the Cintiq 16, offering a solution that does not come with the weight and stress of thousands of dollars up-front, before getting started.
The hardware
Wacom products have always had a certain sleekness and simplicity in their appearance and function and the Cintiq 16 is no different. The standard dark hardware is present, and everything is clearly labeled.
The box contains the tablet, the Pro Pen 2 stylus, a setup guide, and a 3-to-1 connection cord that divides into the USB, HDMI, and an AC adapter for the tablet for less top-of-the-desk clutter. As someone who moves their tablet and keyboard around often while I work, this is important and appreciated. It is efficient.
the Cintiq 16 offers 15.6 inches of screen space at 1920 x 1800 resolution and a nice color gamut for professional work.
The tablet is lightweight but sturdy. It does not feel cheap and while testing those limits with drops from the top of a desk is unwise, it feels like it will stand up nicely to the wear and tear of daily use. We'll let you know for sure about this in a few months, though.
Flip-down legs give the tablet a bit of height and angle, with rubber pads adhered keep it more securely anchored to the desktop. Optional mounting holes for swing arms and other stand options can be attached as well.
Setup
The simple instructions provide information on where to downloaded the drivers, and how to install them. The pamphlet included with the box provides illustrated steps on how and where to plug everything in and connect the tablet to your work station — but it's pretty obvious to begin with.
Using the Wacom Desktop Center app, I went in and set up the Pro Pen 2 settings to what I personally like to use, calibrated the screen though the prompts, and I was ready to work. The setup process took minutes.
Granted, I know my way around the calibration process and pen settings but on a fresh install for the first-time user, the prompts and app interface are clear and helpful.
I work on Mac exclusively, but just to be thorough, I set up the Cintiq 16 the exact same way on a friend's standard PC, just to see what would happen and the process was equally smooth.
Truly, the Cintiq 16 is plug-and-play. That is, assuming you have a USB-A port. This isn't an issue with the iMac line, or the Mac mini, but you'll need a pair of adapters or a Thunderbolt 3 docking station to use it with a 2016 and later MacBook Pro.
The Stylus
The Pro Pen 2 is fantastic. The pressure sensitivity is on point and there is little-to-no lag in responsiveness. I was able to draw with confidence as the pen behaved exactly as I hoped it would with pressure, line weight, and range of motion.
The Pro Pen 2 feels a little lighter than the stylus you get with a Cintiq 22HD which is my primary tablet, but it does not feel cheap. This is probably because there is no battery — Wacom's continued electromagnetic resonance witchcraft with this stylus means that it does not need an internal power supply, which is a fantastic touch.
Working Experience
After setting up the tablet, I opened a fresh Photoshop document and started sketching. Once my settings were adjusted, I used the Cintiq 16 to draw a sketch of one of my characters.
Immediately, I noticed that I did not feel restrained or cramped on the workspace like I have with other tablets. I had full range of motion and the slightly elevated angle with the built-in legs meant that I did not have a backache from being completely hunched over while I worked.
The stylus was responsive and comfortable and the screen material on the Cintiq 16 has a satisfying amount of resistance. It doesn't feel perfectly smooth when the stylus runs across it, this isn't a bad thing. If you have ever run a great pencil or pen across a nice piece of paper, it has that level of satisfaction to it.
This is one reason I point artists toward Cintiq products. Non-screen tablets are very affordable and loved by artists, but I am one of those people who cannot not see their hand draw while they work. Cintiq tablets provide a traditional drawing experience in a digital medium and for me, that is worth a higher investment cost.
My original 21UX changed my life and the way I create. It was a large investment, but I have never regretted it, not even once. If the Cintiq 16 had been an option for me back then, I would have jumped on it immediately.
Wacom is clearly trying to bring the full Cintiq experience to more people with the Cintiq 16. While you might lose a few bells and whistles of the larger tablets, this product succeeds in the goal.
It is clean, quick, and professional-level quality at a fraction of the standard cost.
Pricing and Value
The Cintiq 16 retails for $649 through the Wacom store and Amazon. The Cintiq Pro 16 retails for $1,499. At less than half the price, the Cintiq 16 is a fantastic step in the right direction.
Nearly $700 for a tablet is not cheap, but it is an investment in the right tool for the job. If you are someone who is ready to step into the world of digital art, this is completely worth it. With it, you are securing a generous workspace and canvas area using Wacom's intuitive hardware, along with options as a solid second monitor and travel work solution.
I will be wholeheartedly recommending the Cintiq 16 to professionals and hobbyists looking to make the jump to digital workflow. I am not exaggerating when I say that it could lead to a new generation of digital artists taking their first steps into the world who otherwise might need to wait much longer to do so, and I cannot wait to see what they create with the Cintiq 16.
We'll be talking more about using the tablet, and long-term impressions, in a few months.
Where to buy
Wacom's Cintiq 16 Drawing Tablet is currently in stock for $649.95 at several resellers, including Adorama (no tax collected outside NY & NJ), B&H Photo (free expedited shipping), and Amazon.com.