Rumor: Apple to launch 'AirPods 2' on March 29, discontinue original AirPods model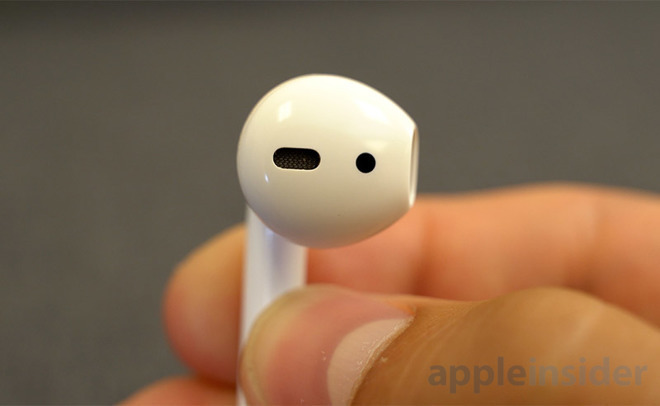 An unsubstantiated rumor claims Apple's original AirPods wireless earbuds will reach end of life status in late March, with a successor model slated to hit store shelves immediately thereafter.
Citing sources familiar with Apple's supply chain, Spanish blog Applesfera reports Apple intends to halt sales of current generation AirPods on March 28. In its place, the tech giant will introduce "a few" new models of the immensely popular accessory, sources said.
The report hinges in part on a screenshot purportedly taken from the logistics software of an Apple supplier, which labels AirPods as "Out of Stock" on March 28. While its origin is unknown, the stock listing appears to suggest that a next-generation product launch is imminent.
The publication, again citing unnamed sources, claims one or more new AirPods variants will be unveiled at a rumored special media event slated for March 25 before they hit store shelves on March 29.
Further details regarding the supposed next-gen AirPods were not furnished in the report.
Applesfera lacks an established track record — or any record — of predicting Apple product launches and AppleInsider is unable to confirm its claims.
Thursday's report adds to a confusing, and perhaps confused, chorus of rumors surrounding a so-called "AirPods 2" device.
When BuzzFeed News broke news of the as-yet-unannounced Apple special event earlier this month, the outlet cited sources who believe the tech giant is unlikely to use the opportunity as a platform to debut new hardware. Instead, the media gathering is expected to focus on new video and news subscription services.
Previous rumblings suggested a new AirPods version with health tracking features would launch on March 22 alongside "iPad mini 5" and the long-delayed AirPower charging mat. Others claim a promised wireless charging case is set to debut with a minor AirPods hardware update sometime before a product line revamp is unveiled this fall.
More recently, analyst Ming-Chi Kuo in a note to investors pegged Apple to launch an updated version of AirPods in the first half of 2019, echoing a prediction first floated by DigiTimes in January.