Review: Philips Hue Outdoor Sensor is the first outdoor motion detector for HomeKit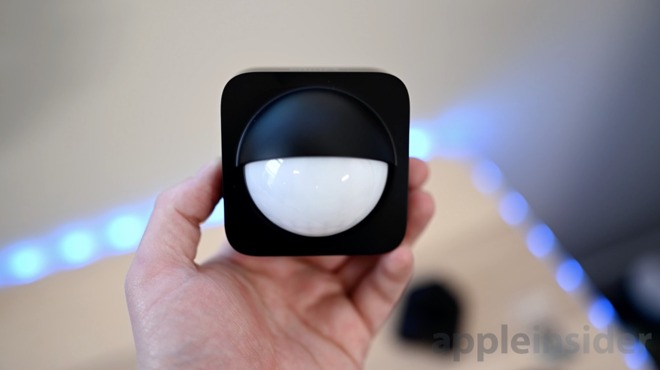 Phillips Hue Outdoor Sensor
4.5 / 5
---
AppleInsider may earn an affiliate commission on purchases made through links on our site.
The Hue Outdoor Sensor is the first outdoor HomeKit sensor, and adds motion, temperature, and light sensors to automate the outside of your Apple-centric smart home.
Recently, we took a look at the new Philips Hue Outdoor LightStrip, which is great on its own but becomes more useful when paired with a motion sensor. Outdoor sensors are even more limiting than outdoor lights which is why we were so excited during CES 2019 to see the Hue Outdoor Sensor.
This is the first — and only — HomeKit-enabled outdoor motion sensor. Even in our relatively short review period, we can clearly see that it adds a wealth of possibilities not only to your existing indoor/outdoor Hue lights but any other smart lights in your home. Let's check out the sensor itself, how it works, and some of the possibilities that it opens up.
The sensor
The Hue Outdoor Sensor has a matte black exterior with a bulbous sphere in the center that acts as the eye of the sensor. It is minimalist, and blends in with a lot of exteriors — but is a little on the larger side.
Compared to the indoor Hue sensor, it is certainly bigger but is far more capable. A range of up to 39 feet is particularly useful in the outside environment where the motion could be more distanced from where the sensor is mounted.
Signify includes a wealth of options for mounting the sensor to fit a variety of surfaces, each which holds the sensor securely to make it more difficult for someone to just snatch off your wall. The basic flat sensor screws into your surface of choice, then the Hue sensor slides over top and is secured at the bottom with a simple screw.
Alternatively, an included angle bracket lets you attach it to any right angle — vertical or horizontal.
Getting going
As this is a Hue accessory, it can easily be set up using the Philips Hue app. Also like any other Hue accessory, a requisite Hue Bridge must already be configured. The Hue app will walk you through the process of pressing the setup button on the back, discovering it in the app, adding it to a room, and creating the different lighting rules.
The Hue utility will help set up different automation rules. During the day, within your chosen hours, the lights will come on to your predefined brightness. During the night, within your second set of hours, they will come on to a different brightness and temperature of white.
Even better, the Hue app allows you to customize the motion sensitivity to control what will and won't trigger the sensor. Because the sensor has a light sensor embedded, the lights can also only be triggered if it is dark, and what you call dark is configurable inside the app.
All of the Philips Hue line supports Apple HomeKit, and this sensor is no exception. Within the Home app, you will see a light measurement, a temperature reading, and the motion status. This trio of sensors can be used for different automation rules with any other HomeKit accessories such as light switches, outlets, or lights from other manufacturers.
Using the sensors
As a simple example of a sensor trigger, you can have the driveway lights automatically turn on as your car pulls in. Or, the sidewalk lights can fire up as your friends approach.
Using the light sensor, you could turn on the patio lights based on the outdoor brightness. The temperature sensor can be used to enable/disable your smart thermostat based on the outside temperatures.
For the security conscious, you could cause your indoor lights to turn on and off whenever you are away and motion is detected. That way, if you've got a trespasser coming near your porch, the living room lights turn on, giving the impression someone is home. There are several new Hue security flood lights available which can be triggered to brightly illuminate your property to also ward off ne'er do wells.
We've had a great time trying to come up with different ways to use the trio of sensors that are part of the Philips Hue Outdoor Sensor which makes our home feel safer, more comfortable while going out at night, and more convenient for guests who come or leave in the dark.
We've been hoping for a HomeKit outdoor sensor for the longest time and Hue has finally come through.
Rating: 4.5 out of 5
Where to buy
The Philips Hue Outdoor Sensor is available now on Amazon for $49.99 with Prime shipping, or from Philips directly at MeetHue.com. You don't need any Hue lights to use the Hue motion sensor as it works with any HomeKit lights, outlets, or switches, but you do need the Philips Hue Bridge.