Texture app shutting down on May 28 in wake of Apple News+ launch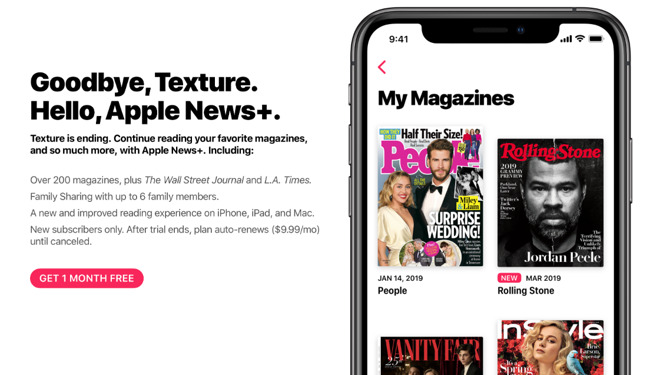 AppleInsider may earn an affiliate commission on purchases made through links on our site.
Following the launch of its Apple News+ magazine subscription service, Apple is preparing to close down the standalone version of Texture for all users at the end of May, with the notice of closure urging customers to try out the new Apple News subscription instead.
Apple launched its long-rumored subscription feature for Apple News, titled Apple News+, on Monday alongside a host of other services. The announcement was a sign Texture's time was running out, something Apple confirmed on Friday via the Texture website.
The front page of the site warns "Texture is ending," before pointing users towards Apple News+ as its replacement. The page also includes a link advising of a one-month free trial for the service, which normally costs $9.99 per month.
Bought in March 2018, Texture provided access to digital magazines on a subscription, with hundreds of publications provided in a similar manner to Apple News+'s offering. It is largely believed the agreements and underlying technology of Texture was used to produce Apple News+.
According to the support pages, Texture will be operational until May 28, 2019. There is no word on whether existing subscriptions will stop for the app ahead of that date, or if there will be some form of pro-rating for charges until the app's end of life, but the site does confirm gift codes for Texture will no longer be honored.
While the closure of Texture will mean many users on Apple devices will simply move over to Apple News+, not all users will be affected the same way. Subscribers with Android devices will have to find an alternative service as Apple News+ is not available on that platform at this time.