Apple executive Andreas Gal suggests he was detained at border for voicing political views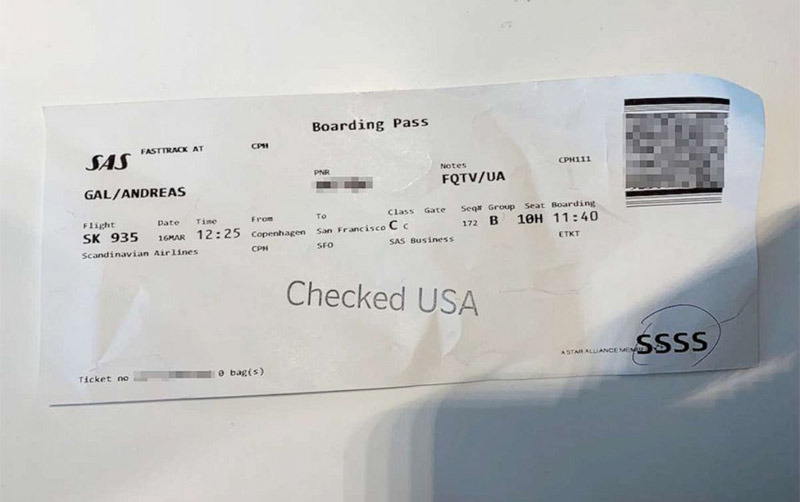 Apple employee and former Mozilla CTO Andreas Gal recounted a November run-in with U.S. Customs and Border Protection agents in an interview published Friday, saying he might have been singled out because of his political leanings.
An overview of the encounter was made public earlier this week in a complaint filed by Gal and the American Civil Liberties Union of Northern California, but the executive today explained the matter to ABC News in greater detail.
Of note, Gal said he lodged the complaint in part to determine why he was detained for an hour by three armed CBP agents. At the time of the stop, Gal had arrived home at San Francisco International Airport from a business trip to Sweden.
"Why me? I'm a boring, middle-aged white male software executive. I'm very average. It's not something I would have expected to experience, to get yelled at by three armed men just because I return home," he said.
Offering his take on the matter, Gal posited that the stop might be related to Mozilla's views on mass surveillance or his own political leanings.
"In the past two years I've been very outspoken on the Trump administration's policies on social media, particularly with respect to Customs and Border Protection and immigration," Gal said.
During the brief detention, officers asked about Gal's work at both Apple and Mozilla, and demanded access to an iPhone XS and MacBook Pro that was in his possession.
As stated in the complaint, Gal informed the officers that the devices were owned by Apple and covered by a non-disclosure agreement.
"That seemed to aggravate these customs agents and they started getting very upset with me and they said they had the right to access my devices and I had to turn over my passport," he continued. "I told them I wanted to talk to an attorney and my employer so I could understand my responsibilities with regard to this NDA."
According to Gal, the agents threatened to level charges under U.S. Code 111, a section of federal law that relates to assaulting, resisting, or impeding certain government agents, the report said. The CBP agents denied Gal's request for a lawyer, saying he had no right to one even as a U.S. citizen.
Gal has been a U.S. citizen for three years. During that time, and the ten years prior to becoming a citizen, he made some 100 international trips without incident, the report said.
"It was a very alarming experience for me," Gal said. "There's no such thing as a cursory inspection of the contents of your cell phoneThis is essentially my entire life for the last 10 to 15 years I'm carrying with me on my cell phone. And CBP seems to believe without a court-issued warrant they can inspect the last 10 to 15 years of my life just because I'm traveling internationally."
As previously reported, CBP officials revoked Gal's Global Entry card. He might also be on a watch list, as a boarding pass from a subsequent trip to Europe bore the mark "SSSS," denoting a call for secondary security screening.
For its part, the CBP in a statement to ABC News said all travelers arriving to the U.S. are subject to inspection, including search of electronic devices.
Editor's note: Due to its political nature, comments for this article have been disabled.