Apple's 2019 Environmental Responsibility Report touts increased focus on recycling and material recovery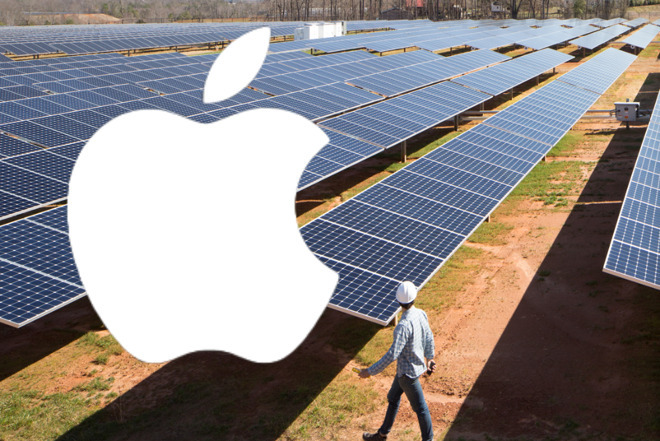 Apple is committed to building its products while simultaneously trying to "leave our world better than we found it," the company declares in its 2019 Environmental Responsibility Report, underscoring the progress the iPhone producer has made in its long-term renewable energy and recycling efforts.
The 86-page document, covering the 2018 fiscal year, was published by Apple on Thursday in the lead up to Earth Day. A time of year when the company celebrates environmentalism in its stores and services, Apple also uses the occasion to issue its annual report to show how it has improved over previous years.
The list of highlights in the report covers a few subject areas, including how Apple is combatting climate change. All of its global facilities are powered by 100 percent renewable energy, the report asserts, with the overall carbon footprint of the company as a whole also down 35 percent compared to 2015, and a note that there has been a 70 percent decrease in average product energy usage over the last ten years.
Emissions from manufacturing relating to aluminum is down 45 percent from last year, with overall carbon emissions down 64 percent since 2011 for Apple's direct operations.
Apple's total carbon footprint is said to be 25.2 million metric tons, with 74 percent attributed to manufacturing, 19 percent in product use, 5 percent for transport, 2 percent at its corporate facilities, and less than 1 percent classified as "end of life" use. Overall, this represents a reduction of 4.8 million metric tons of carbon emissions versus 2018's report.
For "Resources," Apple reminds of its change in October 2018 to use 100 percent recycled aluminum to produce the enclosures for the MacBook Air and Mac mini. For packaging, usually a major waste contributor, Apple now uses 100 percent "responsibly sourced wood fiber" in all of its retail packaging, and has 14 priority materials that it intends to transition to 100 percent recycled or renewable content.
Plastic usage in Apple's packaging is down 48 percent in three years, by changing elements like the plastic tray in iPhone and iPad boxes to a molded fiber alternative. As of March 2019, all of Apple's retail outlets now use 100 percent fiber bags, which use a knitted paper handle and contain 80 percent recycled fiber.
Where paper was required in its packaging, Apple used recycled paper 58 percent of the time, while virgin paper was sourced from responsibly managed forests or Forest Stewardship Council-controlled wood sources. Paper usage in the corporate offices makes up less than 1 percent of Apple's fiber usage, with 85 percent of the paper stemming from recycled or responsible sources.
On the chemistry side, all of Apple's suppliers that perform a final assembly of its products are now using safer cleaners and degreasers, reducing the impact on the environment. The inventory of detailed chemical comparison data, which advises what goes into Apple products, has been expanded to cover over 75 percent by mass of all new iPhone, iPad, and Mac products.
Apple also prides itself on its products being free of potentially harmful chemicals, like mercury, brominated flame retardants, PVC, phthalate, beryllium, lead in solder, and arsenic in display glass.
"It was just a year ago that we reached our goal of covering 100 percent of our operations with 100 percent renewable electricity," said Lisa Jackson, Apple VP of Environment, Policy, and Social Initiatives. "That work continues as we source the clean energy needed to maintain that standard — even as our company grows.
At the same time as convincing the supply chain to shift their power usage to greener versions, which has so far led to more than 40 suppliers committing to join the effort, Jackson adds Apple is entering the next phase of work "to better use and reuse materials with a state-of-the-art lab to support our research and innovation with material recovery."
"At Apple, it's simple. We apply the same level of innovation that goes into everything we create, design, power and manufacture to making things better for people and the planet," writes Jackson, while insisting the company makes it easier for consumers and partners to do their part. "We are proud to do the hard work, to make the breakthroughs, and tirelessly search for ways to ensure the better future for our planet that we all deserve."