Apple earns $58B in revenue as services hit all-time high of $11.5B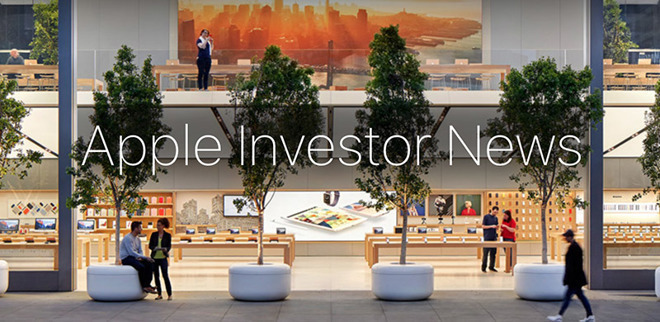 Apple has earned revenue of $58 billion in the second quarter of the 2019 fiscal year, according to its financial results revealed on Tuesday, with the earnings per share raising to $2.46 and services reaching record highs.
For the March quarter, Apple's revenue of $58 billion is down 5% year-on-year from the $61.1 billion reported in the same quarter in 2018. The earnings are within Apple's forecast range of between $55 billion and $59 billion that it issued in January, a quarter where it famously missed expectations following lower-than-expected iPhone revenue.
Revenue from the iPhone for the quarter is declared as $31 billion, down from $37.6 billion last year. Mac revenue is at $5.5 billion, down from $5.8 billion, and iPad landed at $4.9 billion, up from $4 billion in the year ago quarter.
The company's "Wearables, Home and Accessories" category has net sales of $5.1 billion, an increase from the $3.9 billion brought in during the same quarter in 2018.
Services, a reliable growth engine for the company, earned $11.5 billion in revenue, up from $9.9 billion last year, and up from January's $10.9 billion all-time-high.
"Our March quarter results show the continued strength of our installed base of over 1.4 billion active devices, as we set an all-time record for Services, and the strong momentum of our Wearables, Home and Accessories category, which set a new March quarter record," Apple CEO Tim Cook said in a prepared statement. "We delivered our strongest iPad growth in six years, and we are as excited as ever about our pipeline of innovative hardware, software and services. We're looking forward to sharing more with developers and customers at Apple's 30th annual Worldwide Developers Conference in June."
The quarter is the first to follow Apple's earnings misstep in January, and analysts have been keen to see the company stabilize and reverse course as soon as possible. Analyst expectations were for Apple to hit its revenue forecast, as well as having a marginally higher gross margin, and a greater reliance on Services to fill in from any losses caused by reduced iPhone sales volume — a statistic which Apple will not be divulging in any significant way.
Analysts suggested there would be an earnings per share of around $2.37, with an update to the share buyback scheme adding another $100 million to the pot.
For the third quarter, Apple is forecasting revenue between $52.5 billion and $54.5 billion, with a gross margin between 37% and 38%. Operating expenses are tipped to be between $8.7 billion and $8.8 billion.