Apple iPhone shipments declined 30% in Q1, now in third place behind Samsung and Huawei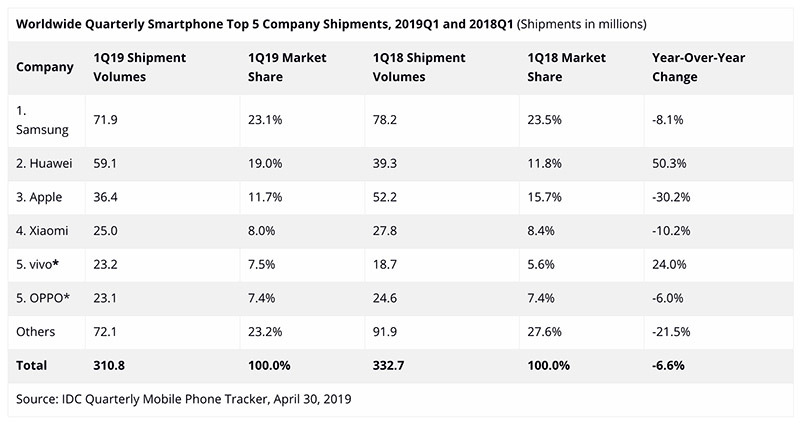 According to the latest estimates from market research firm IDC, Apple shipped 36.4 million iPhones during the first quarter of 2019, down a whopping 30% from the same time last year.
Estimates from IDC's Worldwide Quarterly Mobile Phone Tracker show Apple in third place behind market leader Samsung and Chinese upstart Huawei.
For the quarter, Apple's 36.4 million unit shipments accounted for 11.7% of the market, down from 52.2 million shipments and a 15.7% marketshare in the year ago quarter. Apple failed to woo new users and upgraders in most major markets, IDC claims, allowing up-and-coming firms from China to chip away at the company's industry standing.
"It is becoming increasingly clear that Huawei is laser focused on growing its stature in the world of mobile devices, with smartphones being its lead horse," said Ryan Reith, program vice president at IDC. "The overall smartphone market continues to be challenged in almost all areas, yet Huawei was able to grow shipments by 50%, not only signifying a clear number two in terms of market share but also closing the gap on the market leader Samsung. This new ranking of Samsung, Huawei, and Apple is very likely what we'll see when 2019 is all said and done."
Interestingly, IDC found Apple's Chinese market price cuts and worldwide trade-in programs largely ineffective in driving sales. That view contrasts comments from Apple CEO Tim Cook, who in an earnings conference call on Tuesday said the company saw record-breaking response to the same initiatives.
Samsung led the pack with 71.9 million smartphones shipped in quarter one, good for a 23.1% share of the market. The Korean tech giant, too, is seeing its position eroded by Chinese firms, with shipments displaying an 8.1% decline year-over-year.
Huawei displaced Apple as the world's second-largest smartphone company — measured by volume — with 59.1 million units shipped, up 50.3% on the year. The Mate maker garnered 19% of the market, up from 11.8% in the first quarter of 2018.
Xiaomi, Vivo and Oppo rounded out the top five, with shipment volumes of 25 million, 23.2 million and 23.1 million, respectively. Marketshare for the three companies stood at a respective 8%, 7.5% and 7.4% for the quarter. IDC notes a statistical tie when the difference between revenues or shipments is 0.1% or less.
Echoing IDC's estimates, Strategy Analytics placed Apple in third place among the world's top-five smartphone vendors. According to its figures, Apple shipped 43.1 million iPhones to capture 13% of the market in quarter one. Unlike IDC, Strategy Analytics predicts Apple's price cuts in China will have a material impact on the region's performance in quarter two.
"Apple lost ground in China during the quarter and is struggling to make headway in price-sensitive India," said Woody Oh, director at Strategy Analytics. "However, decent price cuts in China and India during recent weeks indicate the iPhone will bounce back slightly in those two countries in the next quarter."