Analysts positive on Apple's results, seeing signs of iPhone demand recovery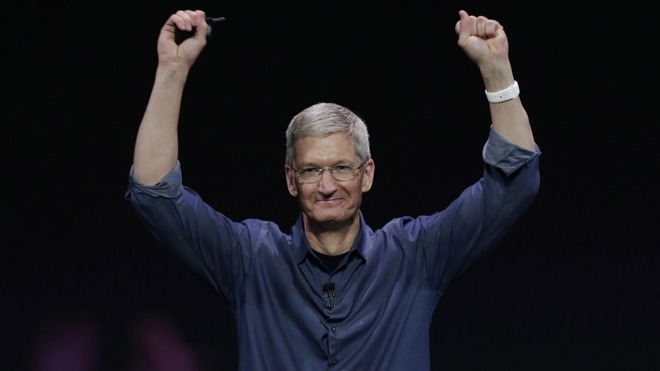 Analysts are weighing in on Apple's quarterly financial results the morning after its release, with generally favorable impressions of iPhone shipments better than anticipated and the growth of Services.
On Tuesday, Apple reported earnings of $58 billion for the second quarter of the 2019 fiscal year, down year-on-year by 5% but at the high end of its forecast range of $55 billion to $59 billion. Revenue from iPhones is down to $31 billion from last year's $37.6 billion, with Mac revenue also down to $5.5 billion from $5.8, while iPad is up to $4.9 billion for the quarter from $4 billion last year.
The two main highlights of the results were the reliable year-on-year growth of Services to $11.5 billion, up from $9.9 billion in Q2 last year and a new all-time-high for the arm, and the "Wearables, Home, and Accessories" category having net sales of $5.1 billion, up $3.9 billion.
At 9:00 A.M. Eastern Time on Wednesday morning, Apple stock is over $210 per share, versus the close of $200.67 before the earnings report.
Cowen
Apple's results were "modestly above" expectations, according to a note to investors seen by AppleInsider, with a continued shift of the narrative towards Services. The iPhone commentary on improving demand, "especially in China," was a positive as it was "not in a free fall," with its revenue being aided by growth in other product categories.
Revenue could have been even greater "had it not been for 14nm processor supply constraints that limited the company's ability to ship Mac systems," the firm reasons.
Services continued to show "strong momentum across a number of areas," including record revenues for the App Store, Apple Music, Cloud services, and search ads. Looking towards new subscriptions like Apple Arcade and Apple TV+, Cowen does not "expect these new initiatives to be GM accretive at the onset but are expected to be gross profit dollar accretive as the new businesses ramp revenue scale to cover any developer subsidies or the amortization of costs from original content creation.
Cowen has set its share price target for Apple to $245, up from $220, and reiterates its "Overperform" label for the stock.
Rosenblatt Securities
The results "were not a surprise to us," claims Rosenblatt Securities, which continued its sentiment in pre-results remarks that it was more concerned about results for the second half of 2019 rather than the current quarter. Service and iPad revenues drove the quarter, with iPhone sales recovering slightly since the iPhone XR's April 4 price cut, but the gross margin improvements were a "little disappointing," citing declines in memory and panel prices since late 2018.
The quarter is usually transitional for the iPhone, ahead of new product launches in the fall, but so far the firm has not seen any production cuts in the quarter, even though it thinks iPhone sell-through cooled down from the previous quarter, in part due to Chinese competition from Huawei. Chinese install base growth is thought to stem from the second hand market instead of new device sales, citing costs of less than $50 to refresh an old handset.
The iPad's growth was unsurprising due to price cuts on older iPads driving the upgrade cycle, with the iPad upgrade cycle thought to be longer than the iPhone in general. The new generation of AirPods "gained more traction" than the originals, with price declines of the first generation model aiding sales, and with Android vendors launching True Wireless Stereo products, this is thought to help accelerate AirPods growth.
Rosenblatt maintains its "Neutral" rating for Apple's stock, with a price target of $150.
JP Morgan
Apple's results were led by an "improved balance of volume and price on iPhones to maximize the revenue opportunity," JP Morgan's investor note reads, despite revenues for the product line and an anticipation of a 7% year-on-year decline for the next quarter. The better volume and price balance helped Apple beat investor expectations, while management commentary "reflected high confidence" in the outlook for the next quarter for markets like China.
"The better revenue performance and outlook highlights the success of Apple's trade-in program and financing programs, as well as pricing actions taken in certain emerging markets," writes the firm. While the raised EPS estimates are led by higher expectations for Services margins, the key takeaway in JP Morgan's view is the "success of the promotional initiatives and its longer term implications to both the iPhone shipment outlook and installed base growth"
Apple's forecast for the third quarter indicates a continued balancing of price and volume, which likely to help the company "get back to year-on-year revenue growth following only two quarters of year-on-year declines."
JP Morgan rates Apple as "Overweight" with a price target of $235.
Macquarie
The results showed Apple had a "solid quarter" in Macquarie's view, slightly ahead of its analyst expectations. Revenue for iPhone is "better than expected," with China seeing improvements towards the end of the quarter according to the "overall tone and commentary" from Apple's management, and non-iPhone's hardware also had a strong showing, particularly for iPad and wearables.
The guidance was "better than feared," while the raised dividend and $75 billion buyback addition were shareholder-friendly announcements.
The growth of Services is slowing faster than the company expected, with concerns around core drivers like the App Store, Licensing, Apple Care, and others still remaining. The gross margin is also weaker than Macquarie wanted to see, with the ramping up of investments ahead of its Services launch also being a potential issue for its finances.
Even so, "if iPhone and China concerns dissipate, the stock will react positively." Macquarie also speculates the introduction of Apple's own "Amazon Prime" offering, where it combines Services and its media with hardware in a subscription.
Macquarie has risen its price target to $190, but still maintains a "Neutral" rating.