Compared: Google's Pixel 3a XL vs. Apple's iPhone 7 Plus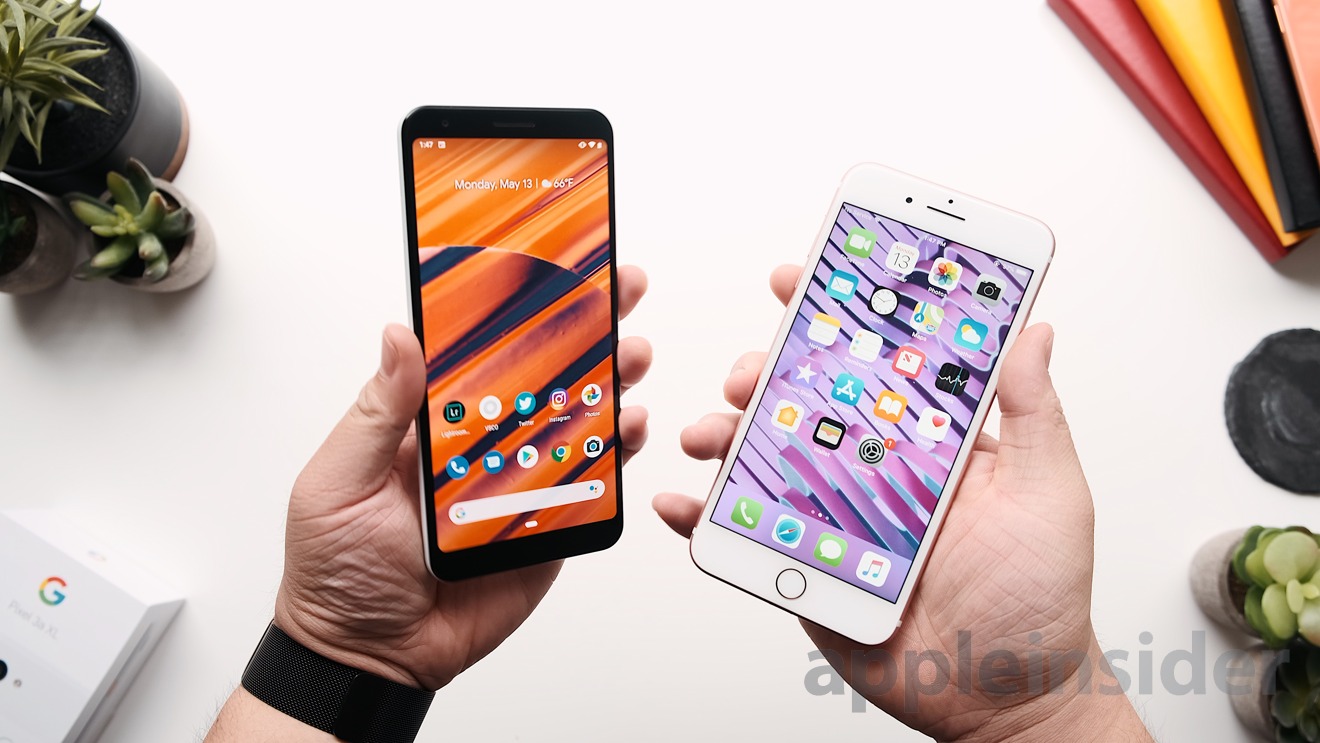 Google's Pixel 3a XL can't compete from a performance standpoint with anything Apple has released from the last two years. It is more similar in silicon, and price, to the three year old iPhone 7 Plus, so which one should you pick up?
Last week AppleInsider published a comparison between the iPhone XR vs Google Pixel 3a XL. Comparing a $399 smartphone to a $750 smartphone was a bit unfair, so today we're comparing Google's offering to Apple's iPhone 7 Plus. The iPhone 7 Plus as of making this video costs around $579 brand new from Apple, but you can find carrier offers below $250, or used or refurbished models anywhere around $350 to $450.
iPhone 7 Plus vs Google Pixel 3a XL
The iPhone 7 is from 2016 but its internals match the Pixel 3a in some ways when it comes to performance. Inside the iPhone 7 Plus is Apple's A10 Fusion chip, with 3GB of RAM, and 32GB or 128GB of storage. It supports the latest iOS12 version, and it will most likely support Apple's upcoming iOS version this fall.
The iPhone 7 Plus packs a 5.5-inch LCD display and a resolution of 1920-by-1080 at 401 PPI. The screen also supports P3 color gamut so color and brightness is good. It has Touch ID and we'll be comparing how it performs against the Pixel's fingerprint reader. It's also IP67 splash, water and dust resistant.
Around back, it packs a dual 12MP camera which allows for hardware portrait mode. And just like the Pixel 3a, it doesn't have wireless charging, It comes in a few finishes: Black, Jet Black, Silver, Gold, and Rose Gold.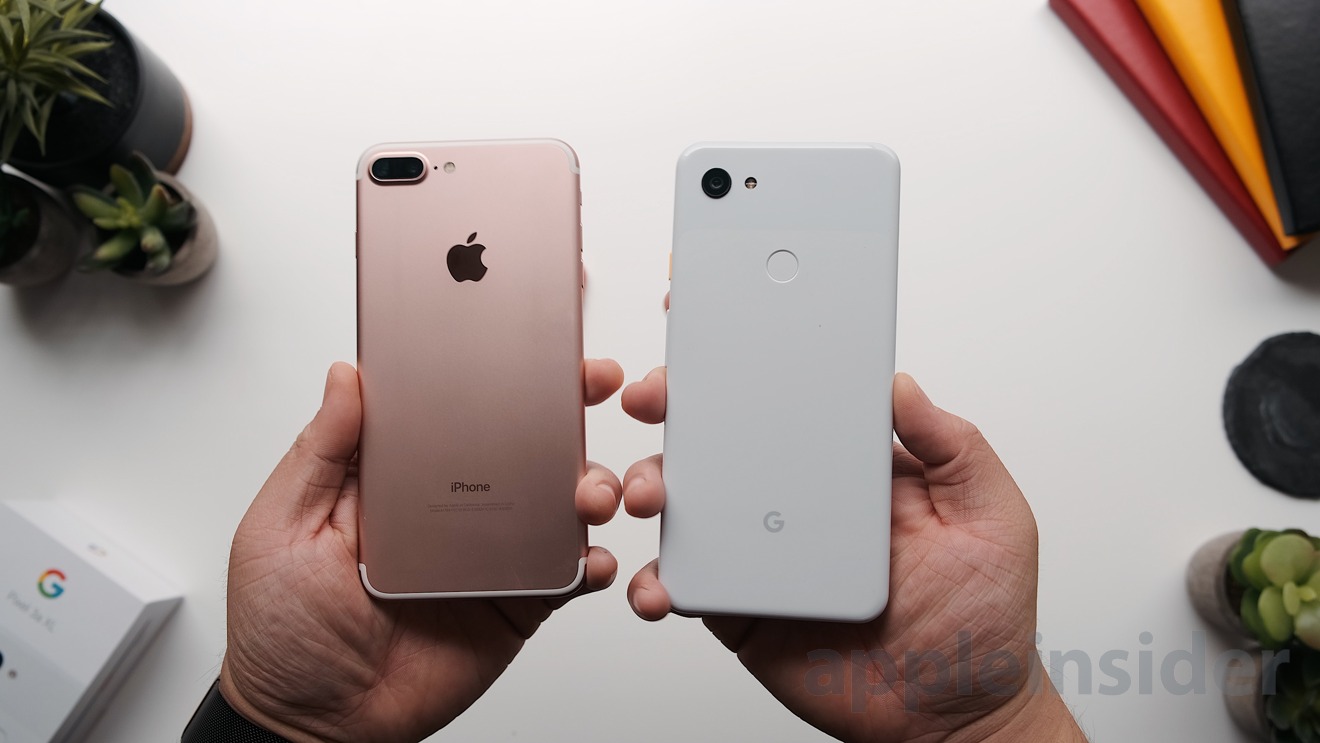 The Google Pixel 3a XL has a Qualcomm Snapdragon 670 processor coupled with the Adreno 615 GPU. It has 4GB of RAM and 64GB of internal storage.
The XL packs a 6-inch OLED display and a resolution of 2160-by-1080 which translates to 402 ppi. Unlike its bigger flagship brother though, the Pixel 3 XL, the Pixel 3a XL doesn't have a notch and it only packs a single selfie camera instead of two. The Pixel 3a doesn't have wireless charging, and IP water resistance. But it does have a 3.5mm headphone jack which the iPhone 7 Plus doesn't offer. It comes in three different colors, Just Black, Clearly White, and Purple-ish.
Raw performance is comparable
In terms of overall raw performance, the iPhone 7 Plus with its A10 Fusion chip is comparable to the Qualcomm Snapdragon 670 on the Pixel 3a XL.
In GeekBench we got a single core score of 1603, and a multi core score of 5173 for the Pixel 3a, and for the iPhone 7 Plus we received a single core score of 3520, and a multi core score of 5912. The iPhone's single core and multi-core score is still higher than the Pixel 3a despite it being a three year old device — and again, given most software only utilizing a single core, like the Pixel 3a, you can feel it in day-to-day operation.
This may vary somewhat, though, depending on what you're doing. For general use like playing games and surfing the web, both are bit more enjoyable on the iPhone versus the Pixel. Frame rates on the iPhone 7 Plus rarely dropped and the speakers a lot better than on the Pixel which ultimately made the experience a lot better.
Fingerprint recognition is a mixed bag. The time to unlock for the iPhone 7 Plus is slower, but that appears to be mostly unlock animations. For other authentications, like app purchases TouchID is faster.
Dual lens array is superior?
Both of these devices have 12-megapixel sensors for its camera in the back, and both do incredibly well in daylight. The iPhone 7 Plus features the dual camera array which allows for 2x zoom and the camera produces a more subtle, and neutral looking photos, while the Pixel 3a offers a much more contrasty, sharper image.
When making the choice, it really depends on what kind of camera you're looking for. In certain scenarios the iPhone photos look better, but in some photos the Pixel 3a's photo look a lot better.
The Pixel 3a also features Night Sight which allows you to capture incredible low light photos whereas the 7 Plus struggles in low light photography — a fact not lost on Google, as that one scenario is being focused upon in advertising for the device.
For video, both phones can record video up to 4K at 30p but the Pixel's advance hardware coupled with software stabilization looks better than the optical stabilization on the 7 Plus.
OLED will always be better than LCD
When it comes to its display we think that the Pixel 3a's OLED is far superior to the iPhone 7 Plus's Retina HD LCD display. Blacks are inky black on the Pixel 3a, the colors are way better, and the viewing angles are much better in our opinion. That's not to say that the iPhone's display is bad, thought — OLED is well-optimized for most mobile implementations.
The speakers on the iPhone 7 Plus get loud, and don't distort or lose bass characteristics at higher volumes. The Pixel 3a gets loud, but it lacks bass in some areas and it's not as full as the iPhone XR. Google's phone sounds tinny at higher volumes which we're not fans of.
Three year old iPhone versus 2019 mid-range Android Q
In terms of build quality and design, the overall footprint of the iPhone 7 Plus is comparable to the Pixel 3a XL. The iPhone 7 Plus is enclosed in an all aluminum casing which feels premium. It's a lot nicer than polycarbonate housing on the Pixel 3a.
The Pixel 3a doesn't feel cheap, though it's still a relatively good feeling phone, but we prefer the 7 Plus's more premium build over the polycarbonate on the Pixel 3a XL.
Overall, the $479 Pixel 3a XL is not a bad phone for its price, it runs Android 9.0 Pie, and since it's a Pixel device it will receive all the latest updates first.
The iPhone 7 Plus was once Apple's flagship device, and now competes with mid range handsets in 2019. Its speakers are really loud and clear, it's IP67 certified, and it features a dual camera setup.
The Pixel 3a XL has a great camera that offers amazing low light photos, but given that the performance is similar to a three year old iPhone, and it comes in a polycarbonate shell, there are some compromises. So if we were to forced choose between the two phones, we'd pick up the iPhone 7 Plus instead due to its solid build quality, performance, and price.
Where to buy
Apple's iPhone 7 Plus can be purchased on eBay for under $350 in new condition.
Meanwhile, the Google Pixel 3a XL can be ordered on Amazon or B&H Photo for $479. B&H is throwing in a free $100 eGift card and three months of unlimited talk and text plus 8GB data per month on the Mint Mobile Network for added value. Units are in stock and ready to ship.