LG's 23.7-inch UltraFine 4K display goes on sale via Apple's online store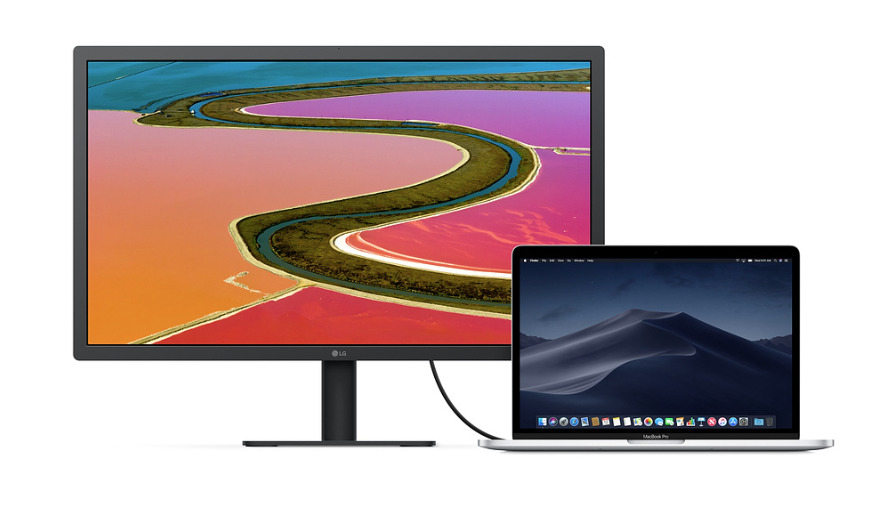 Apple has started to sell a 23.7-inch LG UltraFine display through its online storefront, a monitor replacing the now-discontinued 4K and 5K UltraFine displays that only surfaced on Monday via an Apple retail outlet with no fanfare.
An LG UltraFine display that was not previously launched recently made an appearance at an Apple Store, one that was confirmed to have a store SKU but with barely any acknowledgement of its existence online, aside from regulatory mentions. Following reporting on Monday about the monitor's availability, Apple has now confirmed it is selling the monitor, by creating a listing for it on the online Apple Store.
In effect, the 23.7-inch LG UltraFine Display is very similar to the previous UltraFine 4K display sold by Apple, albeit larger than its 21.5-inch predecessor. Offering a resolution of 3840 by 2160, oddly lower than the previous monitor, the new model provides 500 cd/m2 of brightness, a P3 wide color gamut with IPS, and also houses stereo speakers for audio.
On the back is a row of three USB-C ports with 5Gbps of bandwidth, along with two Thunderbolt 3 ports, one more than the first UltraFine 4K model. The Thunderbolt 3 ports can be used to daisy chain another 4K monitor while the other can be connected to a MacBook Air or MacBook Pro, providing data, video, and power delivery of up to 85 Watts through a single cable.
Styling is similar to the other two in the range, with a square base and a vertical pole, and a level of adjustability. There are also no buttons on the monitor itself, with brightness and other elements managed in software via the connected Mac or MacBook.
Apple is selling the 23.7-inch LG UltraFine 4K display for $699.95, the same price as the 21.5-inch LG UltraFine 4K display.
The availability of the new monitor is unusual, as speculation suggests Apple is preparing to launch a "professional-grade monitor" for the upcoming refresh of the Mac Pro possibly even revealing it at WWDC in June. Apple recently stopped selling both the UltraFine 5K and 4Kdisplays from its online store, seemingly a sign suggesting there would be some change in display products it sells on the horizon.