Portland becomes first US city to offer Apple Pay Express Transit integration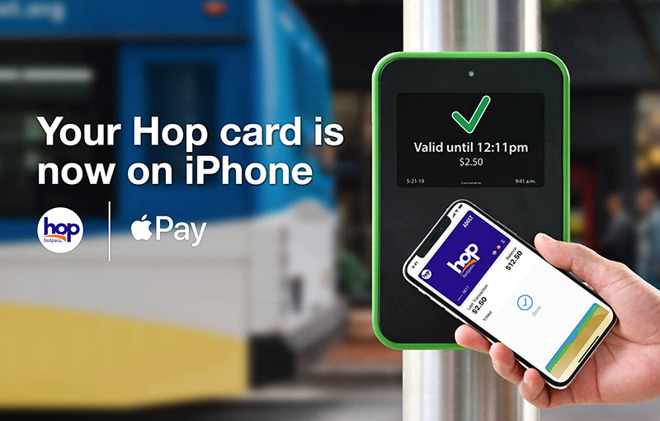 AppleInsider may earn an affiliate commission on purchases made through links on our site.
For the first time in the U.S., Apple iPhone and Apple Watch owners can use their devices' Express Transit functionality to board the Portland-Vancouver area's TriMet and C-Tran buses, MAX light rail trains and the Portland Streetcar.
TriMet and C-Tran on Tuesday announced immediate Apple Wallet integration of the app-enabled version of Hop Fastpass, Portland-Vancouver's ubiquitous transit fare card, reports the Portland Tribune.
"Apple Pay transforms everyday experiences and we're thrilled Portland-Vancouver residents will now be able to go quickly through their daily commute with just their iPhone and Apple Watch," said Apple Pay chief Jennifer Bailey.
Hop Fastpass supports Express Transit technology, meaning iPhone and Apple Watch users can conduct touchless transportation terminal transactions without unlocking or waking their device. The NFC hardware feature enables speedy boarding and is designed to replace TriMet's existing app-based solution that is set to expire by the end of 2019.
"TriMet has long been a leader in the transit industry, focused on the customer experience and ways to simplify riding transit. Now with the Hop card in Apple Wallet, our riders and our region take a major leap forward in transit fare payment," said Doug Kelsey, TriMet General Manager.
In addition to Hop Fastpass, riders can access TriMet and C-Tran transports with Apple Pay Express Transit. The alternative allows users to pay for rides via credit or debit cards provisioned in the Wallet app.
Frequent travelers will likely opt for Hop Fastpass, however, as the transit card comes with additional benefits and enables special youth and "honored citizen" fare rates. Users can also reload their Hop Fastpass directly in Wallet with Apple Pay.
While Apple Pay Express Transit features are available in other cities around the world, including China and Japan, Portland's rollout is the first to launch with both transit fare card and credit and debit card payment options.
Apple Pay is expected to launch with similar features on transit systems in Chicago and New York City later this year.