Second Taiwan Apple store to open soon in Taipei's Xinyi District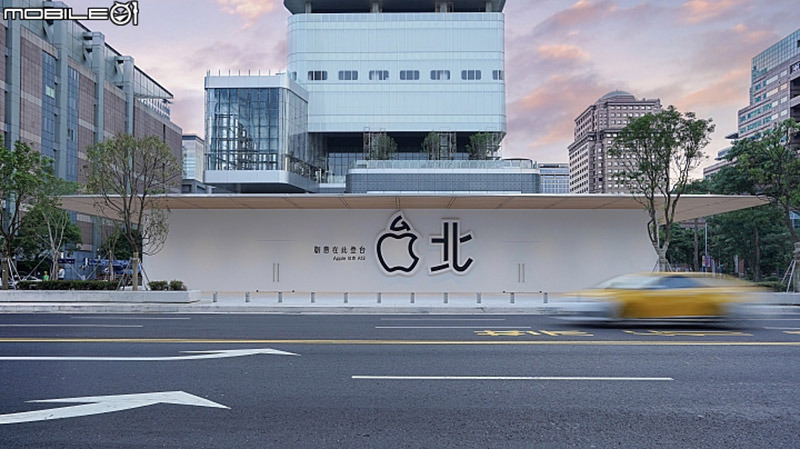 AppleInsider is supported by its audience and may earn commission as an Amazon Associate and affiliate partner on qualifying purchases. These affiliate partnerships do not influence our editorial content.
Apple on Thursday quietly adorned construction barriers protecting a new retail location in Taiwan with company branding, confirming rumors that the tech giant will soon open a second outlet in the region.
White paneling wraps the perimeter of what appears to be a single-story, glass-and-stone structure located at the base of the Xinyi A13 shopping mall. Promotional decorations denoting Apple's involvement were installed overnight, reports Mobile01.
Facing the street is a large stylized Apple logo that cleverly incorporates the Chinese character "Tai," while a second character completes the common reading of "Taipei." Text accompanying the two large characters can be loosely translated, "Creativity on stage here," while the store's official name, "Apple Xinyi A13," is presented for passersby.
Apple's Xinyi outlet borrows from recent store designs, including stone masonry and a large, gently beveled roof similar to one the company introduced in Chicago in 2017. Versions of the roof can be seen in other recent Apple builds, including the Apple Park Visitor Center.
Photographs of the Taipei outlet posted to a Weibo account dedicated to Apple retail openings reveal modern Apple store elements like stone walls and what appear to be curved glass corner pieces. Save for the two stone supports, one at each end of the building, the store is expected to boast an all-glass facade.
While unconfirmed, Apple Xinyi A13 will likely incorporate the usual wooden display tables, large centrally located video wall, accessories "avenue" and ample floor space for Genius appointments and Today at Apple sessions.
Apple has yet to officially announce a grand opening date for the new outlet.
Apple Xinyi A13 is the company's second brick-and-mortar outlet in Taiwan, the first being a large flagship located on the ground floor of the iconic Taipei 101 building that opened in 2017.