Rare Apple I fetches $471,000 at Christie's auction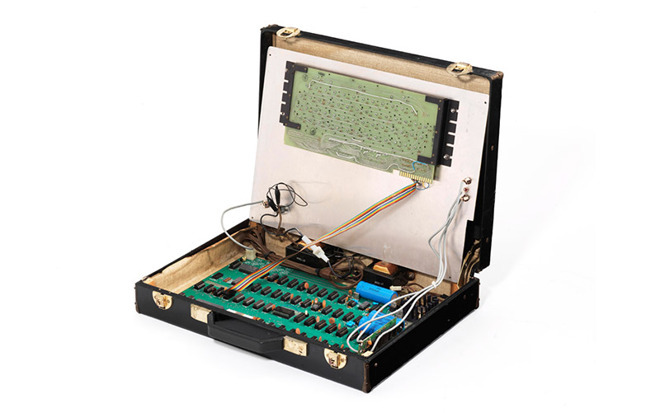 A rare Apple I has fetched roughly $471,000 after selling at auction through Christie's auction house in London.
The machine was expected to bring in 300,000 to 500,000 pounds ($378,000 to $630,000) prior to the auction on May 23. It fell towards the lower end of the spectrum raking in 371,000 pounds or about $471,000.
This Apple I is unique as it is built into the bottom half of a briefcase. Aside from the briefcase Apple I, the auction also included a modified cassette interface card, Panasonic RQ-309DS cassette tape recorder, SWTPC PR-40 printer alphanumeric printer, Sanyo VM4209 monitor and Motorola M6800 microprocessor.
An Apple I operation manual, original green "Preliminary" Apple BASIC Users manual dated 1976, Apple I manual from 1977 and early schematics papers were all included as documentation.
Other Apple garb includes a slide of Apple's original logo, various documents from the Apple I Owners Club, early computing magazines with article Apple ads and an article penned by co-founder Steve Jobs, a Specimen bond note for Apple Computer, stock certificates from Apple, Atari, Hewlett-Packard and Pixar, a license plate bearing the iconic rainbow-colored Apple logo and business cards of co-founders Jobs, Wozniak and Ron Wayne. The lot also features drawings of the Apple I by Wayne.
The Apple I first went on sale more than forty years ago for $666.66. Of the 200 that were produced, only around 80 are known to still be in existence.
Christie's last auctioned off an Apple I in 2017 where it reached $355,500, just below the latest sale. Previous sales have reached much higher, just shy of a million at $905,000 in 2014.