Rare Apple-1 hits auction block next week, estimated to fetch more than $600,000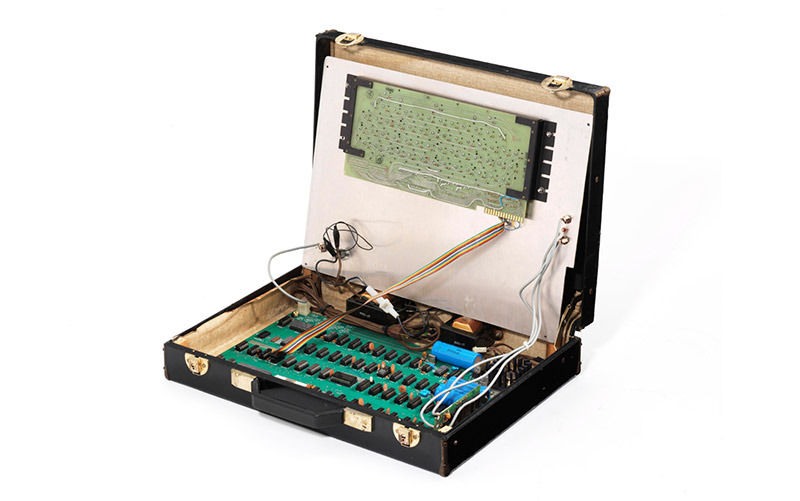 An extremely rare Apple-1 computer is scheduled to go up for auction on May 16 as part of a special online-only sale from British auction house Christie's, which estimates the unit will sell for between 300,000 and 500,000 pounds ($378,000 to $630,000).
An interesting example, Apple-1 motherboard serial number 01-0053 is housed in the bottom section of a briefcase, hidden by a makeshift aluminum control panel featuring a Datanetics keyboard.
Built by hand in 1976, the board is thought to be among an original batch of Apple-1 units sold through Mountain View, Calif., computer store Byte Shop. It sports a white ceramic MOS Technologies 6502 microprocessor, selected by Steve Wozniak to power Apple's first computer, as well as 8K bytes RAM split between two 4K chips and two original Triad power supply modules.
According to a Twitter account cited as the computer's official resource by the Apple-1 Registry, the Triad supplies are non-functional, though the auction lot includes a modern test supply that last powered up the board in 2014.
Christie's believes the briefcase Apple-1 was acquired by Rick Conte in 1977, donated to a non-profit in 2009 and purchased in 2010 for a private collection before landing in the hands of its current owner in 2014. The unnamed custodian has since collected a number of related and miscellaneous items to go along with the historic computer.
Along with the components in the briefcase, the lot includes a modified cassette interface card, Panasonic RQ-309DS cassette tape recorder, SWTPC PR-40 printer alphanumeric printer, Sanyo VM4209 monitor and Motorola M6800 microprocessor.
Documentation bundled with the Apple-1 hardware includes an Apple-1 operation manual, original green "Preliminary" Apple BASIC Users manual dated 1976, "tan" Apple-I manual from 1977 and early schematics papers.
Other paraphernalia includes a slide of Apple's original logo, various documents from the Apple-1 Owners Club, early computing magazines with article Apple ads and an article penned by co-founder Steve Jobs, a Specimen bond note for Apple Computer, stock certificates from Apple, Atari, Hewlett-Packard and Pixar, a license plate bearing the iconic rainbow-colored Apple logo and business cards of co-founders Jobs, Wozniak and Ron Wayne. The lot also features drawings of the Apple-1 (in a briefcase, no less) by Wayne.
Christie's last Apple-1 auction brought in $355,500 . in 2017, landing on the low end of a $300,00-to-$500,000 estimate range. Previous Apple-1 sales have raked in far higher numbers, however, with bidders parting with up to $905,000 to own the historic machine that originally sold for $666.66.
Of the approximately 200 Apple-1 boards made, only 80 units are known to still exist.
The briefcase Apple-1 hits the block as part of Christie's "On the Shoulders of Giants: Making the Modern World" online auction on May 16.