Apple Card expected to earn Apple $1B annually with minimal risk to Apple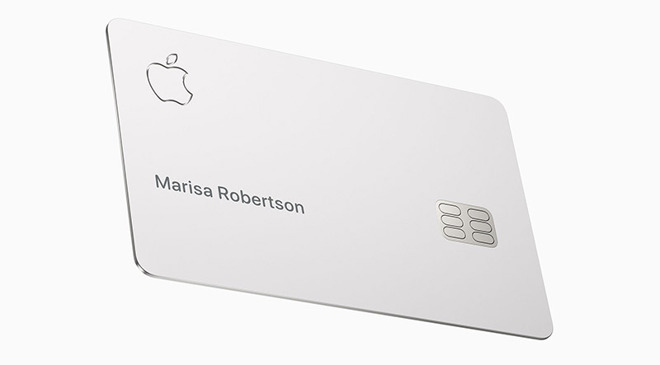 Apple Card could earn Apple $1 billion dollars in revenue within a few years of its launch, analysis of the upcoming credit card suggests, with the service likely to be "almost pure profit" to the iPhone maker while partner Goldman Sachs handles the vast majority of the risk and its operation.
Arriving this summer in the United States, Apple Card aims to offer consumers an easy-to-use credit card that is managed through their iPhone. The card offers a variety of benefits, including competitive interest rates, a lack of fees, features to help customers avoid debt or pay it down faster, and same-day usage after acceptance, which may make the card an extremely attractive proposition for iPhone users.
According to estimates from Alliance Bernstein seen by Business Insider, Apple Card may not necessarily offer the greatest potential revenue compared to other services announced at the same time, such as Apple News+, Apple TV+, and Apple Arcade. However, it is suggested that Apple Card may be a highly profitable project for the company with relatively little effort or risk on Apple's part.
Despite not charging fees, the card will earn money from transaction fees and interest from consumer balances. As with other co-branded cards, Apple will take a percentage of these revenues for itself, but while the number is usually in the range of 5% to 10%, it may be higher for Apple due to being a premium brand, Goldman Sachs being new to the credit card business in general, and Apple's work to integrate Apple Card with the Wallet.
"The split is likely more in favor of Apple given its relative negotiating leverage over Goldman Sachs," the report advises. It was revealed on Tuesday that Goldman Sachs faced competition from Barclays, Synchrony, JP Morgan Chase, and Citigroup, with the latter thought to have pulled out of the running over the potential lack of profits available to it.
In terms of revenue, it is estimated the two largest rewards cards available at the moment, Amex Premium and Chase Sapphire Reserve, each draw in somewhere in the region of $4 billion in annual revenue. Apple Card has the potential to reach this level, due to the "brand cachet" and the large number of iPhone owners who could use the facility.
It is estimated there will be 935 million iPhones in use globally by the end of 2019, giving it a considerable potential customer base if it does somehow go international with Apple Card, but for the moment the catchment pool will be far less.
While US consumers are generally wealthier than other markets, the card's instant cash-back and 2% cash-back rate for digital purchases is thought could appeal to low and middle-income earners.
Bernstein thinks Apple could earn $1 billion annually from Apple Card within three to five years if all goes well, though earnings in the "hundreds of millions" is more likely.
More beneficial to Apple is that this is revenue with minimal risk or effort required on its part, aside from integrating the functionality. As Goldman Sachs is effectively paying Apple to access its customer base, and is handling all operations, managing credit exposure, collecting bills, and dealing with customers, this "should be almost pure profit to Apple," the analysts believe.