Apple CEO Tim Cook talks privacy, App Store monopoly, more in interview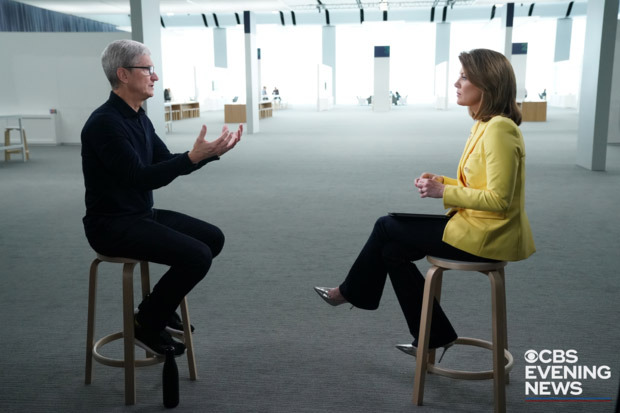 Apple CEO Tim Cook is slated to appear on CBS Evening News on Tuesday to discuss a range of issues including the tech giant's push for consumer data privacy, allegations of monopolistic practices and more.
Snippets of the upcoming segment, shared in a series of tweets posted to the official "CBS Evening News" Twitter account on Monday, show Cook being interviewed by managing editor Norah O'Donnell.
In the clips, Cook, who spoke with O'Donnell after Monday's Worldwide Developers Conference keynote in San Jose, touches on Apple's commitment to user privacy, Facebook and Google, and questions of an Apple monopoly.
On privacy, Cook was asked about "Sign in with Apple," a forthcoming single sign-on feature that will allow users to easily log into apps, websites and services. The solution is designed as a more secure alternative to third-party log-in systems.
When asked whether Apple is "taking a shot" at Facebook and Google, Cook deflected.
"We're not really taking a shot at anybody," Cook said. "We focus on the user and the user wants the ability to go across numerous properties on the web without being under surveillance. We're moving privacy protections forward. And I actually think it's a very reasonable request for people to make."
O'Donnell pressed the issue, asking whether Cook believes Facebook cares about user security.
"I think that everybody's beginning to care more. People are becoming more aware of what's been happening. Many people are getting more offended, I think this is good because we need to shine a light on it," Cook said. "You can imagine an environment where everyone begins to think there's no privacy. And if there's no privacy, your freedom of expression just plummets, because now you're going to be thinking that everybody's going to know every single thing you're doing. This is not good for our country, not good for democracy."
As for questions relating to an Apple's influence in the market, Cook said, "I don't think anybody can reasonably conclude that Apple is a monopoly," but added, "I think that the scrutiny is fair. I think we should be scrutinized."
Apple, along with other Silicon Valley tech giants, could soon face wide-roving antitrust investigations from the Department of Justice and U.S. House of Representatives. The DOJ is supposedly readying a potential probe into the company's business practices, while the House Judiciary Committee on Monday announced a coming investigation focusing on competition in digital markets.
A preview of Cook's interview airs on "CBS This Morning" on Tuesday, June 4, 2019, at 7 a.m. Eastern, while the full version will be broadcast on the "CBS Evening News" at 6:30 p.m. Eastern.