Hands on: Lenovo's Smart Clock display with Google Assistant
Announced on Monday, Lenovo's latest entry into the Google Smart Display platform is the Smart Clock, deliberately engineered to sit on your desk or nightstand.
The first thing you'll notice is that the Smart Clock's screen measures just 4 inches. That's considerably smaller than the 8- and 10-inch formats available for Lenovo's regular Smart Displays.
As a result though, it fits much better in places where space is at a premium. I've been testing it as a bedside companion, and in fact it's conveniently sitting next to the 8-inch Smart Display my wife bought as a present.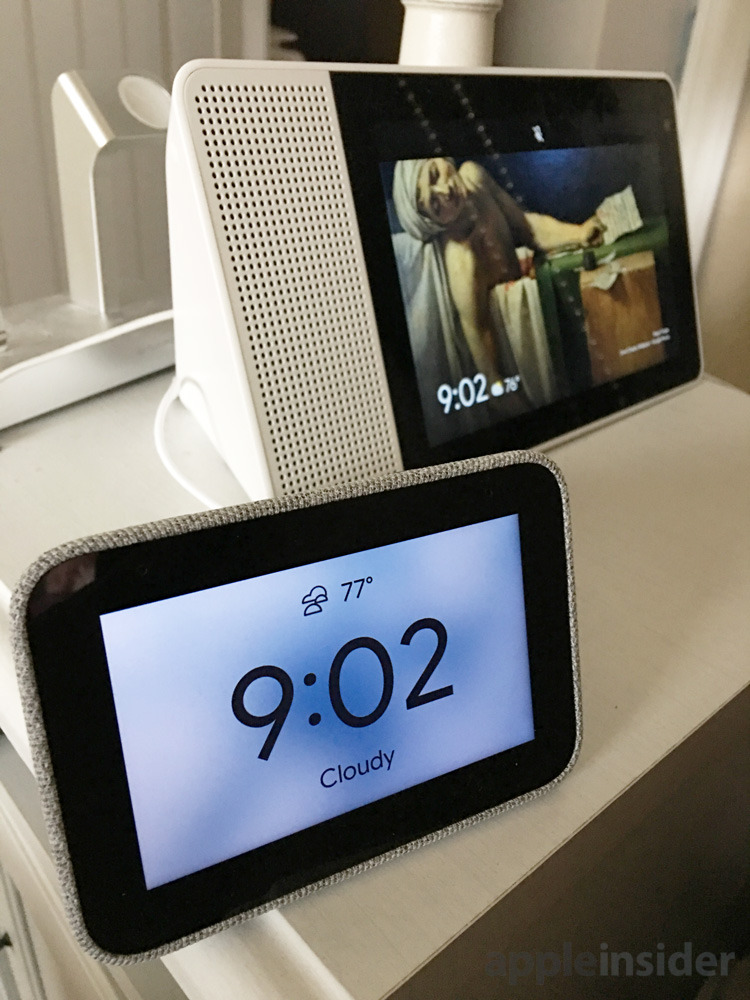 For the most part the Smart Clock operates like its siblings. You swipe up from the bottom to access settings, and down from the top to access smarthome controls. By definition the Smart Display platform includes Google Assistant, so most voice commands you can think of will work — you can ask it to turn on Google Home accessories, play NPR, show compatible security cameras (Nest only at the moment), or shuffle "The Best Ambient Playlist You'll Find on Spotify," for example.
Because of its purpose and screen size the Smart Clock is more narrowly focused on, well, clock functions. Instead of bringing up recommendations for news, music, and YouTube videos for example, swiping from the right instead displays any active alarms. Swipe again and you'll see Google Calendar events.
UI elements have been stripped back and given oversized text and buttons, which is particularly useful when you're trying to tap "Stop" or "Snooze" in the morning. You can even just slap the top of the Clock to snooze, if you like.
There are some sacrifices. While you can choose from several clock styles — I stuck with "Clouds," which includes a weather thumbnail — you can't set custom wallpaper, and controls are limited mostly to what makes sense in a bedroom context. The aforementioned smarthome panel brings up buttons for alarms, room lights, your "Good morning/night" routines, and playing music — that's it.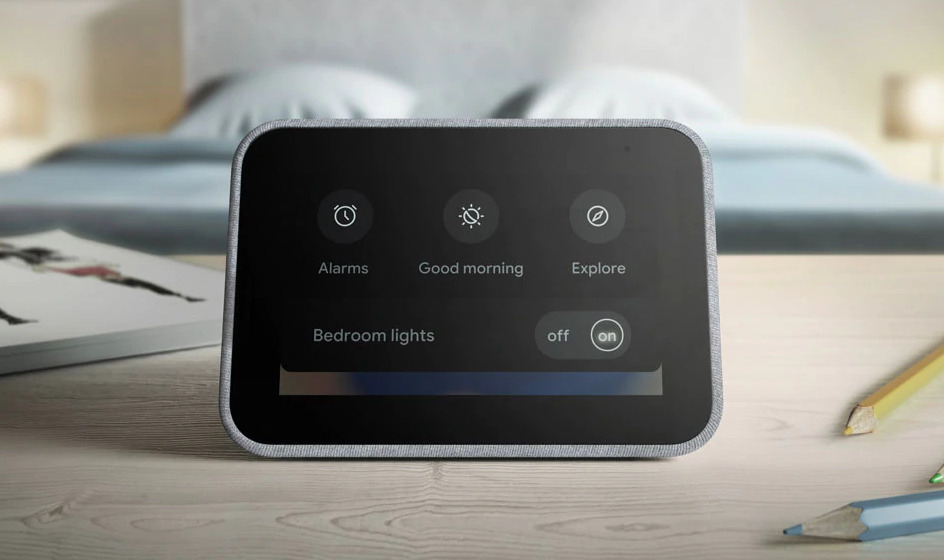 In fact you can't play YouTube videos, which may be an immediate deal-killer for some people. I sometimes like to fall asleep to lecture, e-skate, and comedy videos, but with the Smart Clock, I've been restricted to music, sound effects, and radio. That is probably healthier.
The bedroom focus extends to hardware design. A rear-mounted USB port is there for charging your iPhone, and there's no camera for video calls. If you want absolute privacy there's a mic mute switch, though with that on you'll be limited to touchscreen controls and compatible mobile apps — you should be able to start a Spotify playlist from your iPhone.
A key benefit of the product is price. It's only $79.99, much cheaper than other Smart Displays or the Echo Spot. It's even cheaper than Amazon's upcoming Echo Show 5, which shares a similar purpose but with a bigger screen and extra features.
We'll have a full review of the Smart Clock within the next few weeks, if not sooner.