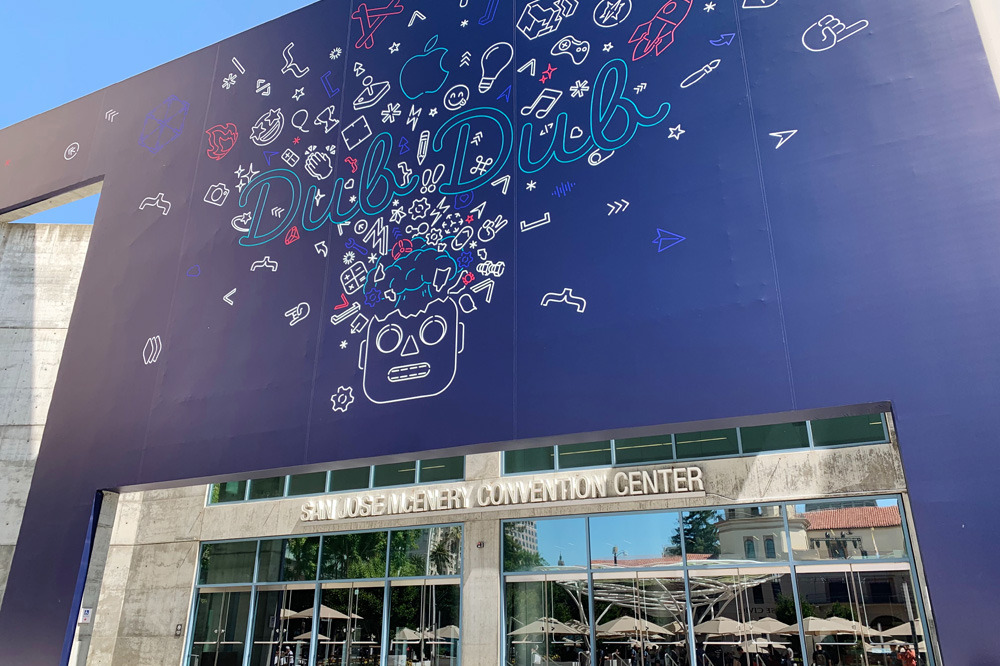 AppleInsider is supported by its audience and may earn commission as an Amazon Associate and affiliate partner on qualifying purchases. These affiliate partnerships do not influence our editorial content.
Apple will be welcoming attendees to the first day of its Worldwide Developer Conference on Monday with an early morning breakfast, followed by its public live streamed Keynote, lunch, a deeper dive into its latest technology in the Platforms State of the Union and then the Apple Developer Awards.
Apple has finished advanced attendee registrations for Sunday. Delegates, media and special guests arriving tomorrow can also register their WWDC badge tomorrow starting at 6:30 a.m. Pacific. An early morning breakfast will be served starting at 5:45 a.m. through 9:30 a.m.
Public Keynote
Monday's keynote presentation begins at 10a.m., hosted by Apple's chief executive Tim Cook and a series of other executives, who will outline the company's latest announcements related to its upcoming platform and technology releases, new hardware introductions and the company's new services.
The new macOS, which should become available to the public this fall, will also support cross platform Apple Arcade video gaming titles, the company's new TV app, a rethinking of iTunes, and will likely also include optimizations to make Macs work better with Apple TV and iOS devices via Continuity.
The keynote will also outline new features in iOS 13 and watchOS 6, including a Dark Mode for mobile devices; support for using iPad as a secondary display for Macs; new Health, Photos, and converged "Find My" features for locating devices, friends, and trackable tags; and, apparently, a new "mind-blown" Animoji effect, if that's what the clouds of emojis erupting from various emoji faces pertains to.
Apple is expected to unveil its Mac Pro redesign, and it has already introduced fast new MacBook Pros, a refreshed A10-powered iPod touch, and enhanced new AirPods featuring wireless charging.
Viewers at home can follow the live stream of the keynote via the WWDC iOS app, a web browser, or using Apple's Events app on Apple TV. Once the keynote ends, Apple will update the session names in the WWDC app, most of which are currently just placeholders.
Platforms State of the Union & Apple Developer Awards
Following the keynote and a lunch break, Apple will send media reporters home and invite its WWDC attendees back at 2:30 p.m. for two hours of a more detailed and technical overview of its latest advances in core technologies and initiatives in the Platforms State of the Union.
Last year, the 2018 SOTU focused on the company's work in privacy and security, including on-device intelligence and improved password management, as well as new software development features in Xcode 10, the roadmap for Swift 5, the new Dark Mode in macOS Mojave, new machine learning frameworks and features, ARKit 2 and the new USDZ format for 3D models used in augmented reality.
At 5 p.m., the 22nd annual Apple Developer Awards will honor works of iOS, macOS, watchOS, and tvOS developers that represent the pinnacle of app design and innovation in taking full advantage of the company's software platforms. Winners will be publicly announced Tuesday morning.
Tuesday sessions mentioned in the WWDC app schedule
Apart from the public sessions scheduled for Monday, Apple has so far only outlined a series of special sessions for the rest of the week in an effort to keep various subjects a surprise.
The day starts with a High Intensity Interval Training session and a [email protected] informal breakfast session open to everyone. It features Apple Entrepreneur Camp graduates and women attending WWDC with a scholarship. There are also two Accessibility Get-Togethers scheduled.
There's a session scheduled to outline new features in the release of Swift Playgrounds 3, the latest version of the company's iPad app for interactive learning with the fresh development languate. After sessions end on Tuesday, Apple will host a reception of music and drinks on the front lawn of the event.
Wednesday sessions
Wednesday, there's an early morning run event scheduled, as well as a [email protected] informal breakfast discussion, open to all with a focus on building technology solutions for — . and encouraging tech careers among — members of underrepresented communities.
At noon, there will be a lunchtime Wellness Get Together as well as a presentation by Chris Downey, an architect who lost his vision after a surgery to remove a cancerous brain tumor. Downey will share insights into the world around him that resulted from his experiences, including the importance of universal inclusive design.
There are also Wednesday sessions that will detail designing for privacy, the new data representations available in HealthKit, and app distribution in ad-hoc and enterprise development. The day ends with a second Wellness Get Together.
Thursday sessions
Thursday begins with a yoga session and an informal [email protected] breakfast. There are two Get-Togethers focused on Education scheduled, as well as a lunch time session by NASA's Dr. Ayanna Howard, the woman who lead the team developing an AI-powered robot planned to explore Mars.
There's a session scheduled for Xcode Instruments, a tool used to troubleshoot and optimize app performance issues, as well as App Store Connect, the tool developers use to submit, manage, and distribute their apps. Another session will focus on moving OpenGL apps to Metal.
Thursday wraps up with the WWDC Bash concert from 7 p.m. to 10 p.m. at the nearby Discovery Meadow.
Friday sessions
Friday features sessions on optimizing app storage, designing great Machine Learning experiences, managing Apple devices, and modeling custom Instruments. There os also a gender-inclusive app design get-together and a lunchtime conference by Brown Johnson, the creative director for Sesame Workshop, which has been producing Sesame Street over the last 50 years.