Apple finally kills vestigial Dashboard in macOS Catalina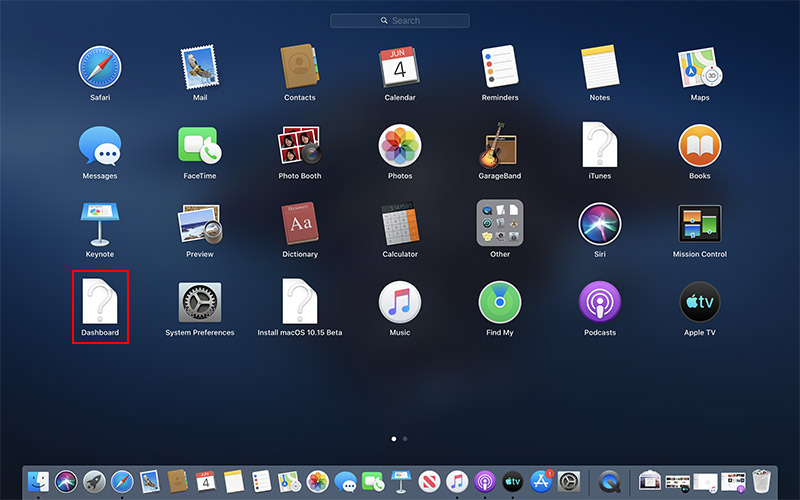 After digging around in the first macOS 10.15 Catalina beta, one thing has become abundantly clear — Dashboard is officially getting phased out in favor of Notification Center.
Dashboard was first introduced in OS X 10.4 Tiger and acted as a dedicated hub for widgets, such as weather, calculator, timer and third-party software.
As user interest waned, however, Dashboard was disabled by default in OS X 10.10 Yosemite, to be replaced by Notification Center. It continues to be disabled in macOS 10.14 Mojave, requiring users to enable the feature manually if they wish to use it.
In macOS Catalina, Dashboard is entirely absent. It cannot be enabled via Mission Control and code for the feature appears to be scrubbed from the operating system betas released to developers on Monday. In Launchpad, Dashboard's icon is literally a large question mark, similar to iTunes which will soon be replaced by standalone Apple Music, Apple Podcasts and Apple TV apps.
Appleosophy attempted to use Terminal to force Dashboard to disable and enable. Typically, this action would bring back an inactive dashboard, but it did not. Dashboard was still missing regardless of the forced reboot.
With Dashboard not long for this world, users relying on the hub for bite-sized applets will need to accustom themselves with Mac's Notification Center. The feature's Today view assimilated most of Dashboard's functionality, including the ability to install third-party widgets.