Compared: Brydge Pro vs Apple Smart Keyboard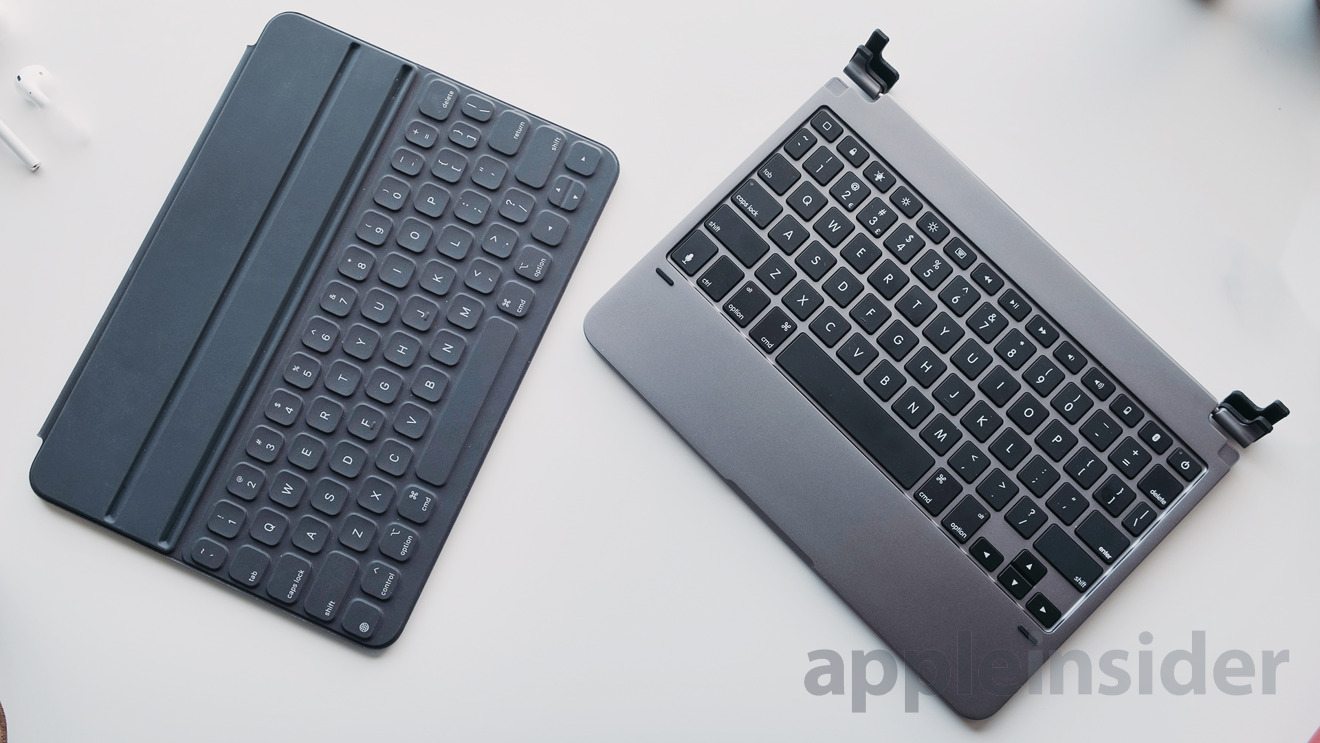 AppleInsider is supported by its audience and may earn commission as an Amazon Associate and affiliate partner on qualifying purchases. These affiliate partnerships do not influence our editorial content.
We've been using the Brydge Pro keyboard for the 2018 iPad Pro for quite some time now, and one of the most frequent requests we've received is to directly to compare it to Apple's Smart Keyboard. So, let's talk about them.
Smart Keyboard vs Brydge Pro
Apple's Smart Keyboard is a thin, sleek and seamless keyboard that is decent to type on. It barely has any key travel and it doesn't sound or feel great when typing really quick. But all of this is connected to the iPad using Apple's Smart Connector so there's no pairing process or built in battery whatsoever. That's why Apple was able to make it so thin and sleek, and so seamless to use.
The Brydge Pro keyboard transforms your iPad Pro into the feel of a MacBook with its sturdy aluminum body that is cold to the touch and offers an almost unlimited viewing angle. The keyboard has decent key travel, too.
Like we mentioned in our review, it's not the best third-party keyboard we've typed on. We believe that the Zagg Slim Book Go still wins here, but that comparison is for another day.
Backlit keys, iOS shortcuts, and key travel
One of the many great features that I like from the Brydge Pro over Apple's Smart Keyboard is the fact that it has dedicated iOS shortcuts for media controls, screen brightness and volume control which the Smart Keyboard doesn't offer. The keys are also backlit with up to three different brightness options, and there's actual key travel when typing which I've already mentioned the Smart Keyboard from Apple is lacking. The Brydge Pro charges via USB-C and battery life is supposed to last for a year.
The Smart Keyboard only offers up to two different typing positions which is decent, but the Brydge Pro offers up to 180 degrees of viewing angle and it's free flowing. There are no hard stops, so, however you want to position the iPad you can do so by pushing it back and forth, just like a real laptop.
Compromise on weight and functionality
Both keyboards also offer drawing or tablet mode. It's a lot quicker to do this on Apple's Smart Keyboard, while the Brydge is a little bit cumbersome to do, due to the fact you have to take the iPad out, and flip it around and fold it back down.
In terms of overall weight, the Smart Keyboard barely adds bulk and weight when it's on the iPad Pro. The Brydge Pro is a lot heavier than Apple's offering, and it's also thicker too. Although, I don't mind it at all. It's not as thick as the Slim Folio Pro from Logitech, but the added bulk is noticeable compared to Apple's Smart Keyboard. If you're looking for a slim, and sleek keyboard, the Apple Smart Keyboard is the way to go.
Brydge Pro is far superior
The Apple Smart Keyboard at the time of making this video retails for $179 for the 11-inch iPad Pro, while the Brydge Pro for the 11-inch iPad Pro retails for $149. We like the Brydge Pro keyboard due to its build quality, features, and price.
The weight and added bulk on the 11-inch iPad Pro isn't as noticeable versus the 12.9-inch iPad Pro. But the sleek, and seamless operation on Apple's Smart Keyboard is something third-party keyboard manufacturers can't compete with.
The Brydge Pro wins on being slightly more affordable, having a better keyboard than Apple's offering, and the almost unlimited viewing angles on the iPad coupled with the firm keyboard mount increases the versatility and comfort leagues above Apple's own.
Where to buy
The Brydge Pro keyboard for Apple's 11-inch iPad Pro and third-generation 12.9-inch iPad Pro can be purchased for $149.99 and $169.99 respectively from Brydge directly or at Amazon.com.
Apple's Smart Keyboard Folio, on the other hand, retails for $189 for the 11-inch iPad Pro and $199 for the 12.9-inch iPad Pro, but authorized resellers are currently knocking $10 off.