Mac Pro, Pro Display XDR coming in September, says Apple [u]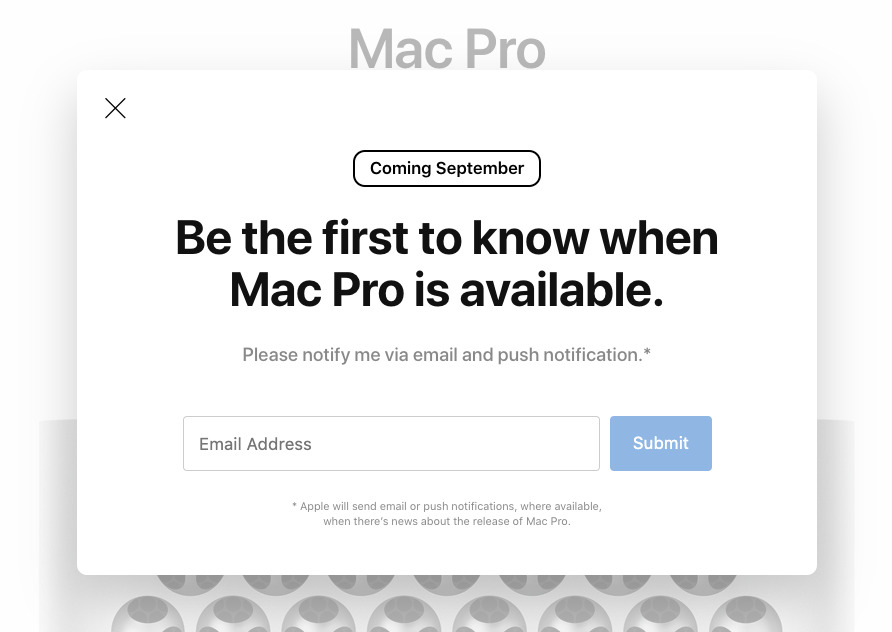 The Mac Pro and the Apple Pro Display XDR may start shipping to customers in September, after updates to the Apple website seemingly suggests a more refined release date for the Mac workstation and its screen than Apple's previous advisement of the fall.
Since its unveiling at the Worldwide Developers Conference last Monday, Apple declared the new Mac Pro and the Pro Display XDR will be going on sale sometime in the fall. Changes to the Apple website have narrowed down that season-long timeframe to just one month.
Scrolling down the Apple website to the Mac offers links to "Learn more" and to "Notify me," with the latter bringing up an interface to enter an email address to receive news about the impending launch. The box that appears includes the text "Coming September," seemingly in reference to when the Mac Pro will go on sale.
The same date is also offered when clicking on the related "Notify me" link further down the page for Apple's Pro Display XDR. However, selecting the same "Notify me" buttons on the page of each product brings up the same box but with the text "Coming This Fall."
While the data on the site is likely to be accurate, with a high probability that Apple will be bringing out the Mac Pro and the companion display in September, the revelation is a small slip for the company's marketing of the hardware with a wider delivery window.
Despite the "Coming September" detail, it is unknown if this references when consumers will actually receive their order, or if it will be when pre-orders will commence.
Starting from $5,999, the Mac Pro can be configured to have a 28-core Xeon processor, up to 1.5TB of memory, up to two AMD Radeon Pro Vega II graphics MPX Modules, and an Afterburner card for improved video editing, all in a modular-designed enclosure.
Apple's Pro Display XDR, priced at $4,999, is a 6K-resolution 32-inch screen offering up to 1,000 nits of brightness, a 1,000,000-to-1 contrast ratio, an optional etched matte nano-texture coating, and the same rear lattice pattern as the Mac Pro's enclosure used as a heatsink.
Update: The Mac Pro's "Notify me" pop-up has since been updated to read "Coming This Fall."