iPhone's Q1 2019 share of EMEA market lowest in five years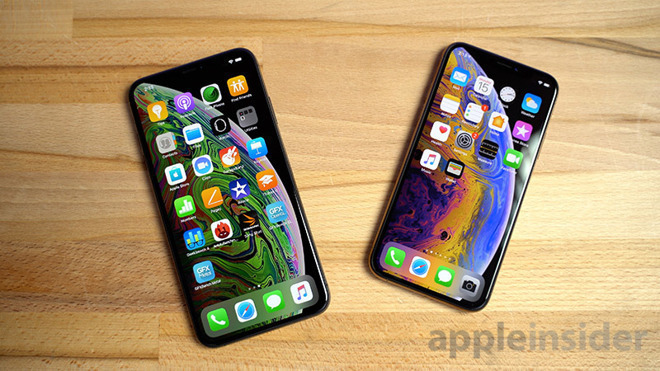 AppleInsider is supported by its audience and may earn commission as an Amazon Associate and affiliate partner on qualifying purchases. These affiliate partnerships do not influence our editorial content.
The smartphone market has stabilized in EMEA regions despite there being a contraction of sales in the Middle East, claims IDC, with Apple seen to be facing challenges from Chinese competitors as it sees its lowest level of market share in Europe for the first quarter in five years.
The region consisting of Europe, the Middle East, and Africa saw 83.7 million smartphone units ship in the first quarter of 2019, a drop of 3.3% year-on-year, which IDC suggests is a confirmation of a slowing market trend. In terms of revenue, the value of the market at $26.78 billion without sales tax is down further, seeing a decline of just over 10% from last year.
On a more granular basis, the Middle East saw the biggest decline of 18.8% in shipments and almost a third of its value. IDC reasons the "recent buoyancy in the oil price has so far failed to translate into more consumer confidence and exposure. After saw 6% growth while European volume remained relatively static.
Average sale prices are down across Western Europe, with a sharper drop in the Middle East. Central and Eastern Europe average sale prices have sustained over the years, though are barely more than half the value of Western Europe.
On a brand basis, Apple was considered to have a tough quarter, achieving a 23% market share across Europe from 7.8 million units shipped, which is the lowest Q1 result IDC has seen in the last five years. The unit shipment count for the region is down for Apple, with 22.73% fewer iPhones reportedly hitting the market.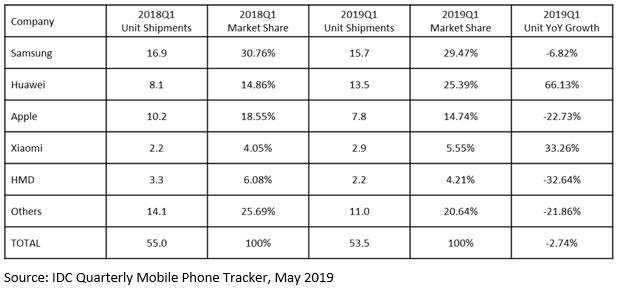 Meanwhile Chinese brands Huawei and Xiaomi saw "incremental advances," and Samsung saw a moderate dip of market share to 29.47% from 30.76% in 2018, due to 6.82% fewer smartphones being shipped.
"The market has been changing in the last few quarters in relatively predictable ways," said IDC EMEA research manager Marta Pino. "Shipments have slowed as consumers hold onto devices for longer, Apple has been challenged with its latest devices, and Chinese manufacturers have been making strides each quarter."
Europe has become a focus of vendor concentration for the last few quarters, with smaller firms under considerable pressure and making it harder to see clearer trends. Huawei's blacklisting in the United States has also caused forecasting to be extremely difficult by making an unstable situation, even though it isn't something that directly impacts the European market.
In May, Apple was seen to have improved its shipments of iPads in the region, increasing its quarterly market share from 18.28% to 23.95% year-on-year, due to the launch of a new "budget" model and redesigned iPad Pros. The EMEA tablet market as a whole shrank 10.9%.
IDC's numbers are generally accurate for the overall smartphone market. While Apple has made comparisons hard as it no longer reports sales figures for the iPhone, the firm has historically under-estimated iPhone sales. However, even though it is historically off, it would take a fairly significant increase to change the overall results in this case.