Apple reportedly requires Comcast and Charter to sell iPad, Apple TV as part of iPhone deal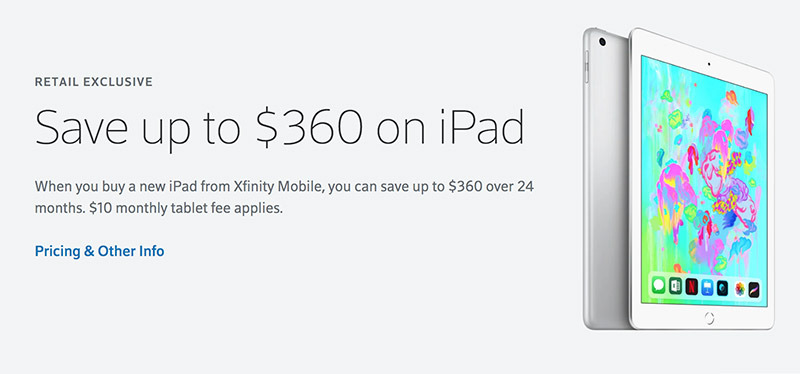 AppleInsider is supported by its audience and may earn commission as an Amazon Associate and affiliate partner on qualifying purchases. These affiliate partnerships do not influence our editorial content.
In a bid to gain access to Apple's popular iPhone, mobile industry newcomers Charter and Comcast reportedly agreed to somewhat onerous terms that require the cable giants to also sell iPad and Apple TV, some of which are offered with carrier subsidies.
Citing people familiar with the matter, CNBC reports Charter and Comcast agreed to Apple's stipulations in return for access to iPhone. The deal was inked some two years ago, months prior to the launch of Charter and Comcast's respective mobile virtual network operator (MVNO) services.
Comcast, which operates Xfinity Mobile, needs to sell a preset number of iPads at a subsidized cost, the report said. Along with a quota "in the thousands," the arrangement sees Comcast eat the difference between iPad's retail cost and the final subsidized rate.
For example, a 64GB iPad mini with cellular connectivity costs $492.99 through Comcast, while the same device sells for $529 on the online Apple store. Charter's Spectrum Mobile MVNO does not stock iPad mini, but a 6th generation cellular-enabled 9.7-inch iPad listed on the carrier's website carries a price tag commensurate with retail.
While Apple reported strong iPad revenue for the first quarter of 2019, the deal with Comcast was made at a time when sales were slumping. The report suggests Apple added terms to Comcast's iPhone agreement in an attempt to goose sales of the then-struggling tablet line.
Details of Charter's iPhone arrangement could not be learned, but the company does provide customers the option to add a 32GB Apple TV to their existing Spectrum cable subscription for $7.50 a month. After doling out $180 over a 24-month period, customers can keep the Apple TV. Alternatively, subscribers can lease a Charter set-top box for the same monthly fee, but are not allowed to keep the device when the contract expires.
Sources say the deal has helped Charter become the largest third-party seller of Apple TV units.
Thanks to iPhone's mass appeal, Apple is able to leverage advantageous deals from the world's largest wireless carriers. In Japan, for example, market leader NTT DoCoMo reportedly promised a 40 percent quota to get its hands on iPhone after losing marketshare to competitors that had access to the popular handset. A similar scheme in Korea landed Apple in hot water with local antitrust authorities in 2018.