Mizuho analysts suggest 2019 iPhones will 'lack novelty' for consumers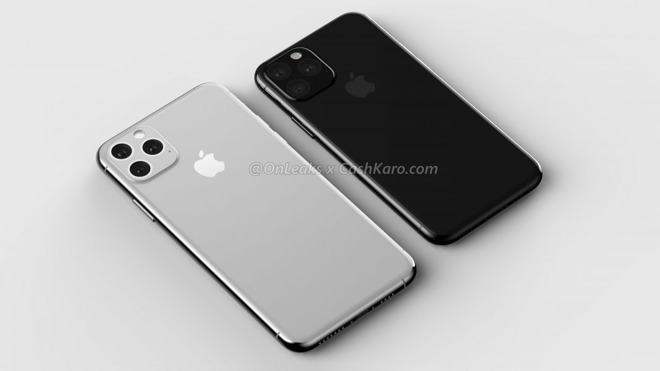 The 2019 iPhones will largely be the same as the 2018 models in terms of basic specifications, analysts at Mizuho Securities believe, with the follow-up to last year's releases thought to "lack novelty" aside from an upgrade to include more cameras on the rear.
The iPhone models arriving for 2019 have been speculated to have relatively few changes to the formula laid out by the iPhone XS, iPhone XS Max, and iPhone XR, aside from an increase in the number of cameras. In an investor note shared with AppleInsider, Mizuho appears to be going along with the opinion of other industry observers.
The 2019 batch will consist of two OLED models and one LCD version, with the same specifications as the 2018 counterparts for the screen size, resolution, and exterior appearance. The displays will have some slight changes, including the removal of Force Touch from the iPhone XS and XS Max replacement, and "potentially slightly more narrow bezels."
No changes to the exterior is anticipated, with the TrueDepth camera notch thought to remain, while the application processor will be a 7-nanometer processor "with only minor changes." As to be expected, 5G compatibility is thought not to appear in the 2019 models.
On the back, Apple apparently won't include rear-facing 3D sensing modules "after taking into consideration component features, production capacity, costs, and energy-saving ability," but they could provide "new business opportunities." At this point, Mizuho thinks the "only major change will be an improved rear camera."
The LCD model will have a dual-camera setup while the OLED models will have a triple-camera arrangement, just as previously rumored. The sensor size will be the same sensor size and 12-megapixel resolutions as the 2018 batch, with the main and third cameras having optical image stabilization and siz lenses while the second camera will be a fixed-focus super-wide-angle lens of 120 degrees, to improve the iPhone's Portrait Mode.
In terms of suppliers, the 6.06-inch LCD model will have Japan Display as a main source followed by LG Display and possibly Sharp. On the OLED side, the smaller 5.85-inch version will be sourced from Samsung Display, which will share duties with LG Display for the 6.46-inch edition.
"As we mentioned above, we expect the 2019 models to lack novelty," the firm bluntly states. "We think the iPhone will struggle for two straight years, which would be a rare occurrence for the company."
Mizuho has "high hopes" for the triple cameras and the super-wide angle lenses, "but Huawei, Samsung, and other peers have already launched multiple phones equipped with triple cameras." Even so, it believes it is "difficult to predict" whether cameras are the correct path to recapturing market share.