Apple is fourth largest gaming company globally, thanks to the iPhone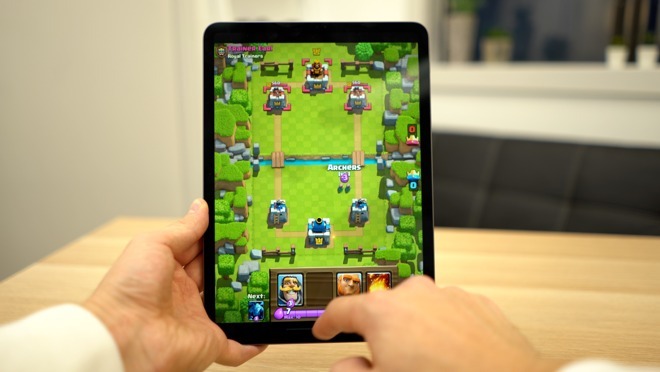 Apple is the fourth-biggest public gaming company in the world, according to a report by analysts at Newzoo, with the continued rise of mobile gaming and its operation of the App Store helping the iPhone maker beat other games industry mainstays, including EA and Nintendo.
In its Global Games Market Report, Newzoo outlined the top 35 public companies connected with gaming, with Apple firmly seated in the top five firms, beaten only by Tencent, Sony, and Microsoft and just ahead of Activision Blizzard. According to the report, the top 35 public game companies generated $114 billion in 2018, up from $100.2 billion in 2017.
While the top 35 companies accounted for 82% of the global games market revenues for the year, an identical proportion to 2017's figures, the top five accounted for 43% of revenue collectively.
Apple is said to have earned $2.09 billion from gaming for the first quarter of 2018, then $2.30 billion, $2.52 billion, and $2.54 billion in successive quarters. For all of 2018, Apple's gaming revenue is claimed to be $9.45 billion, a year-on-year increase of 18% from 2017's total.
The App Store operator could have achieved third place on the list, but while Microsoft was slightly behind in the first three quarters in terms of revenue, it surged in the fourth quarter resulting in a revenue for the year of $9.75 billion, up 32% year-on-year. Even so, it has a long way to go to beat out the first-place Tencent, which enjoyed revenue of $19.73 billion and 9% year-on-year growth.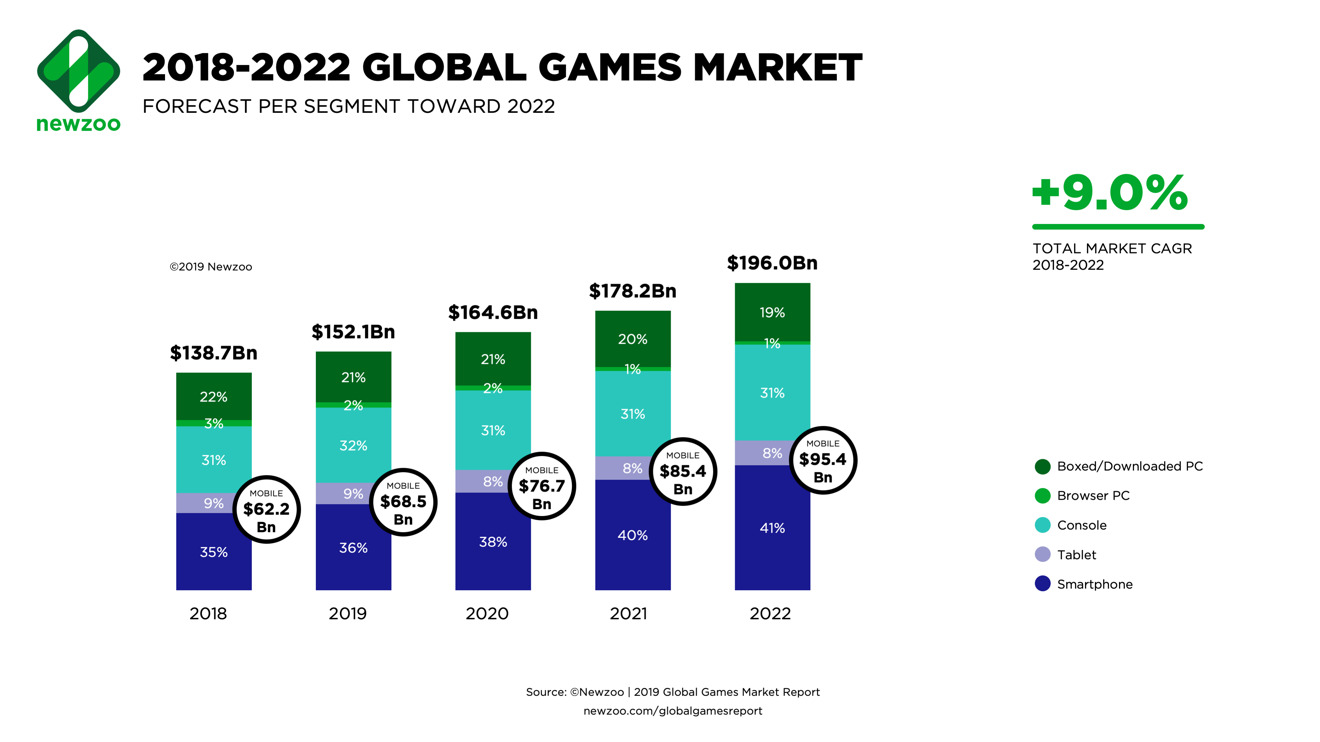 For the industry as a whole, mobile gaming continues to be the biggest segment in the report, making up 45% of the global games market and generating $68.5 billion in revenue. Smartphone-based games bring in 80% of revenue, or $54.9 billion, while tablet gaming accounts for the remaining $13.6 billion.
Mobile gaming is set to continue to outpace PC gaming for the next few years due to a shrinking PC market until 2022, Newzoo suggests. It is also tipped to grow faster than console gaming, and to erode browser game revenues by 15% per year.
Apple also stands to benefit from its own initiatives to generate more revenue from consumers, such as the incoming Apple Arcade, which will provide access to a selection of titles for a monthly subscription, rather than relying on a cut of microtransaction fees the company currently receives from many top App Store titles.
The App Store is already providing developers and publishers more revenue than its Android equivalent, with one recent Sensor Tower report suggesting iOS apps earn 64% more revenue than Google Play.
Neozoo's revenue data stems from its "predictive games market model" which incorporates macroeconomic and census data from the IMF and the UN, transactional and app store revenue data from partner Priori Data, primary consumer research, and financial information reported by public companies. Hardware dedicated to games, like consoles and handhelds, are included in revenue, but devices like the iPhone and iPad are not.