Man uses iPhone as 'gun,' Hong Kong parts bust in the Apple crime blotter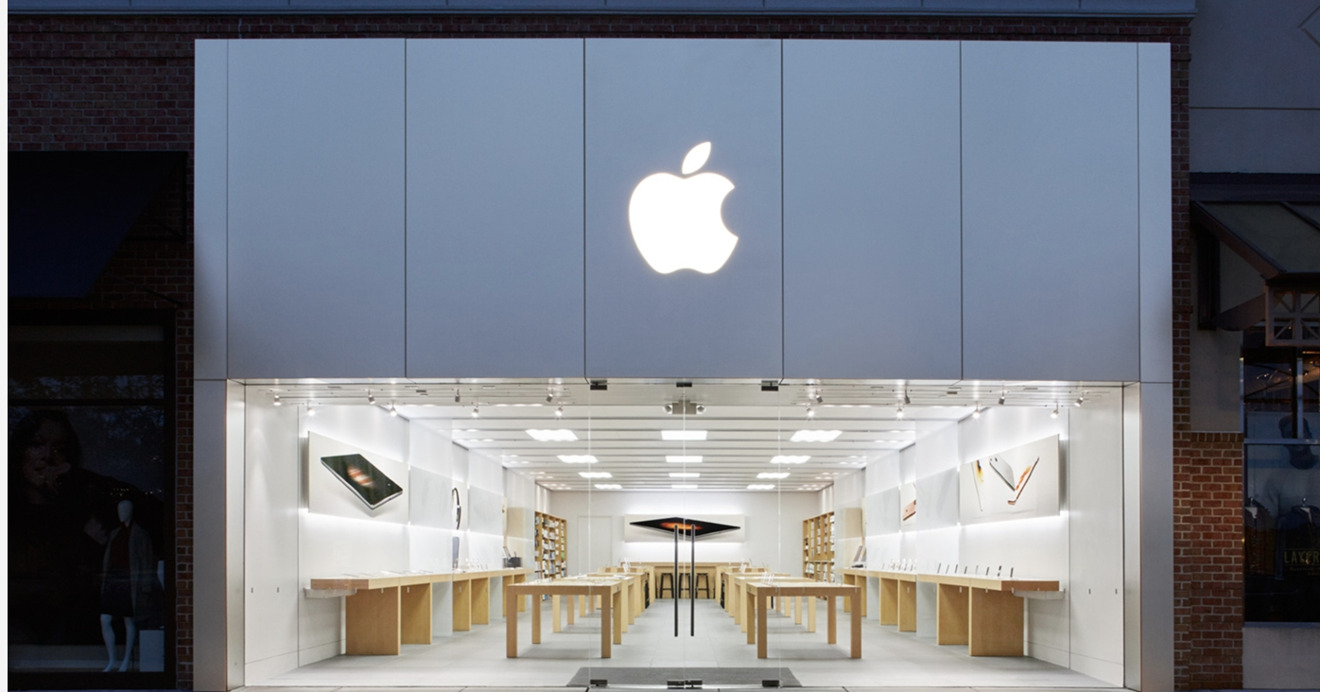 AppleInsider is supported by its audience and may earn commission as an Amazon Associate and affiliate partner on qualifying purchases. These affiliate partnerships do not influence our editorial content.
A Hong Kong counterfeiting scam is busted, Congressman's wife pleads guilty, a man defends his home by pretending an iPhone is a deadly weapon, and two Apple crime stories in Cape Coral, Fla.
The Apple Store in Evesham Township, NJ
The latest in an occasional AppleInsider series, looking at the world of Apple-related crime.
Man foils burglar by pretending iPhone is a gun
A man in Miami was able to keep a man from robbing him by claiming his iPhone was a weapon. According to WSVN, the man was at home when he noticed someone rummaging through his car. After calling for help, he got the burglar to lie down on the ground by holding his black iPhone in his direction like a gun, until police arrived.
The suspected car thief was charged with burglary, attempted grand theft auto and resisting arrest without violence.
David Ortiz shooting was reportedly arranged using an iPhone
Shortly before retired baseball star David Ortiz was shot in the Dominican Republic on June 9, the man who has been charged with convening the hit squad received a gold iPhone with a photo of "the person they were going to liquidate," The Boston Globe reported last week, citing court documents. Following the shooting the man, Gabriel Alexander Perez Vizcaino, got rid of the phone by selling it to a woman in East Santo Domingo for 9,000 pesos (about $470), claiming it had "problems."
Ten people have been indicted for their parts in the intended assassination, which was unsuccessful. Ortiz is recovering in a Boston-area hospital.
International counterfeit parts ring busted in Hong Kong
A repair shop in Hong Kong that served clients in the U.S., U.K. and Australia was raided last week by law enforcement officials, discovering approximately HK$940,000 (the equivalent of $120,000) in counterfeit parts and other fake goods at the retailer. According to the South China Post, authorities seized 3,900 counterfeit phones and parts bearing the names of Apple and Samsung, and arrested two people during the raid.
Maserati-driving iPhone kiosk thief caught
A 29-year-old man from Burbank, Calif., has been arrested after police claimed he was responsible for stealing $25,000 in iPhone replacement screens from a repair kiosk at a mall. Per The Los Angeles Times, the man was seen on security cam footage "forcing his way into a cabinet" at the We Fix Now kiosk in the Glendale Galleria.
The man, who has been accused of similar thefts in the area, was later spotted fleeing in a Maserati Ghibli.
Five arrested for stealing $9,000 in products from Evesham Apple Store
Five people from New York City, including one teenager, were arrested after stealing $9,000 worth of merchandise from the Apple Store in Evesham Township, N.J. According to The Burlington County Times, the suspects stole several items from the store and fled in a sedan, and when police stopped the vehicle, they noticed "a number of Apple products in plain view inside the car." All five individuals were arrested.
Wife of Congressman whose campaign finance charges included Apple Store purchases pleads guilty
Rep. Duncan Hunter of California and his wife, Margaret, were indicted last year on charges that they directed $250,000 in campaign funds for their personal use. These included a pair of visits to Apple Store locations, where $1,199 was spent on a Mac computer. Hunter, despite the indictment, was re-elected last November.
Buzzfeed reported last week Margaret Hunter has pled guilty to conspiracy to defraud the United States, and agreed to cooperate with authorities. She admitted in court that she and the Congressman used the campaign funds "as their personal bank account." In addition to lavish vacations and other expenses, the couple used campaign funds to buy plane tickets for their pet rabbit, Eggburt.
Find My iPhone leads police to officer's stolen gun
Police in Cape Coral, Fla., were able to recover a gun and tactical gear that had been stolen from a deputy- and they used Find My iPhone to do it. That feature, which had been enabled on an iPad that was also stolen, led police to the home where the gun and gear were found, per WINK News. Two suspects, 17 and 18, were arrested.
$5,500 in phones taken from Florida AT&T store
In other Apple product theft news in Cape Coral, police say a group of three men stole over $5,000 in products from an AT&T store in that Southwest Florida city. According to the News Press, three men entered the store, and while one distracted employees by asking about AirPods, the other two went straight for the Apple display and ripped iPads and iPhones off their cords. Portions of the thefts were caught on security cameras.
Armed robbery suspect ID'd after he saved his personal info on stolen iPhone
Police in Cleveland arrested an armed robbery suspect this week after they say he stole an iPhone at gunpoint from a 15-year-old. Per Cleveland.com, the boy's mother used Find My iPhone to trace the stolen phone to a vacant home. When they looked at the phone, they realized the accused robber had saved his own personal information on the iPhone, leading police to identify him.