Apple to hire 2,000 people in Seattle expansion, double original commitment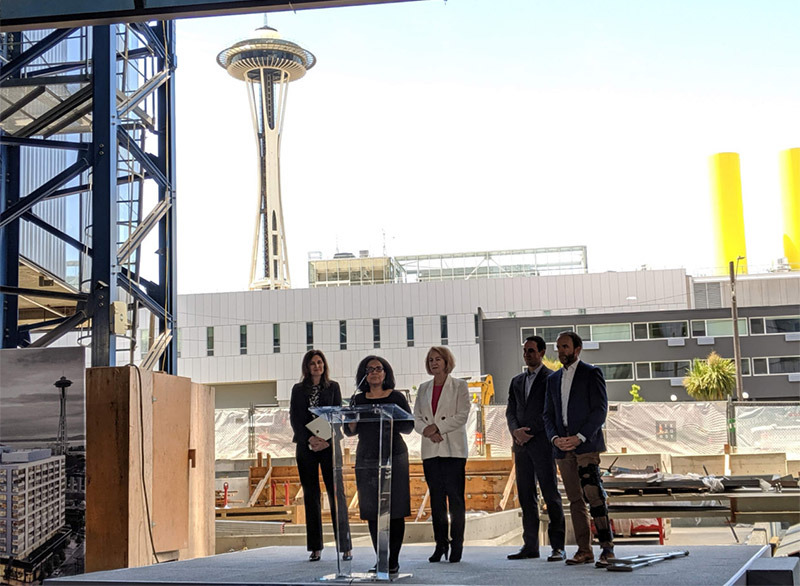 Apple on Monday revealed detailed plans for an expansion in Seattle, with the company saying it will hire a total of 2,000 people to work at a new office complex located squarely on Amazon's home turf.
Apple VP of Global Real Estate Kristina Raspe joined Seattle Mayor Jenny Durkan and Seattle Chamber of Commerce CEO Marilyn Strickland to announce the major hiring increase at a press conference in South Lake Union, where construction of the company's new campus is well underway.
Building on an original promise to create 1,000 new jobs for the city, Apple now plans to add 2,000 employees to its current ranks of about 500 people over the next five years, reports GeekWire. The new recruits will take up residence in 333 Dexter, a large campus that, when completed, will boast 630,000 square-feet of office space spread across two 12-story towers.
"These new jobs confirm what we already knew, we have the best talent and city anywhere," Durkan said in a prepared statement. "It is my top priority that our kids growing up in Seattle today are prepared to fill engineering and computer science jobs like the ones that Apple announced today."
The company did not receive government incentives for the local job creation, Raspe said.
Apple remained mum on what segments of its business the Seattle hub will serve, but a company spokesperson told GeekWire that Apple is "actively recruiting" for iCloud in the region. Apple currently relies on the Seattle-based Amazon Web Services for portions of iCloud and other internet services. Recent reports, however, claim the iPhone maker is spending less on AWS, suggesting plans to bring cloud services completely in-house are moving forward.
Apple has room to grow at 333 Dexter, with previous reports estimating the complex could house up to 4,500 employees. If the tech giant does plan to expand further, it will have a rich pool from which to recruit with the likes of Amazon, Microsoft and T-Mobile headquartered in the area.
Apple first announced intent to grow its Seattle operation last December. A footnote in a press release detailing a massive $1 billion campus in Austin, Texas, the Seattle expansion was originally pegged to add 1,000 employees to Apple's workforce. Similar expansions were also announced for San Diego and Culver City in California, while smaller facility improvements are slated for Boston, Boulder, Colo., New York, Pittsburgh and Portland, Ore.