Armed Apple Store robbery, criminal selfies in the Apple crime blotter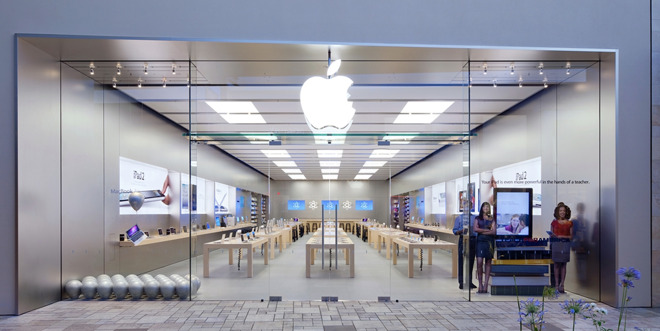 AppleInsider may earn an affiliate commission on purchases made through links on our site.
An Apple counterfeiting defendant may have fled to China, more Firefly festival smartphone thefts, a selfie with a stolen iPhone, and more on this week's Apple crime blotter.
The Apple Store in Valencia Town Center
California Apple Store robbed at gunpoint
Apple Store locations in California were targeted dozens of times throughout 2018 by a theft ring, but those thefts didn't usually involve weapons. However, guns were indeed used in the armed robbery of a Valencia, Calif., Apple Store in late June 2019.
Per KHTS, suspects brandished a black semi-automatic handgun while taking Apple Watches and iPhones from the Apple Store at Westfield Valencia Town Center on June 26. The gun made an appearance, the station said, as part of a "struggle" with a store employee.
The three suspects fled on foot into a waiting getaway car.
Accused Apple counterfeiter no-shows trial, may have fled to China
A Chinese man charged with making counterfeit devices meant to resemble Apple and HP products failed to appear for his scheduled trial, and a warrant has been issued for his arrest. According to The San Jose Mercury News, Lixiong "John" Chen was a no-show for the scheduled first day of his trial the last week of June.
Suspect took funny selfie with stolen iPhone, police say
Police in New Jersey are looking for a man who they say stole an iPhone and used it to take a distinctive selfie and post it to the theft victim's Instagram story. According to the Facebook page of the Kearny Police Department in Kearny, N.J., the stolen device was used to take the selfie shortly after the theft.
The department said they were "turning to our facebook community for assistance in identifying a person of interest in the attached photograph." The theft took place in May but the department didn't post about it until this week.
University employee pleads guilty to stealing $134,000 worth of computers
An employee at the University of Minnesota has pled guilty to spending $134,000 in university funds on 78 computers that he then sold for profit. Reported by Bring Me The News, the 34-year-old man obtained a stay of his prison sentence but was sentenced to a year in a county workhouse, in addition to paying restitution.
The sentence was for both the university case and a separate scheme involving the fraudulent purchase of iPads from Target. Apple, per the report, assisted the investigators in locating the computers, indicating that some or all of them were Macs.
Phones stolen from Firefly Festival in Delaware
For the second year in a row, a large number of cell phones have been stolen from a music festival in Dover, Del. The Associated Press reports two dozen phones were taken during this year's Firefly Festival event in late June.
It wasn't announced how many of them were iPhones, although at last year's version of the event a Florida man was arrested for stealing 27 iPhones.
Woman accused of buying over $6,000 in iPhones under false identity
A Tennessee woman is being accused of stealing the information of a coworker in order to purchase $6,000 worth of iPhones, writes WBIR. The woman is accused of using the Verizon account of a colleague in order to purchase four iPhone XS Max units at Christmastime last year.
The same woman has felony theft charges pending in two other countries for using local school systems to buy items.
Woman tracks down iPhone thieves, has gun pulled on her
A Memphis woman had her iPhone stolen from a gas station last week, and decided to track down the thief herself using Find My iPhone. But the move resulted in a gun being pulled on her. Per WTKR, the 26-year-old woman followed the signal to an apartment complex, with the intention that she would recognize the thieves' car and call the police.
When she and some friends arrived, the thieves fled in a truck, and the woman gave chase — and at one point, one of the men pointed a gun at her. He was subsequently arrested and admitted to the crime.
Find My iPhone finds stolen BMW in Australia
Police, with some help from Find My iPhone, were able to locate a stolen BMW owned by an Australian man. They tracked an iPad that had been left inside the vehicle, and found the car after only about 15 minutes, with the suspect driving it, notes Adelaide Now.
However, there was much damage to the car: All windows were smashed, the bonnet was dented, and all of the electronics had been "ripped off," the owner said.
Canada man accused of stealing iPad Pro, trying to sell it
Police in Barrie, Ont., are hoping to apprehend a man who they say stolen an iPad Pro and laptop from an area business. Shortly afterward, according to Barrie Today, the same man entered a nearby business and attempted to sell the stolen items, however employees were on to the scheme and apprehended the items. Surveillance photos were obtained of the suspect.
Irish bread van driver has iPhone stolen
A bread van driver in Limerick, Ireland, was performing a delivery this week when he had his iPhone stolen from his vehicle. Per The Limerick Leader, the driver was delivering fresh produce when a jeep pulled up, a thief emerged, and took the phone. A law enforcement officer called it "a most opportunistic crime."