Review: Wacom's Intuos Pro Small is a graphics tablet for artists on the move
Wacom releases a new, smaller size to their famous Intuos family— the Intuos Pro Small. We took a look at it to see what features this updated model has rolled out, and to find out how it fares as an artists' tool.
Wacom has long been the industry standard for digital artists tablets, and for good reason. Once upon a time, I had a mid-sized Intuos4 that I absolutely adored. When given the chance to check out the newest addition to the Intuos Pro line, the Intuos Pro Small, I was excited to see how the line has evolved since my last experience with it.
Portable? Yes. Practical? Well...
The Intuos Pro Small comes in at 12.6-inches by 8.2-inches, with an active canvas area of 6.2-inches by 3.9 inches. This definitely qualifies it as a small graphics tablet, and may be a little too small for illustrators who are going to be doing extensive detail-focused work, as I found myself getting a bit of hand fatigue when sketching within the confines of the small canvas area.
I do think that this is the perfect size for those who are simply doing final touches on artwork or editing photos. Being able to quickly fix flaws in an image using a pen rather than a mouse is far more efficient and precise. I also think that graphic designers who work in Adobe Illustrator or Affinity Designer would be able to get a decent amount of mileage out of a tablet this size as well.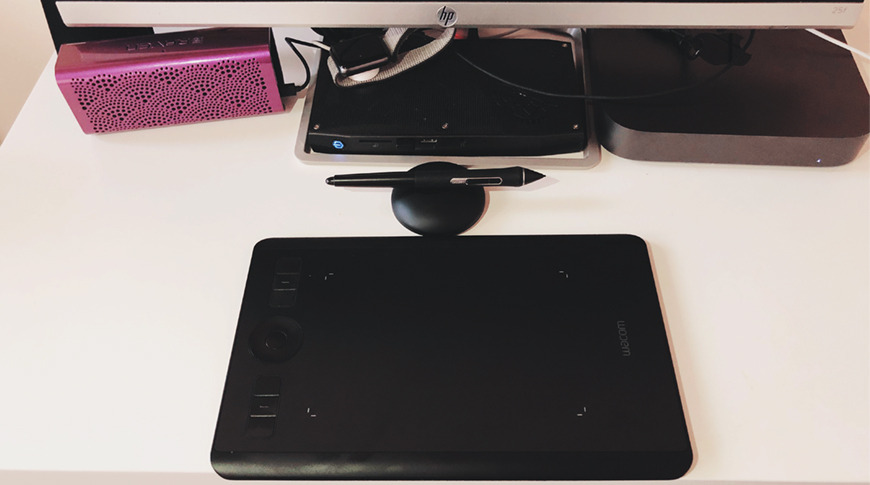 The tablets in the Intuos Pro line are Bluetooth enabled, allowing them to connect with your Mac wirelessly, cutting down on cord clutter as you work. It also means that you can easily pick the tablet up and move it if need be. If the battery on your tablet runs low while working, it can be used while plugged in as well.
The act of drawing
If you're new to pen tablets like the Intuos, there will be a bit of an adjustment period as you learn to look at a screen to see what you're drawing, rather than looking down at your hand. It's not too difficult, but it does take a fair amount of practice.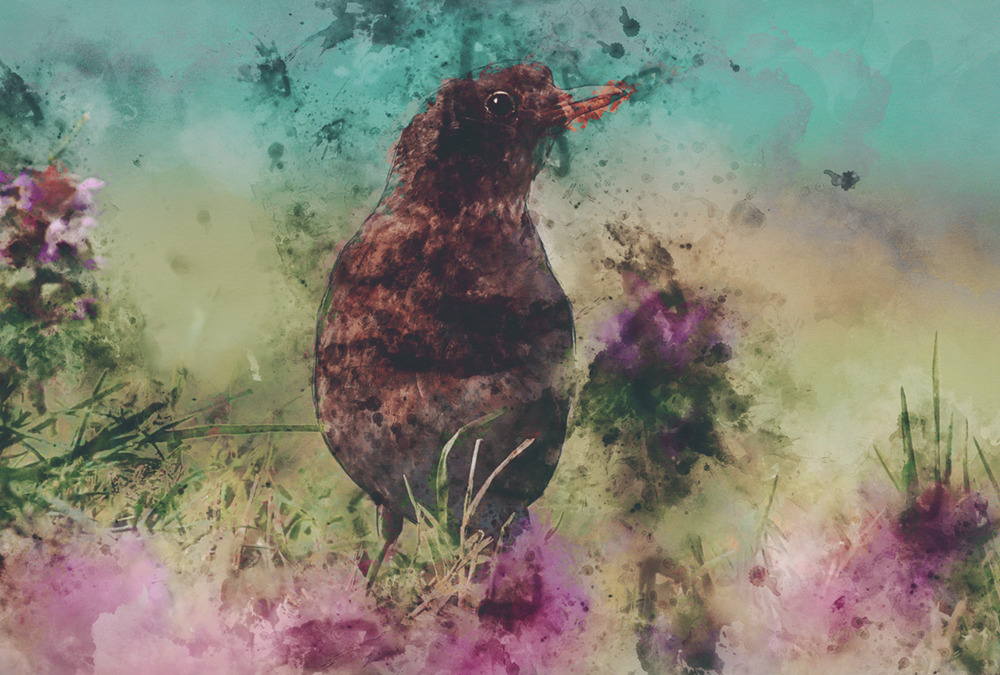 You might find that you feel like the tablet pen doesn't have enough "tooth" when drawing, which is a common complaint for people switching from traditional media to digital. Currently, you can purchase additional surface sheets for the medium and large sized tablets that can help it feel more like traditional paper — we're hopeful that Wacom eventually brings these sheets to the small line as well. Users can also change out the standard pen nib to a felt tip nib, which are included with all Intuos Pro purchases.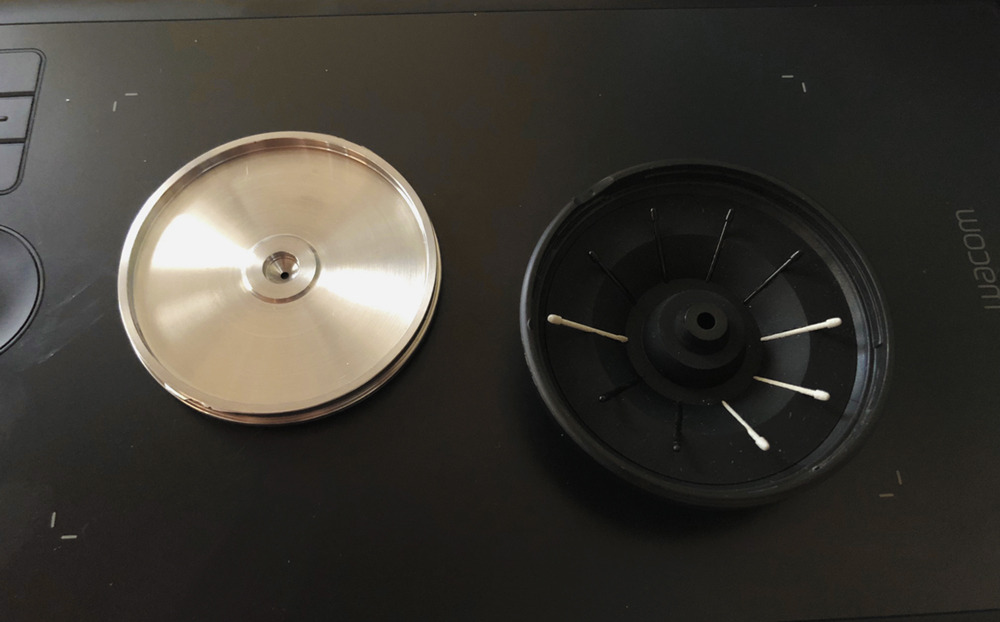 As with almost everything from Wacom, the tablet is an absolute joy to use. The pen is extremely comfortable to hold, though I personally prefer a slightly heavier pen feel. The surface of the tablet is smooth and while I recommend a drawing glove to cut down on hand-tablet friction, it's not required to successfully use the tablet.
The pen itself has always been a draw — pardon the pun — to Wacom tablets for artists and designers. This iteration of the Intuos line features the Intuos Pro Pen 2, and boasts a slightly redesigned form that focuses on ergonomics. Being wirelessly charged as you use it, the Wacom pen is relatively fuss free. The pen also provides over 8,000 levels of pressure and tilt sensitivity, giving a smooth line from start to finish.
The Intuos Pro Pen 2 features two buttons on the side, allowing you to set common shortcuts such as changing a brushes opacity. Flipping the pen over will allow users to erase in programs that support that feature.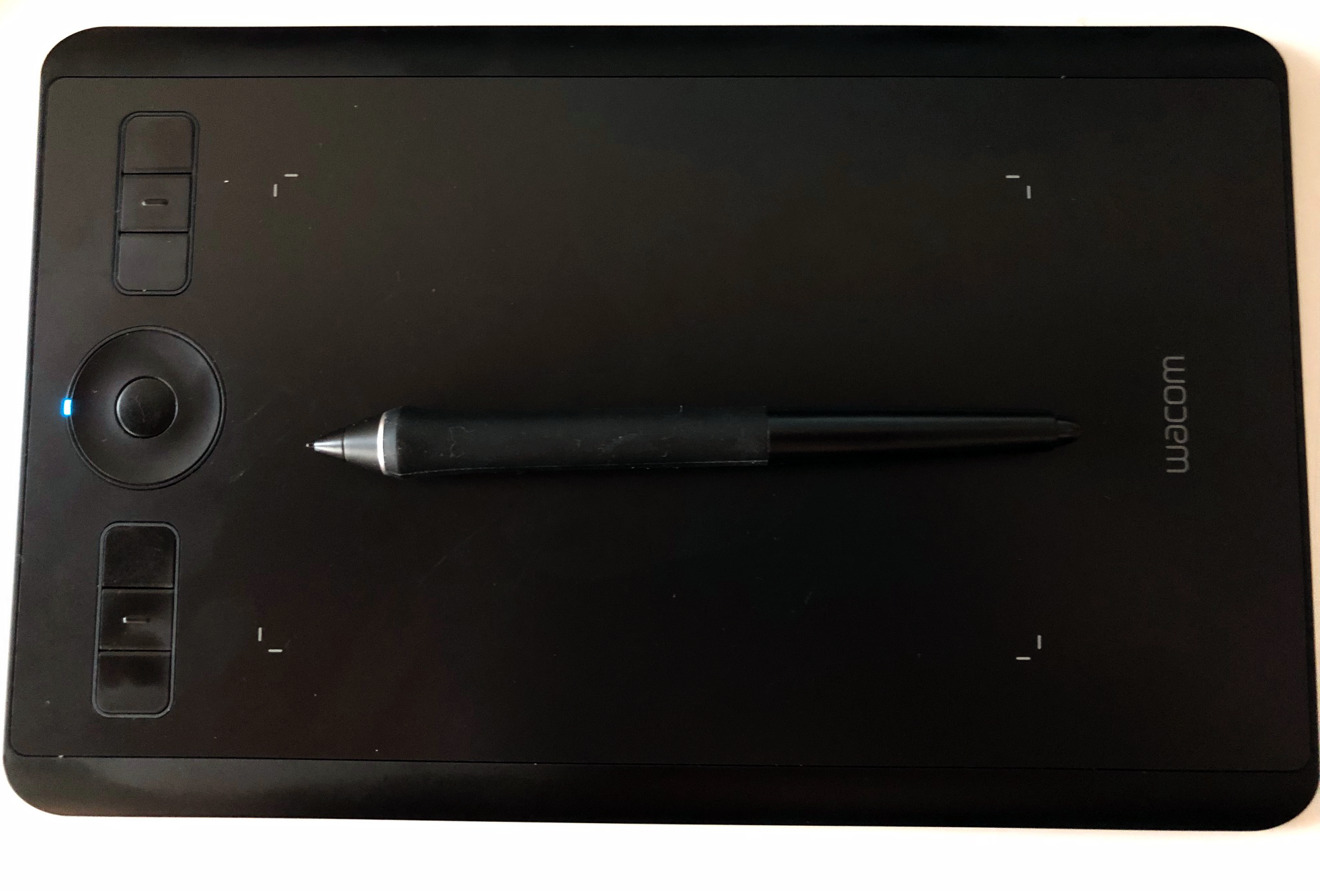 The interchangeable nibs give you the chance to opt for a different feel. The standard nib provides a slick, ball-point pen like feeling when drawing, where as the felt tip gives a users stroke quite a bit more tooth, similar to drawing with a felt-tip pen. Nibs are also replaceable, allowing users to change them out once they wear down too much.
If users find the provided Pro Pen 2 to be too thick, they have the ability to purchase the slimmer pen which is available separately at $79.95.
A touchable tablet
The Intuos Pro line works with the Intuos Pro Pen 2, as expected, but also can be used as a trackpad. This includes support for several different gestures which can be customized within the Wacom Desktop Center software.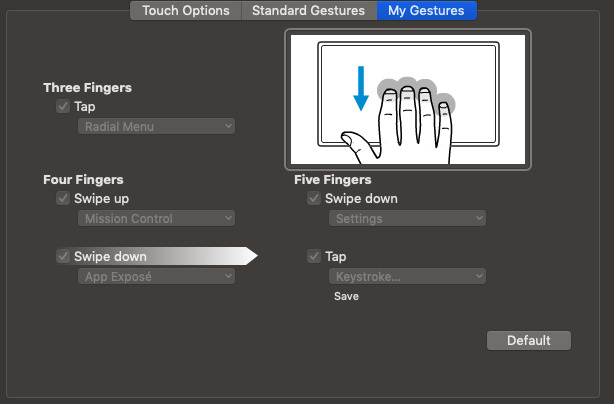 I personally do not enjoy using graphics tablets as trackpads — or even using trackpads in general — so this is a feature that I didn't tend to utilize. I am absolutely thrilled, however, that they have featured a small silver switch on the side of the Intuos that allows you to toggle touch on or off without requiring you to fiddle with the software.
Built in convenience
My favorite feature of the Intuos line is the ExpressKeys and Touch Ring. The Touch Ring can be set to a number of features, including increasing and decreasing brush size, scrolling up or down, or zooming in and out. The ExpressKeys can be customized to do any number of things, from launching programs to performing complex keystrokes and everything in between.
For example, instead of needing to keep two fingers on a keyboard to undo, users can simply designate one of their ExpressKey buttons as a dedicated undo button. It's also worth noting that the tablet can be oriented for left or right handed users, allowing everyone to benefit from the ExpressKeys.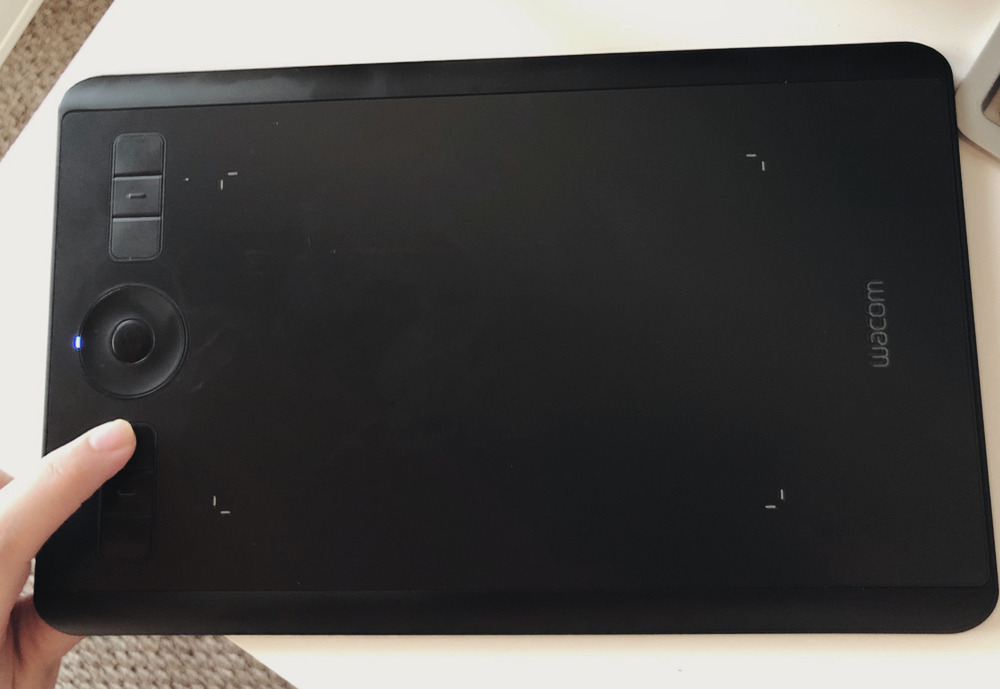 Final thoughts
Overall, the Wacom Intuos Pro is a great tool for artists, designers, and photography editors. The small size allows the tablet to easily be slipped in a bag with a laptop for use on the go, and its ability to connect wirelessly keeps everything tidy. While I think that illustrators may benefit from a larger size, this small one is a great way to get started with digital art or photo editing, and you'd be hard pressed to find a better digital tablet for on-the-move.
Bundled in the box is the charging cable, the Wacom Intuos small, a pen, pen holder with interchangeable nibs. Users can purchase additional pens, such as the airbrush and art pen, and nibs as well.
Rating: 4.5 out of 5
Where to buy
The Wacom Intuos Pro is available in three sizes at Amazon, with the small version featured in this hands-on retailing for $249.95.