Notes of interest from Apple's Q3 2019 earnings report and conference call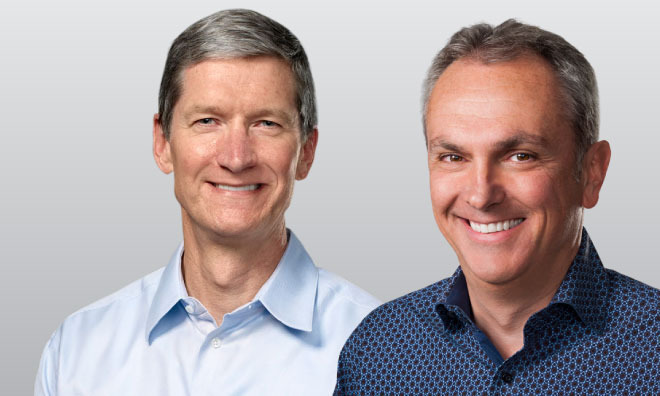 Following the publication of results for its third fiscal quarter of 2019, encompassing April through June, Apple provided additional detail surrounding the continuing situation in China, as well as more information about its Services business in an earnings conference call.
On Tuesday, Apple announced $53.8 billion in revenue, with earnings per share of $2.18. Apple predicted revenue in the range of $52.5 billion to $54.5 billion. Thomson-Reuters predicted $53.7 billion in revenue.
In the year-ago quarter, Apple earned $53.3 billion, with more than half of the revenue from the iPhone.
Participating in Tuesday's call were Apple Chief Executive Tim Cook and Chief Financial Officer Luca Maestri.
Highlights from the earnings report and conference call
Prior to earnings, Apple stock was up a bit in after-hours trading, to $209.40 per share at 4:30 P.M. Eastern time
Following release of the earnings numbers, Apple stock jumped to $216.18 at 4:35 P.M. Eastern time
The June quarter was Apple's largest ever, driven by "all-time record revenue from Services, accelerating growth from Wearables, strong performance from iPad and Mac and significant improvement in iPhone trends"
Over $17 billion in stock buybacks completed in the quarter
Apple is expecting between $61 billion and $64 billion for the fourth quarter
Apple's board has declared a cash dividend of $0.77 per share, payable on August 15
Quarter ended with $211B in cash and securities, $3B in term debt retired. $108B in total debt remains.
88 million Apple shares repurchased
At the conclusion of the call, Apple stock was up $8.92 in after-hours trading, to $217.65
iPhone
Strong customer response to in-store trade in and exchange program
More than 5x iPhones traded in versus the year-ago quarter
iPhone sales in Apple retail returned to growth
iPad
iPad sales up $365 million from 2018
Third consecutive quarter of iPad sales growth
Over half the iPad purchases in June quarter were new to iPad
Wearables
Wearables, home and accessories up $1.8 billion YOY
Apple Watch, other wearables the size of a Fortune 200 company
Services
Services up $1.3 billion from YOY
Services growth 15% after a one-time benefit last year at this time
Apple Care, Apple Music, Search Revenue, App Store all time revenue records
Apple TV app viewership up 40% Year over year
Apple Pay 1 billion transactions per month, twice the volume of a year ago
Apple Pay adding more new users than PayPal, monthly transaction volume growing 4x as fast
Triple-digit growth in Apple Pay
Services accounted for 21% of revenue, 36% of gross margin
Over 420 million paid subscriptions, will exceed 500 million by 2020
Across all third party subscription apps, largest is only 0.25% of services revenue (probably Netflix - MW)
Mac
"Enormous amount to be excited about with Mac" - Tim Cook
Mac revenue grew in four of five geographical segments, set records in Japan, US, with overall growth outpacing PC industry
Active install base of Macs at all-time high
Regional Performance
Foreign exchange impacted growth, very challenging environment - Luca Maestri
Sales down in Europe by $200M, greater China by $300M from YOY
Sales up in U.S. and rest of Asia Pacific by $500M YOY
Active iPhone installed base grew to a new all-time high in every operating segment
Observation: Apple's most recent results are about the same as the 2013 holiday quarter - MW
Tim Cook - Return to growth in mainland China
China - experienced noticeably better YOY growth in China than in the last two quarters, sequential improvement
App Store in China driving force behind Services growth
Emerging markets strong double digit growth in India and Brazil, Q3 records in Vietnam, Philippines
Odds and ends
Intel modem buy second largest by dollar, largest personnel involvement
Best June quarter from retail stores
2/3 of top banks deploying Apple products
90 of the largest 100 banks by assets are installing Apple products
"Several new products that we can't wait to show you" - Tim Cook
506 stores in 22 countries
Question and answer time!
Q: Explain growth in estimates September quarter, more than previous percent growths
Maestri - Continued growth of wearables, Services expected, includes $1B in foreign exchange headwind penalty
Q: What is driving success in China, and why will it continue?
Cook - Government stimulus in the form of VAT decreases, pricing action, trading, growing engagement in ecosystem during quarter.
Q: Why is Services revenue and growth so strong?
(AI Observation, this has already been discussed at some length - MW)
Maestri: All-time record revenue, install base is growing, and so will Services alongside that growth.
"We feel very confident about reaching those targets" - Maestri, in regards to doubling Services by 2020
New services are coming soon, including Apple Card, Apple Arcade, Apple TV+ which will also grow Services
Q: Gross margin guidance for September is 50 points higher than June. Why?
Maestri: Headwinds will be negative from forex, cost savings in commodities
Q: Elaborate on China production, estimates for next quarter
Cook: We look at all macroeconomic conditions in great detail — with no elaboration to the question
Q: New services a short-term growth, or long-term?
(AI Observation, this again has already been discussed at some length - MW)
Maestri spelling out new Services launch timetable, "road to monetization takes some time."
Q: How effective was the iPhone trade in program>
Cook declines to elaborate on numbers, trade-in as a percentage of total sales is "significant"
Apple advocating for the exchange program more widely
Q: In three to five years, will Services be tethered to the iPhone?
Cook: Many services not tethered to iPhone sales now, "We'll see what we do in the future."
Emerging markets with low penetration will drive future Services
Q: China trade situation fluid, tariff exceptions not granted, potential alternatives to China production?
Cook: Don't put a lot of stock into manufacturing moves out of China
Apple manufacturing all over the place, China, Korea, Japan, EU
Q: Comment on broader channel inventories
Maestri: In general we decrease inventory during March & June quarter, in 2019 iPhone channel reduction slightly more than 2018
Q: How is device retention impacting Apple & Services revenue
Cook: Install base growing, people are holding onto devices longer, but staying inside the ecosystem
Cook: Not commenting on unannounced products, and in "Extremely early, early innings of it, and even more so on a global basis."