Apple Watch leads growing smartwatch segment with 5.7M units shipped in Q2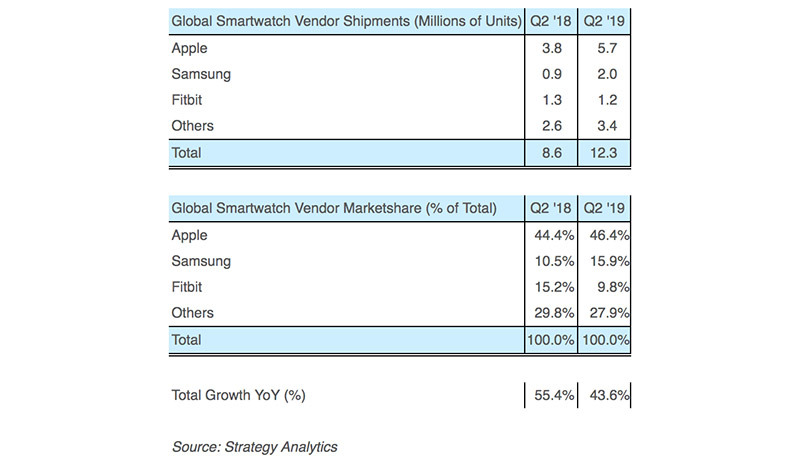 Apple once again led the smartwatch pack during the second quarter of 2019, shipping an estimated 5.7 million Apple Watch units as it creeps toward a 50% share of the global market.
According to the latest statistics from Strategy Analytics, Apple shipped 5.7 million Apple Watch devices to capture 46.4% of the market during the three-month period ending in June. That result is up 50% from 3.8 million units shipped in the same quarter of 2018.
"Apple Watch remains a long way ahead of the chasing pack and its global smartwatch marketshare has grown to 46% this quarter, up from 44% a year ago," said Neil Mawston, executive director at Strategy Analytics. "Apple Watch has fended off strong competition from hungry rivals like Fitbit. Apple remains the clear smartwatch market leader."
Samsung came in second with 2 million smartwatches shipped, more than doubling its performance year over year. Riding high on recent releases like the Galaxy Watch Active, the Korean tech giant upped its slice of the global smartwatch pie from 10.5% in the second quarter of 2018 to nearly 16% in 2019.
Third place Fitbit saw a dip in sales as its numbers dropped from 1.3 million units shipped in the second quarter of 2018 to 1.2 million in 2019. The wearable industry stalwart saw its share of the market contract from 15.2% to 9.8% over the same period. Earlier this month, Fitbit lowered guidance for its fiscal 2019 on weaker than expected sales of Versa Lite, a device once advertised as a budget Apple Watch competitor.
Overall, the smartwatch market continued to grow during quarter two, with market players shipping some 12.3 million units, up from 8.6 million in the year ago quarter.
Apple is forging ahead in its quest to dominate the wearables segment and most recently posted record revenues of $5.5 billion in a category that includes Apple Watch, AirPods, Beats, Apple TV and HomePod. Apple CEO Tim Cook in an earnings conference call in July said Apple Watch adoption was at record-breaking levels. On a wider level, Apple's wearables business benefitted from an influx of new users and enjoyed a 50% growth rate from the same time last year.