Apple quietly bought $17B more after record high $24B Q2 stock repurchase [u]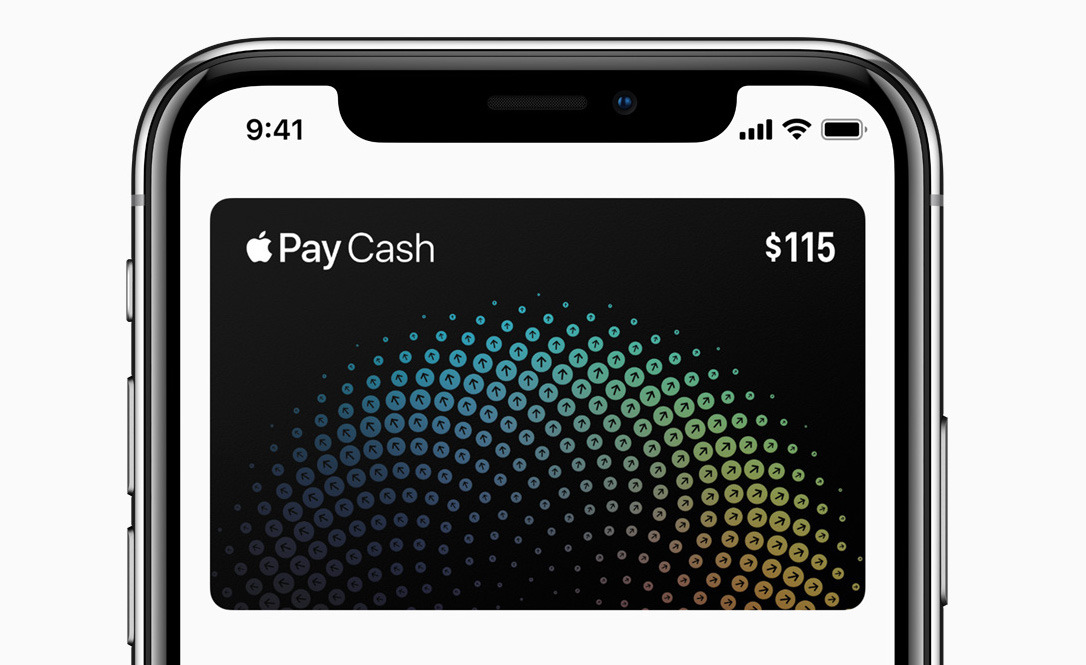 Since 2012, Apple has been buying back shares at the extraordinary rate of around $10 billion per quarter. A year ago it picked up the pace to around $20 billion per quarter. After a reprieve last winter, the company has resumed its buyback frenzy with its largest-ever quarterly funding: $24 billion in Q2 followed by $17 billion in the most recent June quarter. Here's why. [The original version of this article contained an error regarding the dates of Apple's quarterly buybacks.]
Apple's chief financial officer Luca Maestri noted in the June earnings call that "we returned over $21 billion to shareholders during the quarter, including $17 billion through open-market repurchases of almost 88 million Apple shares and $3.6 billion in dividends and equivalents."
A frantic pace of stock buybacks
Maestri's figures indicate Apple bought back its shares at a price of around $197. Over the last nine months, Apple reported buying a total of 252.6 million shares of its common stock for $49.2 billion, at nearly $195 per share.
That price is far higher than the lowest troughs Apple stock reached over the winter where phony reports claimed nobody was buying iPhones anymore and in particular that nobody was buying high-end iPhones— at a time when it was abundantly clear that most of the iPhones being sold were high-end models, and that the worst news for Apple was that its replacement rate was slowing down as economically battered buyers in China simply deferred new purchases into the future.
But why is Apple buying back shares seemingly regardless of their price? It appears clear that Apple expects its share price to grow much higher in the future. So rather than carefully timing its repurchases to only occur when the stock price hits its lowest levels, Apple continues to buy shares back nearly as fast as it can all the time, even as the stock price jumps up and down as it continues to increment higher.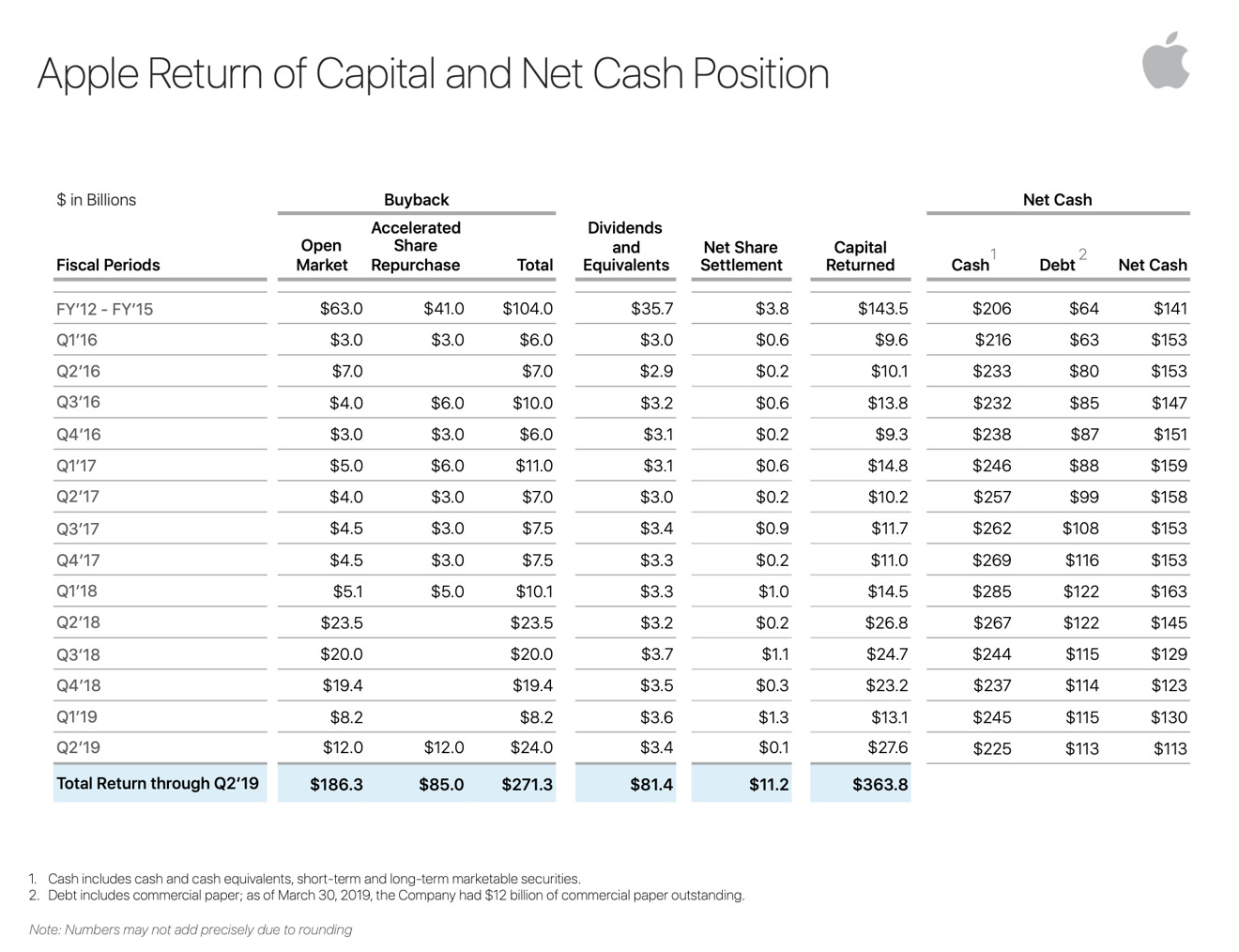 Since 2012, Apple has funded a total of $271.3 billion in stock buybacks [$288.2 billion after the latest quarter's addition of $17 billion in share repurchases]. Most of these shares were repurchased at what would today be an incredible discount. While analysts have occasionally picked out a given trough in Apple's stock price and declared that its buybacks were a huge mistake, it's hard to imagine in hindsight how Apple could have better invested nearly $300 billion of its past iPhone profits.
Effectively spending lots of money is hard work. Apple has been able to spend at most around $4 billion per quarter on highly effective R&D. Further, Apple's 10K noted that it "anticipates utilizing approximately $10.0 billion for capital expenditures during 2019, which includes product tooling and manufacturing process equipment; data centers; corporate facilities and infrastructure, including information systems hardware, software and enhancements; and retail store facilities."
Maintaining a cash pile of over $100 billion — actually around $200 billion balanced with $100 billion in debt — is a liability, as it is extremely difficult to effectively invest that much money in anything productive. Apple is already leading the tech industry while spending a mere $10 billion annually on Capex and historically less than $15 billion annually on R&D. Its cash holdings are mostly invested in government and corporate debt securities and other safe investments that do not pay out a high rate of return.
So, Apple's solution has been to buy up its own shares as rapidly as possible, effectively concentrating its value as a company for its shareholders. And at the same time, also paying out around $12 billion per year in dividends.
And yet, even as it funds a record $24 billion in share repurchases in the quarter, it also generated another $10 billion in net income in the quarter. Of all the problems that analysts invent for Apple, the most challenging thing the company faces is actually how to responsibly spend all of the money it is generating from leading the development of the world's consumer technology.
Return of the ASR
The $17 billion in direct repurchases that Maestri outlined for the June quarter wasn't the total buyback spend initiated. In addition to the cash that was used to actively buy shares directly, Apple also initiated its first Accelerated Share Repurchase in over a year during the previous quarter. Under an ASR, Apple pays an investment bank to buy back shares on its behalf. The bank effectively shorts the stock held by its clients and then later buys new shares to replace them, assuming the risk itself while Apple retires its shares at a planned cost per share.
Apple has previously performed ASRs in addition to buying back shares directly. However, over the last fiscal year, it stopped doing ASRs and began funding buybacks directly even faster — that pace of $20 billion or greater per quarter. In the December quarter, these buybacks slowed down to $8 billion, but that reversed with the largest ever buyback Apple has funded in a quarter: $12 billion in direct buybacks and a $12 billion ASR in fiscal Q2, which ended in March, followed by another $17 billion in buybacks during the June Q3.
The reasons for doing an ASR might involve enabling its partner bank to buy up shares during the blackout period where Apple itself can't buy shares. It's also considered to be a financial engineering effort to reach a specific metric.
Apple doesn't need to cover up its real-world performance. Despite being hit by unfavorable currency exchange rates, a chaotic tariff war, and a rollercoaster ride of economic uncertainty in its important Chinese market, Apple has expanded and enhanced its overall businesses so much that its new sales alone have made up for the weakness hitting its largest segment of iPhone sales — something most analysts claimed would be impossible.
So while it spends as much money as it can on buybacks, even using an investment bank to handle a massive ASR, Apple's overall cash holdings are only slowly decrementing, even as it pays off debts incurred to finance earlier buybacks.
Apple currently has so much cash — $211 billion, about half of which is balanced by debt holdings, meaning the company has $102 billion free and clear to spend — that it certainly could use it to play financial engineering tricks to make its performance as a company look better than it is. However, it doesn't need to: Apple's real-world performance is incredibly far ahead of all of its peers.
Why Apple is investing in AAPL
In the June quarter, Apple suffered through a sales slump, particularly in China, that resulted in a 13 percent drop from last year's peak revenues and an 8.5% drop in profits. But that compares to the much larger collapse in Samsung Mobile performance— an incredible 41.6% collapse in operating profits— which hit its premium flagship sales so hard that its Mobile IM segment reported profits of just 11% that of Apple. Huawei also suffered through a bleak period of no growth, caused mostly by U.S. policy blocking its sales and partnerships with American companies.
And while research groups are desperately trying to portray Apple as being troubled due to the volumes of phones it sells compared to all other vendors on earth collectively, Apple's lock on premium sales to the world's most affluent buyers is making it vastly more profitable than every other phone company put together. Any comparison of market share that frets over how many phones Apple is selling while ignoring the real value of those phone sales is worthless.
Apple doesn't have to burn any cash to create the smokescreen impression that it is performing extremely well in a difficult environment. Apple is both building as a manufacturer and retailer, and as a platform vendor, and as a sales organization, and — somewhat invisibly — as a training organization that's teaching incredible numbers of people worldwide how to use its platforms to build third-party tools for its platforms.
The executive team with the clearest picture of Apple's future prospects is actively investing the company's cash resources as rapidly as effectively possible in the company's expansion, but the company is simply generating so much cash that it is effectively forced to return the excess to shareholders as efficiently as possible by increasing the value of their investment.