New 'Service' battery message in iOS pushes consumers toward official replacement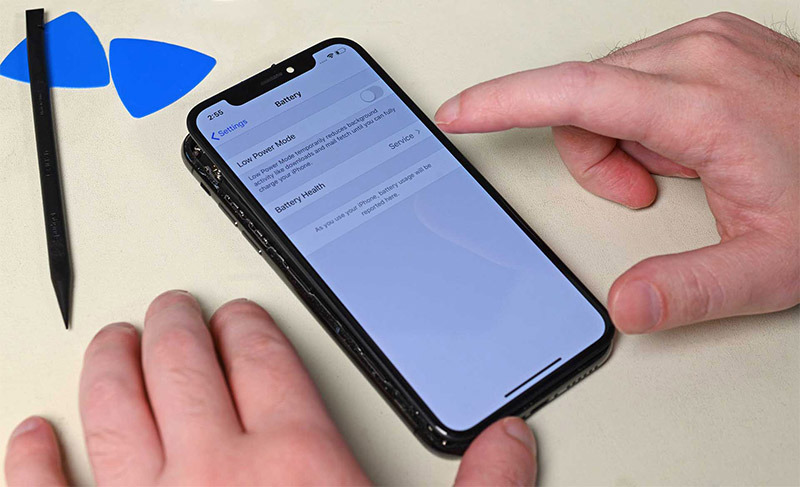 When installing a third-party battery, or a genuine replacement, outside of Apple's authorized repair network, the latest version of iOS displays a new "Service" battery message in the Settings menu that suggests the cell has an undiagnosed problem, disallowing users from accessing Battery Health information.
Detailed in a report from repair specialist and Right to Repair proponent iFixit, the new "Service" battery message appears in the Settings > Battery > Battery Health menu bar.
Under normal circumstances the Battery Health bar is empty aside from a light gray arrow denoting an option to obtain a report on immediate battery capacity and peak performance capability. The feature was first employed in response to revelations that Apple artificially throttles the CPU performance of handsets with degraded batteries to thwart unexpected shutdowns.
After conducting a round of tests, iFixit observed the "Service" message appear when it installed a fresh battery, even a "genuine" part from Apple. As such, the firm believes Apple has instituted a "dormant software lock" that requires an Apple Genius or Apple Authorized Service Provider to authorize a replacement part for use with a specific phone.
Tapping on Battery Health displays an "Important Battery Message" that reads, "Unable to verify this iPhone has a genuine Apple battery. Health information is not available for this battery." Further, maximum capacity and peak performance capability metrics do not register. A note under the latter reads, "This iPhone is unable to determine battery health. An Apple Authorized Service Provider can service the battery."
According to a recent video produced by TheArtofRepair, Apple's batteries, like most smartphone cells on the market, incorporate a Texas Instruments bq27546 microcontroller that supplies data relating to capacity, temperature and time to full discharge. Chips used in Apple's latest batteries also feature an authentication module which stores information that can be used to pair the cell with an iPhone's logic board, the report said.
The text displayed in the Battery Health pane is mentioned, but not fully explained, in a Support Pages document last updated in March. Provided links point to Apple's official battery service program.
Apple did not reveal the service battery message in release notes for iOS 12.4, nor does the company note a change in battery replacement policy on its website, though it says customers "should" visit Apple or an authorized service provider for support.