Apple loses ground to Samsung in European smartphone market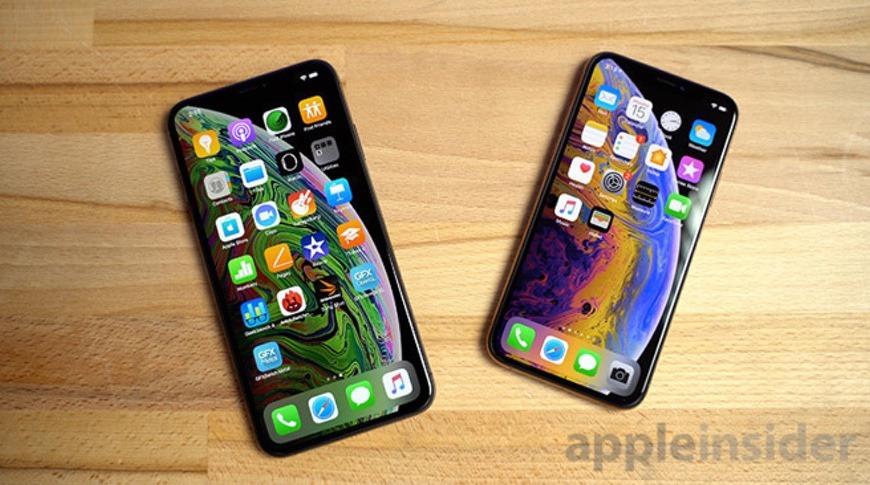 Apple shipped 1.3 million fewer iPhones to Europe in the second quarter, analysis of the smartphone market has revealed, a fall of 17% year-on-year, meanwhile Android-based rivals Xiaomi and Samsung are seeing considerable shipment growth over the same period.
For the second quarter of 2019, data from Canalys claims Apple shipped 6.4 million iPhones, a drop of 17% from the 7.7 million shipments seen in the same quarter in 2018. For the market in general, Apple manages to remain in third place in terms of shipment volume, but occupies 14.1% of the market compared to the 17% it held last year.
Apple's dip in market share in this latest report echoes a similar sentiment offered by another round of analysis at the end of July, which claimed Apple shipped 36.4 million iPhones globally in the second quarter, down from 41.3 million in 2018. As a whole, the industry was down 1.2% in terms of shipments, to 360 million units.
In the Canalys report, European shipments for the industry are at 45.1 million units for the quarter, down approximately 100,000 from the 45.2 reported for the previous quarter, indicating the market is relatively stable versus the rest of the world.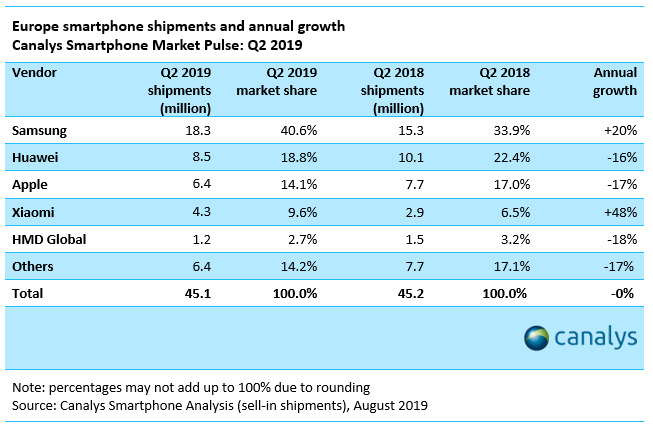 The details of Apple's market share may not necessarily be a useful figure to examine in this case, as Canalys is monitoring all smartphone sales, regardless of price. This effectively puts Apple's premium smartphones against models that could cost a small fraction of the price of an iPhone, making it a relatively unfair comparison, unlike a comparison of revenue.
Canalys' report does not explain what happened to Apple for the market, but instead takes the time to talk about the Android market, including how there is a "lack of brand loyalty among users of low-end and mid-range Android smartphones." Most of the discussion is about Samsung, its mammoth growth in market share for the quarter, and its highest shipment figure from the last five years.
For the competition, Samsung is in the top spot with 18.3 million shipments, year-on-year growth of 20%, and a market share that swelled from 33.9% for Q2 2018 to 40.6% in Q2 2019. Canalys credits the improvement to a shift in Samsung's product strategy from focusing on operating profit to winning back market share, as well as capitalizing on Huawei's problems with the U.S. government.
Also ahead of Apple is the aforementioned Huawei, which saw shipments drop 16% to 8.5 million and market share go from 22.4% to 18.8%. Behind Apple is Xiaomi, which saw annual growth of 48% to achieve 4.3 million units shipped, giving it a market share boost from 6.5% to 9.6%.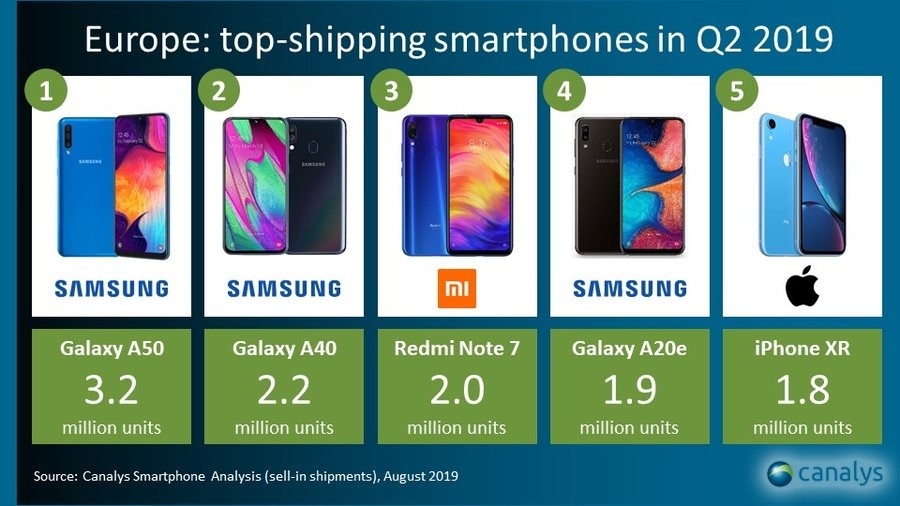 Apple does appear in the list of top five smartphone shipments for the quarter, with the iPhone XR in fifth place with 1.8 million units. Samsung takes the first, second, and fourth place with the Galaxy A50 (3.2 million), Galaxy A40 (2.2 million) and Galaxy A20e (1.9 million,) while Xiaomi's Redmi Note 7 was third with 2.0 million units.
The top five list highlights the pricing issue of market share, as Apple is fighting against considerably cheaper devices. While the fifth-place iPhone XR costs from 749 GBP ($905) in the UK, the Samsung Galaxy A50 can be acquired for 288 GBP ($348), the A40 for 219 GBP ($264), the A20e for 158 GBP ($191), and the Xiaomi Redmi Note 7 for 123 GBP ($149).
In the most recent quarterly results, Apple reported it had seen a year-on-year drop in global iPhone revenue, down from $29.9 billion to $26 billion. Due to Apple's stance on no longer reporting unit shipments, it is unclear if the price was due to fewer units being shipped or a change in average selling price.
Also unclear is Canalys' data sources for the report.