Courant Catch:2 integrates 5 Qi coils for better wireless charging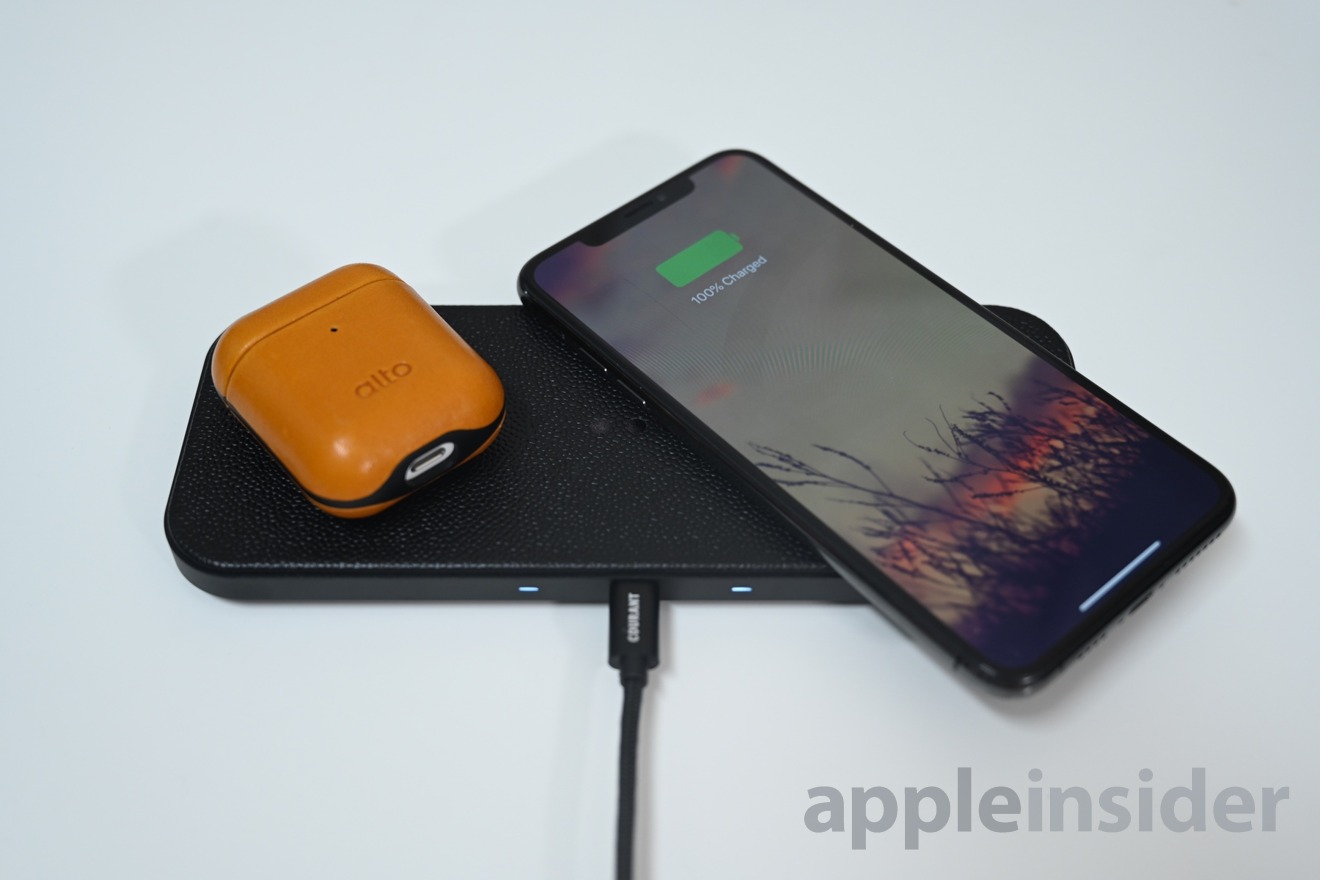 AppleInsider is supported by its audience and may earn commission as an Amazon Associate and affiliate partner on qualifying purchases. These affiliate partnerships do not influence our editorial content.
Courant on Monday released a new dual-device wireless charger that bakes in five Qi charging coils for a better wireless charging experience. AppleInsider goes hands-on to see how it performs.
AirPower is dead. Apple's decision to kill its promised multi-device wireless charger has opened the floodgates for other companies to rush in and fill the void with their own solutions.
One of the newest — and most interesting — is the Courant Catch:2. Just launched, the Catch:2 has an anodized aluminum alloy base with premium pebbled Italian leather on top.
Inside, a quintet of charging coils are placed throughout to help alleviate dead zones on the charger so wherever your device is placed, it gets power. We were very excited to test out this premise and see if it actually solved some of our charging woes.
Hands on
We were immediately impressed with the charger's premium quality. It is solid, hefty and feels well-designed.
Little touches were appreciated, such as a nylon wrapped USB-C cable to power the charger using the included USB-C power brick. There are two status lights, but instead of being around front which can be distracting, they project out the back.
Logos are kept to a minimum, with a subtle logo in the front aluminum edge.
Wireless freedom
We particularly wanted to test the wireless charging surface to see how it powers up our iPhone and AirPods.
The charger is, as the name suggests, capable of charging two devices simultaneously. We tested it out with both our second generation AirPods, an iPhone XS Max and an iPhone XR.
Thanks to the coil arrangement, we definitely noticed more lateral freedom in how we placed devices. Our devices charged nearly anywhere on the charger from left to right, even when placing the two devices close enough to touch. This is essentially what Apple had attempted to do, albeit with far more coils.
We ran into issues when we started to move the devices forward and back. If we had the AirPods to close to the front or too far to the back of the charger, charging did not activate. That's because the five coils are arrayed in a straight line through the center of the charger.
Apple's now cancelled AirPower would have been better and yielded zero dead spots, but the pared back implementation in Catch:2 works well, even if it doesn't deliver 100-percent coverage.
Multi-device power
The Catch:2 is a solid, premium option that does an admirable job at creating a more seamless charging experience. Each of the two devices can be charged at up to 10W of power, or 7.5W for iPhone owners.
It joins the already impressive lineup from Courant which includes the fan-favorite Catch:3 which integrates a valet next to a wireless charger.